Decorated World War II Veteran Gets Brand New Roof for Free
2 min read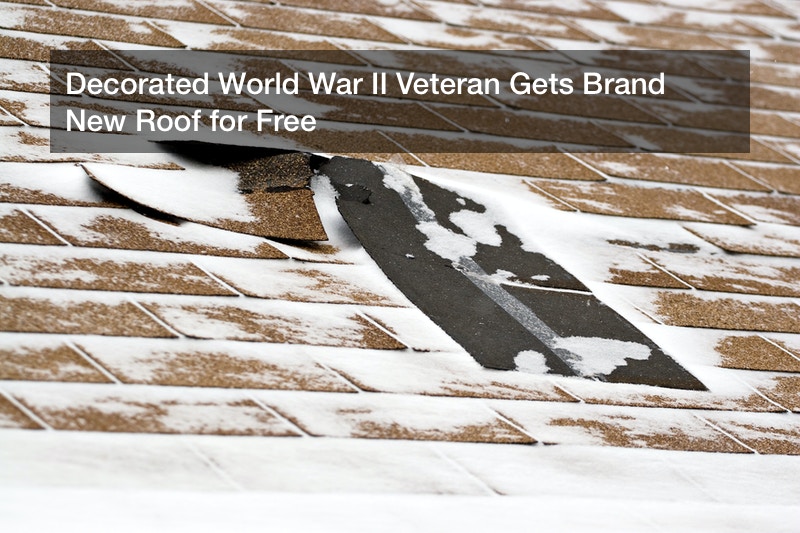 A World War II veteran is being thanked by a local Denver businessman just in time for the Fourth of July.
Harold Nelson's roof was destroyed during a hailstorm a couple weeks ago, and Nelson was overwhelmed with the price of what a new roof would cost. And since a home's roof represents about 40% of the visual exterior of a typical home, Nelson was prepared to just live with a less-than-beautiful roof. So, his daughter Pat called T-Hackbarth roofing in Denver to come out and give them a quote, but what the owner did next shocked them all.
When Todd Hackbarth, owner of the roofing company in question, heard that Nelson is a decorated veteran of World War II, he decided to complete the job for free, giving him a brand new roof.
Nelson was drafted into the U.S. Army in 1941 when he was 26 and was eventually promoted to Sergeant. He fought with his platoon in Sicily, Rome, and Anzio, Italy and was caught in the line of fire so many times, his bullet-ridden helmet tells a story of its own. When Hackbarth asked, Nelson was able to point to each bullet hole on his helmet and explain in detail exactly where he was when he was shot at.
During his two-year tenure abroad, Nelson was awarded a purple heart, which signifies he was wounded in action, two silver stars, which are awarded to men for gallantry in action, and a bronze star that is bestowed upon Army fighters who proved to be heroic in battle.
Nelson was one of only eight men in his platoon to return home.
After returning from the war, Nelson settled in Denver where he has been living for the past 66 years. Now 102 years old, the only clues Nelson is such a decorated war hero are two shadowboxes in his home containing the medals he earned. So, Hackbarth decided the least he could do was to give back to the humble war hero. When describing why he chose to do such a thing, Hackbarth explained:
"Quite often the older they get the more forgotten they get… and these guys have made it what we are today as far as liberties and freedoms and that sort of thing," CBS Denver reports.
So what does Nelson think of this unexpected charity? He said "I didn't know they were going to fix my whole house. It's nice of them."