Costco Is Selling A 5-Tier Wedding Cake Made Entirely Of Cheese
3 min read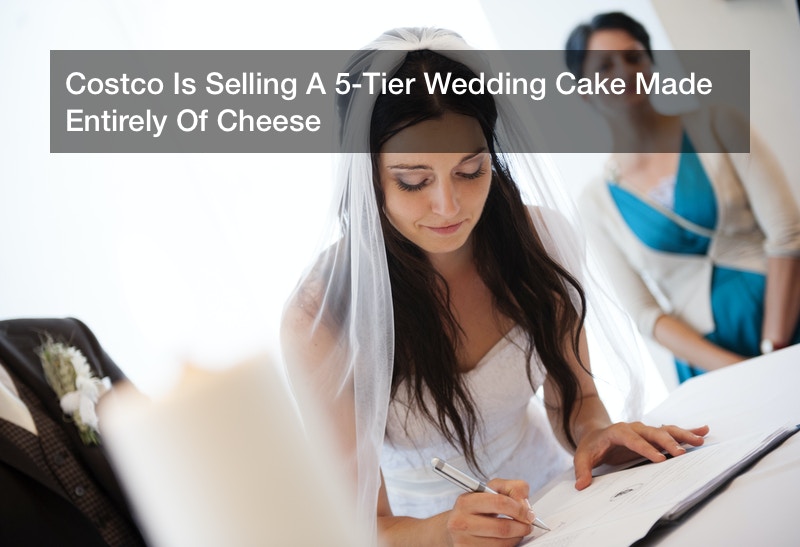 When a bride or groom is looking to make their impending nuptials stand out from the millions that have come before, they will often put a spin on the venue, dress, or ceremony. The wedding cake, however, typically remains a standard sponge and frosting combination because a cake can only be a cake, right?
Costco says wrong. The wholesale store is well-known for its wide variety of items, but no one expected the chain to begin selling a 23-pound, 5-tier cheese wedding cake. Without an inch of frosting in sight, each tier is an entire wheel of cheese. It's almost comparable to the five key flavors of most Chinese cuisine!
Like that bedframe you bought from Ikea last year, this cake does require some construction. Costco delivers the five wheels of cheese in a box in about two to three days after ordering. While cake construction may not be on every person's wedding to-do list, stacking wheels of cheese to form your cake is relatively simple and allows you to add whatever decorative or edible customizations you like.
Even if cake assembly isn't an obstacle, some may be concerned that offering a cake made of cheese wheels isn't quite up to the standard they had imagined for their wedding. After all, 56% of brides cite providing excellent food at their wedding as the task they are most interested in. However, the name of the cake alone may ease fears surrounding its quality. As reported by Best Products, the cake is officially called the "Sid Wainer and Son Cheese Lover Artisan Wedding Cake."
The cheeses included in the cake certainly count as artisanal. The biggest cheese — and the base of the cake — is an eight-pound wheel of Red Leicester. With a bold orange coloring, this cheese is made of cow's milk and has a crumbly texture with a medium-strong flavor.
The next tier is a seven-pound wheel of Danish Blue, which also comes from cow's milk but features green and blue veins with a mild bleu cheese flavor. That is followed by a dark, five-pound Murcia al Vino wheel, often described as "drunken goat cheese," and then a three-pound Tuscan Sheep's Cheese that has a distinctly nutty taste. A seventeen-ounce Billat Savarin Triple Cream Brie tops the structure to give guests a soft texture and creamy flavor.
According to the cake's listing, between 105 and 150 people can enjoy all of these different artisan cheeses. As the Knot's 2014 Real Weddings Study showed that the average number of wedding guests is 136 people, the cheese cake is perfectly suited for most weddings. And at a cost of $439, it even comes below the average $500 couples shell out for a traditional cake.
Despite the prevalent association between wedding desserts and sweetness, Costco's cheese tower isn't the first take on a savory wedding cake. According to HuffPost, couples have substituted the standard baked goods with tiers of pizza, artfully arranged layers of sushi, and lasagna cupcakes.
For couples who lack a sweet tooth or want to give their dessert a kick of nutrition, the possibilities for savory desserts are practically endless. Try macaroons topped with avocado or serve up some falafel and hummus for a Mediterranean twist. Not only will you give your guests a surprise, but the Mediterranean diet can help prevent type 2 diabetes and improve glycemic control.
According to Costco's description of the cheese cake, this type of savory dessert isn't limited to a wedding reception. The versatility of this lactose centerpiece makes it perfect for any formal event or big dinner party. However someone chooses to use a giant cake made of cheese, they'll certainly need to scour the 7,700 wineries in the United States for these cheeses' perfect wine pairings and buy more than a few sleeves of crackers to complete the savory, artisanal dessert.