71-Year-Old Frenchman Embarks On Mission To Cross Atlantic Ocean In Barrel
2 min read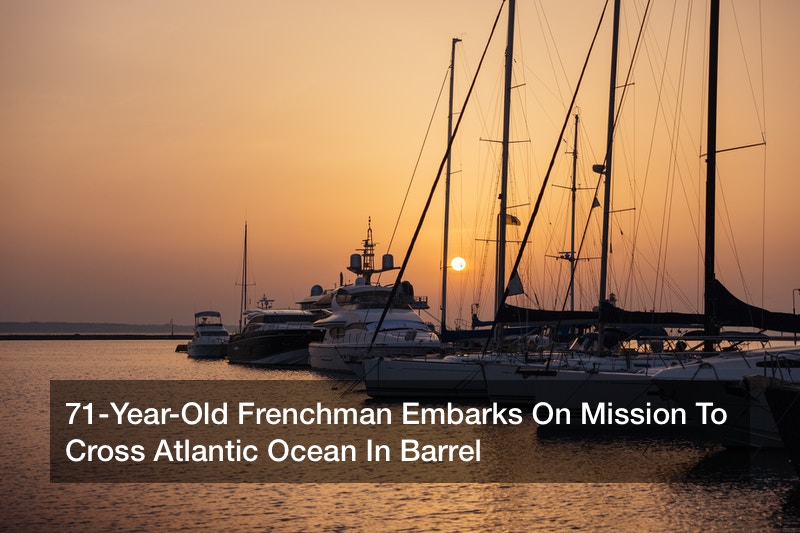 Most people are guilty of daydreaming about wandering the world and sailing away from it all. Few people actually do that, but it's the thought that counts, right? Some people are okay with merely fantasizing about floating away. Others are restless until they actually do so.
Jean-Jacques Savin is floating away. Literally. The 71-year-old man is a former military paratrooper and aquatic adventurer. He just set sail to cross the Atlantic Ocean from the Canary Islands to the Carribean. Did we say set sail? Our mistake. There are no sails on his vessel because his vessel is a barrel.
This originally conjured images of a Frenchman bobbing around the open sea in a Donkey Kong-esque wooden barrel, but his trans-Atlantic barrel is much more complex than that. At 10 feet wide and 7 feet long, his barrel is weighted evenly, solar powered, and equipped with GPS, cooking stoves, and everything he'll need to survive the adventure. Of course, it has to be, because it will be his home for however long his voyage will take. One-quarter of U.S. homes use a septic system, but Jean-Jacques hasn't confirmed the existence of onboard sanitation on his barrel.
The real catch to his barrel adventure is that he's allowing the sea to be the only propelling force. No sails, no motors, just winds and currents. He describes it thusly:
"A crossing where the man would not be captain of his boat, but a passenger of the ocean."
The approximate length of the journey is estimated to be between two and three months. That estimate can change wildly because the ocean pays no heed to the approximations of mice, men, barrels, or really anything. His GPS location and onboard technology will allow him to update the world on his progress and, should he need the assistance, send out an SOS.
Jean-Jacques has just embarked from the Canary Islands. You can follow his progress on Facebook and, as it stands now, he's floating along just fine. He must be a very patient man, because this whole story has us imagining three months in a barrel, alone, wondering are we there yet?