New Year, New Marketing: The Digital Marketing Trends You'll See In 2019
7 min read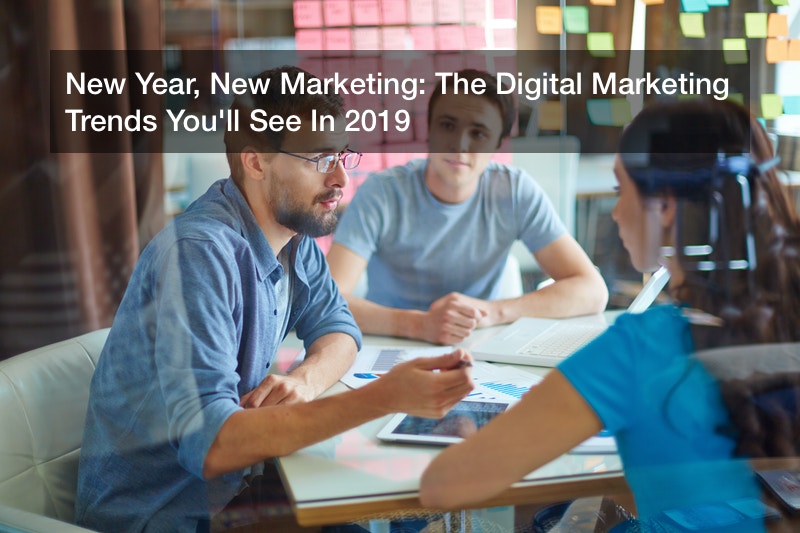 In the world of digital marketing, the surest way to succeed is by staying on top of the latest trends, tools, and technology. To help businesses and marketing agencies keep consumers engaged throughout 2019, we've asked top industry experts about what marketing trends they expect to see. We've compiled those strategies in a handy guide with a few tips of our own.
Innovative Local SEO Strategies
At this point, most businesses have some SEO strategies in place. Local SEO focuses on making businesses more visible to customers in their specific area, sometimes down to the neighborhood. Tim Capper, the operator of Online Ownership and a Google Top Contributor, emphasizes the importance of these local search signals.
"In the Local SEO space it has become important to reinforce the location of the business, incorporating LocalBusiness schema and incorporating hasMap into the data. General content for the sake of content is no longer relevant, with location-based user-focused content providing much more value… Get to grips with your Google My Business listing. Google is investing heavily into this area and the rewards in the knowledge panel can be beneficial. Events and Google Posts are all opportunities to engage your customer directly in the SERP," advised Capper.
As consumer search trends change, local SEO strategies will need to as well. More consumers are using voice assistant technology to conduct their online searches. This trend means that businesses need to optimize their keywords for longer phrases that include a location, mimicking how a person would ask their home assistant of choice to search for a topic. Dean Cacioppo from One Click SEO and Dean Knows also points to the increasing overlap between local SEO and traditional SEO.
"With local SEO growing in popularity, it is important to know that the ranking factors traditionally associated with Local SEO are changing. Google is working towards leveraging the traditional SEO factors with the established Local SEO ranking factors. It is anticipated that in 2019 you will see a closer relationship between who is ranking for a specific term in local and traditional SEO SERPS," said Cacioppo.
Smarter Keyword Selection
As digital marketing companies shift toward long-tail keywords, question-related searches are also going to be increasingly important. To that end, Dan Kern of Kern Media advocates using the E-A-T approach in 2019.
Kern said:
"Answering questions with expertise, building authority, and gaining trust (E-A-T) is going to continue to be one of the most effective SEO strategies into 2019. In fact, one of our best-performing clients, Linford & Co, focuses all of their efforts on weekly blog posts that answer specific questions (which we find in Google's 'People Also Ask' SERP feature) as well as keyword research (Ahrefs' 'Questions' feature is great for this). These questions are discovered after we conduct keyword researched to find niche 'topics' that we want to target."
Mark Bealin, Managing Partner at SearchLab, elaborates on the E-A-T approach, saying, "The August 1st Medic update popularized the acronym E.A.T (Expertise, Authority and Trust). E.A.T. is the new term for an old concept. It's a way for SEOs to describe how Google views a page's importance. In the past, terms like 'toolbar PageRank,' 'link juice' and 'domain authority' have all been used to describe the same sort of thing. What makes E.A.T. a little different, and I think exciting, is that it's a sign of machine learning (AI) driving more and more of Google's decisions. Links remain and will remain the most important determinant of a page's importance, but I think user signals will become more valuable in 2019. Pay close attention to click through rate and dwell time to send positive signals to Google and help your page rank."
When it comes to keyword selection, it's not all about the long-tail. According to Lauren Walter of Online Optimism, user-intent is still critically important in the SEO industry.
"Optimizing for user intent will be one of the most effective SEO strategies in 2019," Walter said. "Although keyword stuffing is no longer a reliable strategy, too many marketers still struggle to select and use keywords appropriately. As Google continues to favor pages that fulfill user intent and lower the [Page Quality] rating of those that do not, user intent optimization will become even more critical to effective SEO."
Target Social Media Marketing
Almost everyone in the digital marketing business knows the importance of social media, but the key to successful social media marketing campaigns in the new year will be using the right platforms for your target audience. According to the annual Communications Market Review, Facebook usage has remained static or declined among all age groups except that of users 55 and older. In fact, this group has become the biggest age demographic to use the platform.
In contrast, Instagram has increased in usage among all age groups, with users between 25 and 34 making up the largest segment of active users. Industry experts have taken notice of this switch to Instagram and are advising new image-focused marketing strategies.
"This year, more businesses are going all in on Instagram Stories, with the Stories format quickly becoming the hottest social media option. Content developers should build content keeping in mind newer ways of content consumption," advised Kevin McGrew from Everzocial.
Facebook usage may be declining on the whole, but Aaron Hockel of Property Manager Insider has found great success in targeting specific Facebook Groups.
He says, "One major digital marketing trend we are seeing in the property management space is driving content to specific Facebook Groups. These posts can actually drive more engagement than normal Facebook Page posts due to their high newsfeed visibility and engaged memberships. Even better, it is possible to find niche audiences. For example, you can find groups dedicated strictly to apartment management in Dallas or self-storage facilities in the New York City area. While we use this tactic within the property management industry, it is applicable across any and all industries, because Facebook Groups exist for almost every industry and audience."
Unique, High Quality Content
Content has been king for years, drawing in consumers by targeting carefully chosen keywords. To grab the attention of consumers, content in the new year will need to be unique, targeted, and useful. Consumers have become adept at scanning a page for any relevant and interesting information, skipping over ads and sales pitches no matter how good of a deal they offer.
"It's all about creative content. You can have the best message in the world, but if you can't hold the attention of your website visitor, you'll never get to tell your story," said Randal Southam, Founder and Creative Director of Southam Creative.
Creating strong content is about more than providing value to readers. Chris Costa of Legal Search Marketing tells us about content's SEO value: "If you want to get ranked higher in Google, you must create higher quality content then the competition, and 10 times the quality content of the existing number one ranked site."
Some of the most engaging content in 2019 will come in the form of videos and infographics. Consumers are more likely to spend longer on a page that is not packed full of words, but rather one that has video and graphics. They are also more likely to share that content, as 70% of consumers report that they have shared a brand's video in the past.
SEO consultant Brendan Hufford says, "Search will become increasingly competitive for newcomers so, at minimum, your content needs to be the best thing on the internet for your given topic. These aren't exciting tactics, but are often ones that are overlooked despite being the foundation of good SEO."
With the number of technological advancements that continue to come on the market, keeping up with the trends can become a full-time job. President and CEO of IWW Digital Agency Marek Wawrzyniak succinctly summarizes what being in the ever-changing world of digital marketing means to him.
"I like the digital marketing space because when the economy slows down or hits a recession, many businesses reach out to us to increase their digital marketing efforts in order to boost their business. During a thriving economy digital marketing is also strong because, well, the economy is striving," said Wawrzyniak.
Stronger Customer Relations
Marketing is an exercise is consumer psychology, and it requires a great deal of empathy. Michael Facchinello of Clique Studios predicts there to be a need for better customer understanding in 2019:
"There is a strong case going forward for a continued use of personas when developing any sort of marketing content. Sometimes personas get created and are forgotten but even the process of creating them requires you to empathize with your customers, which is incredibly valuable. And while the persona gives us an idea of who we're creating something for, putting them into a customer journey map takes that even further. It puts the persona into the context of how they'd interact with the product or service."
As we head into a new year, the economy is growing. That means savvy marketers have a huge opportunity to capitalize on these trends in 2019.