Modernizing Traditional Homes: The Growing Green Trend
4 min read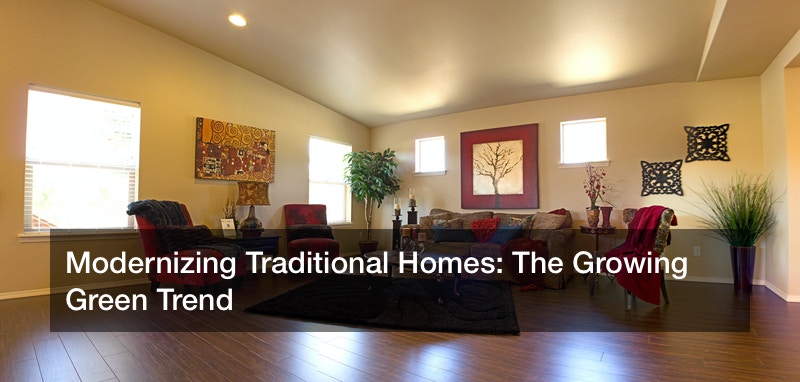 It seems that green will be this decade's color. As more people are becoming aware of the impact their actions have on the surrounding environment, they're changing their ways. More attention and effort is going into living an eco-friendly life, whether that translates as a determination to recycle, a focus on products that use green packaging, or simple habit changes (such as the conservation of water, light, etc.) at home.
According to Elisabetta Rizzato of ITALIANBARK, "Our way of living is changing towards a more informal, nomadic and
mindful style. Especially millennials are totally changing their lifestyle from previous generations. Design is changing and evolving according to these changes, with a more experimental, interactive and movable design."
Zero-Sum Goals
One of the biggest trends is the construction (or renovation) of green homes: approximately one-third of single and multi-family builders state that green building occupies more than 60% of their portfolio, and they're seeing an increased desire for net-zero homes.
Net-zero homes are the epitome of green living: by relying on sustainable energy sources and quality techniques, the amount of energy that their home consumes is balanced almost perfectly by the energy it produces. The result is a total lack of energy bills and a non-existent carbon footprint.
"I love that we're seeing a lot of earth-friendly choices and sustainability in home improvement and remodeling these days, it's so refreshing and makes such a difference in our carbon footprint." — says Kristi Dominguez of ishouldbemoppingthefloor.com.
Jamie Sandford of Home Flooring Pros offers a similar sentiment: "People are looking to make their homes a haven of peace and comfort, so we are seeing a move towards spaces that celebrate organic materials, natural textures, patterns and tones; this is reflected in renewed interest for eco-friendly flooring, such as cork or bamboo."
The Realities Of Realty
In 2017, the average home sold brought around $249,000. If you're interested in increasing your selling value, one of the best ways to do so is to jump on the growing green train: the following suggestions will save new owners on their monthly bill, shrink their carbon footprint (thereby offering peace of mind), and allow you to bump up the price accordingly — it's a win-win-win all around.
Upgrade the windows: Poorly insulated windows are responsible for a significant percentage of heat loss and gain. If your windows are single-paned or single-glazed (which most old windows are), they let out heat during the winter and let heat in during the summer; your HVAC unit needs to work twice as hard to maintain your desired temperature, resulting in sky-high heating and cooling bills throughout the year. By making the switch to vinyl or fiberglass, you'll not only have windows that last up to 50 years, but they'll be expertly made to keep the outside and the inside completely separate.
Install solar panels: Did you know that solar and wind energy systems offer around 100 times the lifetime energy yield compared to nuclear or fossil fuel systems? You're not only making an absolute killing on monthly energy bills (if you generate more power than you're using, utility companies will actually pay you for the excess), you've also got an energy source that is literally limitless and high-quality materials that will last for decades if properly cared for. When it comes to green solutions, solar panels are an instant success.
Upgrade your fixtures: The increased desire for environmentally-friendly products means that manufacturers are creating new options. For example, there are low-flush toilets that help to conserve water by using less to flush. This has the added benefit of reducing your water bill — no more wasted water, no more wasted money. You could also swap out all the incandescent light bulbs in your home for LED bulbs: they last longer, shine brighter, and can bring that already low energy bill (thanks to those solar panels) down even further.
It's important that you don't just cram all of these technological, eco-friendly innovations in your home as is — the final look won't quite be up to snuff. Since 44% of people say their favored style for overall home design is traditional, you'll need to delicately balance this green hardware with a traditional touch.
Home Design Defined
Traditional decor is all about comfort and warmth. Furniture reflects consistency and attention to detail, yet does so in a homey, unfussy way: edges are soft and curved, fabric colors and patterns are usually muted and understated, and florals are a big favorite.
Since modern technology and fixtures can look, well, modern, it's essential that you don't choose styles and designs that will stick out like a sore thumb in their traditional habitat. Consider 'warm white' and 'soft white' LED bulbs to maintain the softness of incandescent bulbs, and order solar panels that resemble roofing shingles; though they're more expensive, they are placed on the same plane as the rest of the roof and are not supported by huge aluminum racks so they blend in nicely.
"Think clean modern lines with a touch of farmhouse appeal, to fancy just about everyone's taste." — according to Jaclyn Dryden.
"Interior design trends will highlight functionality, wellbeing, comfort, sustainability, and minimalism décor with multifunctional furniture that is both attractively designed and also offers a practical purpose." — says Diana Hadchity Chedrawy of Leovan Design.
If executed correctly, these upgrades will do wonders for your listing. By giving potential homeowners exactly what they want, you'll see a remarkable profit and can rest easy knowing you've contributed an eco-friendly home to the world.