Two Years After Colorado Springs Landslide, Victims Are Finally Getting Relief From FEMA Grant
3 min read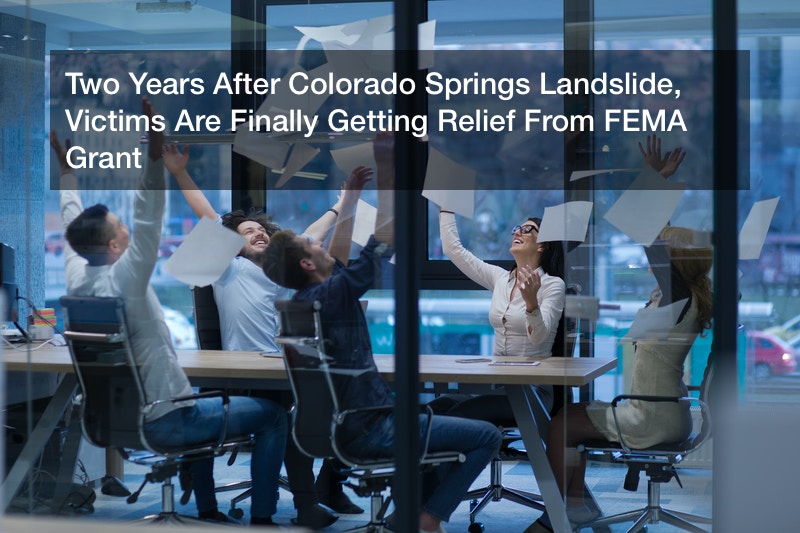 It's been two full years, but the victims of the Colorado Springs landslide are finally getting federal government relief, according to KDVR.
Thanks to the help of a $5.9 million grant from FEMA (Federal Emergency Management Agency), a total of 27 houses can now be purchased and demolished due to the damages incurred from the landslide and heavy rains.
Although the cost of insurance will vary by the property and the level of protection one wishes to purchase and typically costs around 0.5% of the home's purchase price, very few policies include landslide protection.
Dennis Cripps is just one homeowner whose self-built Broadmoor Bluffs home was irreparably damaged from the landslide and heavy rains.
"It's a lifetime investment," Cripps said. "Our entire investment was wrapped up in that home."
Cripps said he and his wife returned from a trip out of town to find their home in near total destruction, with protruding pipes, a slanted floor, and a severely damaged roof.
A 2,000 square foot home that experiences a one-inch flood of water may face about $20,920 in damages. Add that to the fact that most professionals will charge $2,000 to $8,500 for a roof replacement, and Cripps' repair costs would've been ridiculously high.
But Cripps got hit with the hardest news after finding out that the foundation of the home and land underneath was damaged entirely, and the house was basically worthless.
"First of all, you know the investment of a lifetime is now worthless because we knew we couldn't fix the house," he said. "The whole investment of the home still has a mortgage on it, so wherever we moved we had to make another mortgage."
After paying two mortgages for more than a full year, Cripps eventually received word of the impending grant money, although he had wished for quicker results.
"I had hoped it would be a lot faster," he said.
Homeowners say the grant money will cover 75% of the cost of purchasing and demolishing their old, decrepit homes. While the homes are covered in full, homeowners like Cripps are thankful to have any help at all.
"It's still not going to be a total recovery, but it's a long straight from walking away from your lifetime investment," Cripps said.
The Gazette states that city recovery coordinator Gordon Brenner made the announcement through email that city staff members will approach the City Council to seek permission to start using the grant on Aug. 21. But despite the incoming grant money, the city isn't giving up yet. Colorado Springs will continue the process of applying for various grants related to disaster relief to compensate for the 25% that isn't covered by the FEMA grant.
"Please remember: $5.9 million will not be enough to acquire all the properties on the list," Brenner wrote. "We have already submitted a notice of intent to file for another round of grant funding, and will continue to seek additional funding until all options are exhausted."
Ultimately, Cripps, and presumably other homeowners whose homes were lost in the disaster, are glad that the city has taken the first significant step in rebuilding their assets.
"I'm feeling great about it. The disappointment part of it is, that ($5.9 million) is what it was two years ago," Cripps said. "It just seems like it's taken forever. But it feels like it's headway. I also feel good that even though there's not enough money for everybody now, they're still going after more grants. And that tells me they're going to try to satisfy everybody on the list."