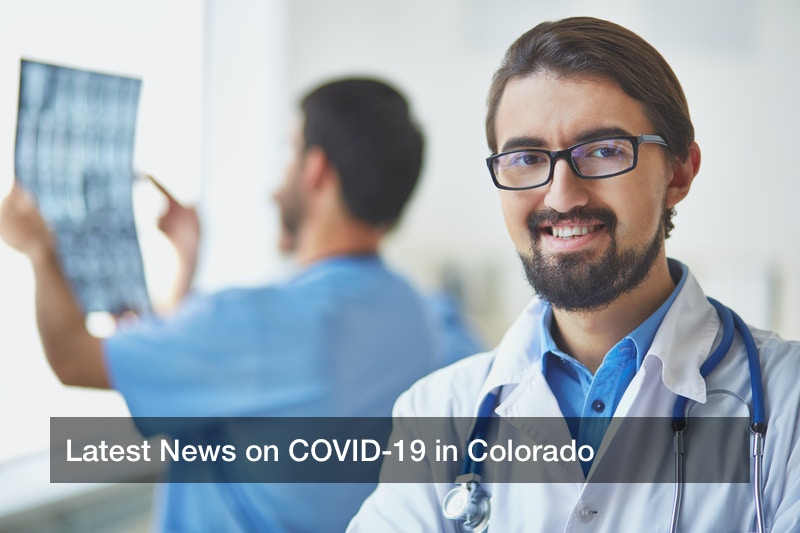 According to Colorado Governor Jared Polis, as of March 30, 2,627 people have tested positive for the new coronavirus, 414 patients with COVID-19 have been hospitalized, and at least 51 people have died from COVID-19 in the state. Tests have been administered to over 14,400 people in Colorado. Kaiser Permanente is operating 10 drive-through testing facilities throughout the Denver area.
The increase in cases underscores the need for social distancing. Colds can develop between one and three days after contact with the cold virus, whereas the incubation period for the virus that causes COVID-19 is five days on average and can be as long as two weeks. An infected patient may be asymptomatic but can still carry the virus and pass it on to others for more than a week. Staying home and observing social distancing measures can help slow the spread of COVID-19 and prevent people without symptoms from unknowingly transmitting the virus.
Arizona Nurses Come to Colorado to Help Hard-Hit Hospitals
Although 22% of people in the United States believe their carpets are dirtier than a toilet seat, even surfaces that appear to be clean may carry the coronavirus for days. U.S. residents are trying to sanitize surfaces and not expose themselves to the virus, but Colorado now has over 2,600 patients with confirmed cases of COVID-19.
In response to the growing health crisis in Colorado, Banner Health sent 10 nurses from hospitals in the Phoenix area by private jet to Greeley. The nurses are needed at those Banner facilities that are struggling to handle an overload of COVID-19 cases. They will mainly work at Greeley's North Colorado Medical Center, but they may also be sent to McKee Medical Center in Loveland and Banner Fort Collins Medical Center. Because it is part of a large health organization, Banner has the flexibility to place staff where the need is greatest. According to Johns Hopkins University, Colorado reported more than double the number of COVID-19 cases and double the number of deaths that Arizona has had.
Bus Service Between Cities Suspended
In the United States, about 26 million trips are taken on public transportation every day. On March 28, the Colorado Department of Transportation suspended bus service connecting Fort Collins, Grand Junction, Denver, Colorado Springs, and other cities serviced by Bustang and Outrider. The suspension will remain in place at least until April 11 in an effort to help prevent the spread of the new coronavirus. The routes may be reopened after April 11 or they may stay closed. Local bus service is not affected by this policy.
Health Care Workers Becoming Ill with COVID-19
Governor Polis and pulmonologist Dr. Marc Moss of the University of Colorado informed the press on March 30 that, as medical workers are putting in long shifts under challenging conditions, they are becoming infected with the virus that causes COVID-19. Although there is some evidence that stay-at-home policies, the closing of businesses, and other social distancing measures are having an impact on the spread of the virus, medical professionals are getting ready for the situation in hospitals to become worse. They are demanding more personal protective equipment to reduce their own risk of infection and are pointing out that people with COVID-19 are being admitted to hospitals faster than they are recovering from the illness.
Access-a-Ride Delivering Groceries
The Regional Transportation District (RTD), which provides bus and train service in the Denver area, reports that Access-a-Ride is being used by fewer passengers. As a result, RTD is making the paratransit service available for grocery delivery. There is no charge for this service. Officials view this as a way to provide access to food while maintaining social distancing. Access-a-Ride will deliver groceries from Safeway and King Sooper stores, in addition to the Community Ministry Southwest food bank, Adams County Food Bank, and Senior Hub Senior Solutions. More grocery stores and nonprofit organizations may decide to participate. Customers will need to phone the grocer or food bank to place an order and choose a time for pick up, and then call Access-a Ride to set up the delivery.
Colorado Provides Child Care Credit for Essential Workers
Essential workers will receive full credit for the cost of child care until May 17. The essential workers listed in the order include:
Health care workers
Workers in critical manufacturing
Employees involved in critical infrastructure
Workers providing critical services
Members of the news media
Workers at critical retail establishments
Financial institution professionals
Workers who provide essential services to low-income persons
Construction workers
Employees who provide services to maintain sanitation, safety, and other essential functions for homes and critical businesses
Defense workers
Vendors offering essential products or services such as tech support and child care
The Emergency Child Care Collaborative was formed on March 23. Governor Polis worked with early childhood caregivers, school districts, advocates, the Colorado Department of Human Services, and Gary Community Investments to put together a system that would provide urgently needed child care. The governor states that over 80,000 emergency workers need care for children under eight years of age so that they can continue to provide essential functions. Only child care providers who are licensed will offer services through the Collaborative. Since the number of providers is limited, their services are intended to be used only when parents have no one else to care for their children.
Fort Carson Hospital Unit Deployed to Seattle
A military field hospital for patients with health conditions not linked to COVID-19 is being set up at the CenturyLink Field Event Center in Seattle. According to officials, 300 military personnel from the 627th Army Hospital at Fort Carson, Colorado Springs, have been sent to work at the Seattle hospital, which will provide about 150 beds for patients without COVID-19. Washington state has 4,300 confirmed cases of the virus and has seen 189 deaths, more cases and more deaths than Colorado has.
The state of Colorado is doing everything it can to slow the spread of the new coronavirus. It is important that Colorado residents stay at home, observe social distancing, and help flatten the curve.