Denver Real Estate Still Strong Despite Growing COVID-19 Cases
5 min read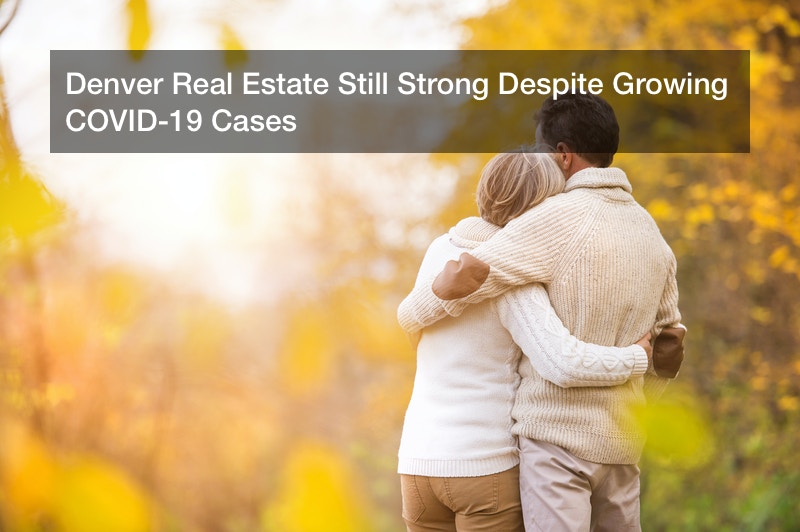 The spread of the coronavirus has caused many industries in Colorado to decline. Despite that, one industry is continuing to thrive. Lori Abbey, of Compass Real Estate in Colorado, stated that their business had 30 showings in one day and four or five on a no-show day. It's a sign that social distancing isn't slowing down the housing industry.
February housing numbers
The Denver Metro Association of Realtors found the real estate industry was continuing to be strong in its latest Market Trends Report. In particular, the housing market saw increases in February. Among those increases included the number of homes sold, the number of new listings, and an increase in average sold price. The report compared numbers to January 2020 and noted a 3.16% rise in home sales and a 5.56% rise in new listings. The average sale price was $544,054, which was a 2.51% rise from January.
There are also indications that buyers are purchasing homes at a faster rate than at the end of the last year. In January, the median days in the market was 27. The number was down to 12 days in February, making for a 55.56% decrease. Abbey noted that her real estate company put a house located in Denver's City Park neighborhood on the market, and within days it already had two offers, along with continual texts and calls inquiring about it.
Andrew Abrams, a committee member of DMAR Market Trends, concludes that coronavirus has had no impact on the Denver housing market for now. He states that it's because inventory continues to outpace demand, though cautioned that if public health concerns decrease the buyers' motivation, the market could shift. Despite the caution, Abrams remains optimistic, believing that a shift in the market would take a significant amount of time for it to occur.
It's worth noting that COVID-19 has lead to the cancelation of virtually every major sports league, as well.
National housing shortage
Since 2015, there has been a lack of new homes for sale, and the housing market hasn't been able to meet the demand of the consumer. In 2019, for homes priced between $100,000 and $250,000, supply was down 6% from the prior year. For homes priced below $100,000, supply was down 15%. The construction of single-family homes is expected to increase by 6%, but despite that, the demand will still not be met. The previous recession has made investors cautious to invest in the housing market.
Additionally, while millennials are ready to buy a home, many baby boomers and Gen Xers are still choosing to stay in their houses. For baby boomers, they're living longer and want to keep staying in their houses, while for Gen Xers, they may be still raising kids and not ready to retire yet. As a result of the shortage of houses and the continued high demand for them, this continues to keep Denver's housing market strong despite the COVID-19 outbreak.
How Denver homes are made appealing to buyers
Among all homeowners, 58% plan to spend money to improve their homes this year. Abbey advises that any homeowners selling their houses right now need to make sure they're the best on the market. A part of doing that involves fixing up areas of the home that need work. It's recommended to get issues such as broken doorknobs, cracked tiles, and dead spots in lawns repaired as soon as possible. Homeowners should survey each room in their house for any imperfections that need to be addressed.
Within the last year, 10% of homeowners performed a kitchen or bath remodel. For kitchens, in particular, 14% of homeowners planned to make improvements to their kitchens in 2018. Prepping for a home inspection is what your real estate agent will likely discuss with you the most. A home under contract has to clear the buyer's home inspection. It's during this period where sales can potentially fall apart or be renegotiated. Fixing up all of the minor issues in your home can reduce the possibility of an unsuccessful sale.
Additionally, another way Denver homeowners can appeal to buyers is by cleaning up. Many of the homes that you will be competing against will be very clean. One way you can ensure your home looks clean is by hiring a professional cleaning service. Homes should be well organized before your real estate agent brings over potential buyers to view it. It's important to declutter your space to make it appear more spacious. If you have nowhere to put certain items, you can temporarily place them in a storage unit until the sale has been completed. Clutter should not be stored in attics, basements, or garages since buyers want to be able to see space in all areas of the home.
One factor that can help enhance the spaciousness of a home is light. Updated light fixtures can help to make the rooms of a home more vibrant. In addition, it's useful to organize your home to let in as much natural light as possible. Along with light, neutral paint is helpful as well. All buyers have different tastes in color and keeping the home mostly neutral will allow the home to be more appealing to any buyer.
Neutral colors that can be used include beige and light earth tones. Following the theme of neutrality, Denver homeowners should keep the house from looking too personalized when buyers view it. A house too personalized can make it harder for a potential buyer to imagine themselves in the home. As much as possible, try to have few family photos, paintings, and other personal items on any walls or shelves.
Perhaps the most important factor to a successful sale is curb appeal. The outside of the home is the first impression that a homebuyer will have when seeing a property. Any clutter on the home's exterior should be removed. In addition, Denver homeowners should consider touching up the paint, improving the landscape, and adding some plants. All of these adjustments can help improve the view of your curb, and potentially increase the property value of your home.
Nicole Rueth, branch manager of the Rueth Team in Denver, expects that up to 9.2 million first time homebuyers will enter the market in 2020 and 2021. Given the consistent demand, as many aspects of life are put on hold in Denver due to the virus, real estate insiders are cautiously optimistic the housing market will continue to be strong.