5 Great Ways to Stay (Remotely) Productive During Your Quarantine
3 min read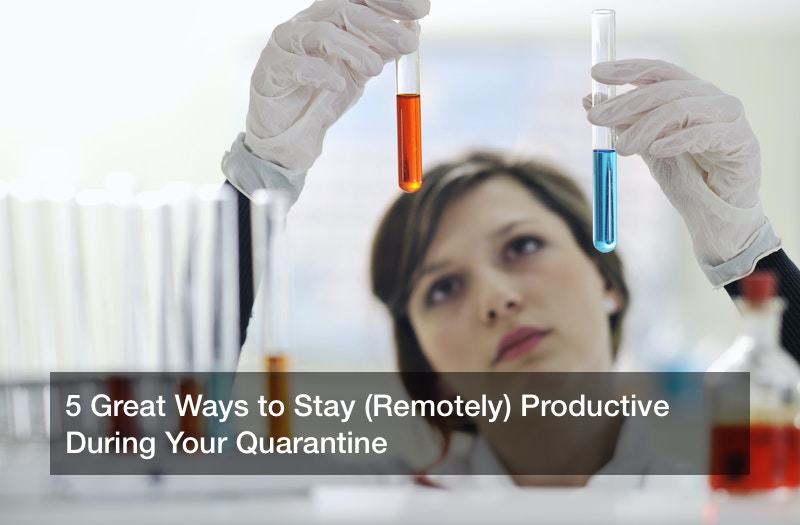 These are scary times but as long as you and your family are healthy, you'll be able to get through this COVID-19 pandemic. It's unfortunate that so many people are out of work but you need to be proactive about it and look at the positives, not just dwell on the negatives.
Though every few days it's important to just veg out on the couch and watch Netflix for 18 hours straight, it's not a good idea to do that all week long. You need to at least stay remotely productive during your quarantine — especially if you're not working and hoping to actually lose some weight.
If you really want to transform your life, consider starting a home-based business! Here are some important things to take care of as you're stuck inside during this 2020 quarantine:
Improve your cooking skills — Whether you're a self-proclaimed great cook or you struggle to cook an egg, now is the perfect time to work on your culinary skills. You're probably planning on watching a ton of cooking shows on TV, so you might as well try and use the skills your learning in real life. Take a look at your spice rack and whatever you have in the freezer and get cooking!
Have some family fun — Movie nights are great and much-needed every once in a while. But you should be having more activity-based fun with your kids during this quarantine. Have any puzzles still in the box in the attic? Bust them out! What about fun card games you used to play as a kid? Show your children how to Go Fish like a pro! Though it might not feel like it, the possibilities are endless. Build forts, organize a scavenger hunt, and if you're creative enough, you might be able to trick your kids into doing some game-like chores! You can even make online learning fun if you do a little planning beforehand!
Organize your cupboards — Whether you moved into your house 20 years ago or two months ago, your cupboards are probably filled to the top, dirty, and full of clutter. This isn't exactly a priority project on your weekend to-do list, so you probably just keep forgetting about them or pushing them further down the list. Now, though, all you have is time. Start by just clearing out all your cupboards and throw out anything you don't actually need. Then, wash and clean everything. Then you can finally find the tops to all that Tupperware!
Check your smoke alarms — The NFPA and the National Association of State Fire Marshals (NASFM) recommend that residential smoke alarms be operated by a 10-year, sealed-in battery pack. You should already be checking the status of your smoke alarms every few weeks, but this task can be easily forgotten about. Since you and your family will be at home a lot more often, it's crucial to make sure your smoke alarms are functioning properly — especially with all that extra cooking you'll be doing!
Start hitting the (home) gym — Again, it's important to stay active during this quarantine. Exercise is essential and can be done during your quarantine! If you take care of yourself you will be better prepared to excel once life returns to normal. Since you can't head to the gym, start working out at home! All you need are some free weights and an open area to do pushups, situps, squats, and whatever else you can think of.
You don't have to be productive 100% of the time. In fact, that's completely unrealistic during these times. But it's important to at least get some stuff done while you're stuck at home and try and lose some weight. Check your smoke alarms, clean some stuff up, work out a bit, and have some family fun!