How Small Businesses in Denver and Across the U.S. Are Coping with COVID-19
10 min read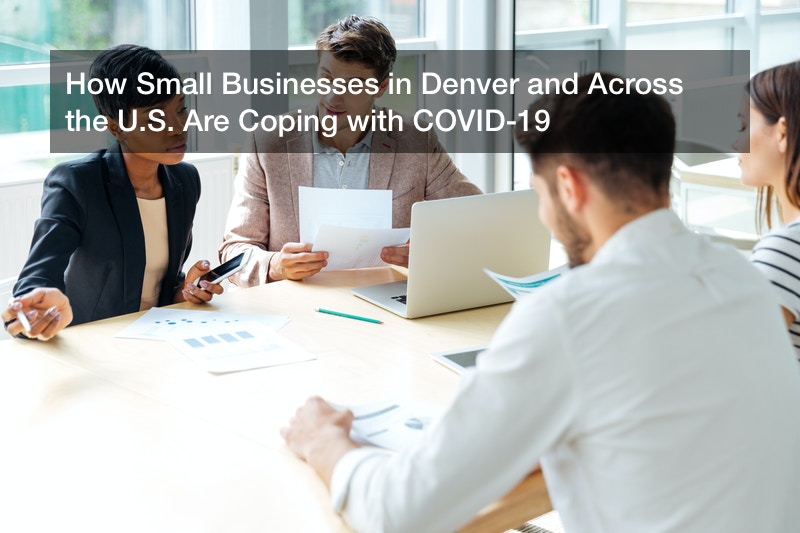 As stay-at-home orders continue to be in place all across the country, the U.S. economy is predictably suffering. Americans are experiencing this downturn on an individual level — nearly 17 million people have filed for unemployment benefits since mid-March — and small businesses are closing their doors after not seeing a single customer in almost a month.
The U.S. civilian labor force numbered approximately 162 million people in 2018. Today, American workers are finding themselves jobless as the coronavirus launches the country into an economic crisis.
We asked businesses, both local and across the U.S., how they are dealing with the COVID-19 crisis and what actions they're taking to survive and persist in this time of financial uncertainty.
Karla Martin of Bell Plumbing and Heating, a local company that has been providing plumbing, heating, cooling, electrical, and remodeling services to Denver area families since 1926, said, "Our company has survived the Great Depression, the 1973 Oil Crisis, the Central Banking Crisis of the 1990's, the Dotcom Bubble and 9/11 in the early 2000's, and the Subprime Mortgage Crisis of 2007. This is just one more thing that we will overcome as part of our continued history."
Martin's optimism is echoed by TheCheapPlace's Erhan Simavi, who said, "We will get by this and there are lots of patch ideas we are working on for our healthcare heroes and covid19 survivors."
TheCheapPlace is a wholesale embroidered patch supplier based out of South Daytona, Florida. Simavi explained, "We sell iron on patches to bikers and got hit hard with the pandemic panic starting right in the middle of Daytona bike week. We are a wholesale patch supplier for rally vendors and nobody is buying anything as almost all the rallies for the year got canceled …There [are] three of us here at thecheapplace.com. We are eating through our reserve funds at the moment. Which I must say not everyone saves for a rainy day and its tougher on them."
As an essential service, Bell Plumbing and Heating has been able to keep its doors open, though, like TheCheapPlace, they have seen their fair share of challenges. Martin told us, "We have put a pause on new remodel projects, finishing up those that we started prior to the pandemic. The challenge we face is similar to every industry, not knowing how long this will last, the severity of the impact to the economy, and the uncertainty of the stock market."
Martin mentioned that the threat of the coronavirus has led them to adapt their safety measures "to keep both customers and employees safe, with daily well-checks, shoe covers, gloves, masks, hand sanitizer, and frequent hand washing."
John Giunta of Swag.com has also had to make some adjustments, saying, "Swag.com has faced a few problems during this time. First, with the cancellation of events across every industry, the demand for promotional products has fallen significantly. Second, many of our supply chains and manufactures have been affected by closures and other distributions so this has also affected our inventory and production times. However, we have been able to make some adjustments and are able to offer products and gifts that are appealing to companies with remote workforces. Also, some of our manufactures have retooled their production so that we can offer bulk facemasks.
Logo Wear Company says, "The stay-at-home orders for nonessential businesses greatly affected our business as well. The cancellation of corporate events, league sports, and the closing of restaurants allowed us to look for opportunities within our business. Knowing that the short-term outlook prevents us from having onsite business with our customers, we shifted our focus to provide an enhanced online experience, one that allows customers to utilize an online designer and order their custom products from the comfort of their home. We know the significance of ordering online has increased and we want to make the experience is a great one for our customers. Finding new opportunities to serve them prevents everyone from unnecessary risk."

Gabriel Hargett of Oowee Products has experienced similar challenges with events being canceled, limiting the demand for promotional products. Hargett says, "The COVID-19 pandemic has had a large effect on our day to day operations here at Oowee Products. We make handmade leather goods that are used to promote other brands at events or as unique gifts that our clients can sell or give away to promote their companies. We also have a retail line of lifestyle products that we sell to brick and mortar retail stores. Our products end up at a lot of large events and trade shows as well as in small to medium gift shops. With all events shut down and most all retail stores closed we have lost a large number of orders that we count on. We had a lot of orders cancel and a large number of clients just not place their normal restocking orders. We have had to layoff 6 of our part-time employees and 3 of our full-time employees with our sales down around 80%."
Like Swag.com, Oowee has shifted some of their production to offer essential PPE like facemasks. "We pivoted our efforts into making PPE early on in the pandemic and have been trying to help the cause in way we can," says Hargett. We were able to jump in and help another company by cutting 15,000 clear plastic face shields and are currently making cloth face coverings in an effort to help other companies open back up and protect the community. On the upside, we are still offering our products for sale on Ooweeproducts.com, Amazon, and a few other online retailers. These online channels and making cloth face-coverings have helped us get through this downturn. We have been able to bring back one of our laid-off full-time employees so far and we are working hard every day to rebuild and make the necessary changes to survive during what is now our new normal. We employ adults with autism and are currently working on how we can safely bring them back to work and what that would look like with new safety guidelines in place."
Also making a change in their production methods is chennaiuniform.com, a quality driven uniform store. Owner Rahul Jain says, "Since we have an inhouse production team and our focus is more on corporate uniforms, during pandemic we made the best use of time by producing readymade uniforms which can be instantly available to the customer like Uniform Shirt, Trouser, Chef coat, Aprons to name a few. By doing this we have a little edge over the market when customers come in looking for instant uniforms. We support them by branding their uniforms with machine embroidery or printing. Never lose hope, this pandemic gives us an opportunity to reassess our weaknesses and convert them into strength. Hoping for the best times ahead."
Says JMC Automotive Equipment's Juan Chavez, "Covid-19 has affected our business and more importantly our client's businesses as well. We have seen a slight drop in sales, but we are maintaining those sales only because we have been tirelessly diversifying our product line and the services that we provide to our clients. We have been up day and night trying to keep our business afloat and we are also making sure that we are passing on our knowledge of how to survive this crisis to our community, clients, and friends."
The marketing industry has been affected in unique ways as well. Maria Gibson, CEO of Denver SEO company Altitude Agency, says, "As a digital marketing agency, Altitude has been operating at full capacity, remotely, since mid-March. Many of our clients are businesses who have been affected by COVID-19 in a negative and positive way, and in turn they have adjusted their marketing budgets, as necessary. Some business owners are quick to cut back on their digital marketing when business is at a standstill, we believe it presents a unique opportunity to revise campaign strategies so that they can emerge ahead of their competition when this crisis subsides."
Paige Wiese, Founder & CEO of Tree Ring Digital, is witnessing a similar trend. She says, "The biggest problem we're seeing is that businesses are backing off their marketing efforts – which is one of the worst things a business can do during a time like this. It's important to stay present and remind consumers that you're still in business. Even if your hours are reduced or you're temporarily closed, stay present. That doesn't mean you have to engage in expensive marketing, either. But now, more than ever, people are on their mobile devices looking for news, looking for ways to support one another, searching for what they can still do. If you're not there, you'll quickly be overlooked."
Though it may seem counterintuitive, marketing spending is crucial during a time like this. Of course, as long as that marketing budget is spent strategically. Danielle Foley, owner of Foley Marketing Advisors, says this:
"As a marketing consultant for small to medium-sized businesses, since the Pandemic went into full effect, I've offered the following advice to my clients: If your business has slowed down, don't get discouraged, just use this time to evaluate your current marketing programs in place – from your website to your email campaigns to social media. Conduct a thorough audit of each aspect of your marketing program and identify those things that you know you should optimize but just haven't had the time to do!"
She goes on to specify, "For instance, when was the last time you updated your website? Carefully review each page throughout your site and make sure your onsite SEO is up to par and overall it's meeting your business objective. I've written several good blogs on optimizing and enhancing websites, and advise my clients to review them and see if they're able to tackle this on their own or contact me if I can help."
For businesses like Bell Plumbing and Heating here in Denver, Mayor Michael Hancock announced that the city government is making $4 million available in economic aid. Small business owners can apply to receive up to $7,500 as a part of this program designed to assist businesses that have had to close temporarily, lay off staff, or are struggling to keep up with their rent and utility bills. To apply for the Small Business Emergency Relief Program, visit the city's website.
Some small businesses haven't had much luck securing the loans they need to stay afloat. James Hill, CEO of Unified Manufacturing, expresses his frustration: "Our small business provides merchandise for live events and custom apparel. Its has been really tough business has fallen off a cliff to make matters worse the SBA loans gave out the funds to our competitors who in turn used the money to increase their advertisements. Fun times. Chase bank has been awful. It seems they are giving out the loans to the bigger companies to get more commission and the rest of us are left to fend for ourselves. It's a massacre where the rich keep on winning. As soon as this is all over I will move my account from Chase and I hope a lot of small business join me."
While some businesses have been hit harder than others, the pandemic has affected every industry. Even dentists, widely considered one of the 10 most trusted and ethical professions in the U.S., have had to cancel appointments and put their work on hold. According to the American Dental Association, over three-quarters (76%) of dentists surveyed closed their offices to all but emergency patients, and another 19% reported that their offices are closed entirely.
The average dental practice needs a minimum of 20 new patients each month to grow. The ADA's Health Policy Institute projects that dental care spending could decline by 66% in 2020 and 32% in 2021.
Law practices have been similarly affected, though Mac Hester, the Founding Attorney of Mac Hester Law, is starting to see an uptick in certain areas of his practice. He says, "Since we are a personal injury law firm, and because people were staying at home due to the pandemic, we saw a drop in motor vehicle accidents and slip and fall cases. However, we have seen more nursing home abuse and neglect cases in the last couple of months. We are also finding a mix of people who want to visit our office (following COVID-19 guidelines, of course) for their free consultation and those who want to do it virtually. We're confident business will get back to usual."
Forrest Wedmore of The Foundry Clothing has also seen a shift in his market. "Our biggest challenge has been adapting our services to accommodate COVID-19 based needs and focusing more on transactions with individuals opposed to businesses," he says. "As a wholesaler volume transitions have been the driving focus for us. However during these times automated web systems and sales restructuring has allowed us to do more small transactions at a higher margin. Adopting a more direct to consumer format has kept our sales flat though the pandemic because it seems that while B2B spending is down consumer spending is up or flat in the market we serve. The silver lining here is that we knew we needed to adopt a lot of these changes for sometime. This shake up has given cause to change so we're grateful for the opportunity."
Businesses that can migrate online are doing so. Office workers are telecommuting, using video-conferencing software like Zoom, and retail shops are transferring their businesses to e-commerce sites. Conducting business digitally certainly comes with its own challenges, namely barriers in communication and challenges providing the same level of customer service. But we are fortunate enough to live in a time with advanced technology that allows us to connect remotely.
The average age of retirement in the U.S. is 63. However, so many young Americans are facing a serious concern over what their economic and professional futures will look like. Nevertheless, what Martin said of Bell Plumbing and Heating is true for our nation as well: we have survived economic crises in the past, and we will overcome this, too.
If you own or run a small business in Denver, please reach out to us at editor.indenvertimes@gmail.com to share your challenges, stories, and advice for getting through the COVID-19 crisis. We want to hear from you.