Semify Reviews and Customer Satisfaction Data
9 min read

6/14/21 Update – Semify continues to expand market share as digital marketing shows strong growth post-pandemic. The team at Semify always strives to create positive customer experiences – which usually creates strong positive customer reviews. There are new reviews for those doing due-diligence at Clutch.io. Here are some samples.

When researching what white label SEO provider you will select for your agency, customer reviews are a critical factor to consider. Any company with any history will have an online reputation. If they don't, this is a red flag. Review available online customer reviews, and compare that with your own experience with the firm. Here is another verified review from Clutch.io.
The Semify team continues to focus on their Net Promoter Score as a customer experience initiative. The Net Promoter Score (NPS) is a well established measure of customer service that is used by many industries. Recent scores from the Semify customer service team have been outstanding. Consistently over 50 (which is very strong) and occasionally over 70 (which is "World Class" customer service). Here are the NPS customer service score data for the last 6 months.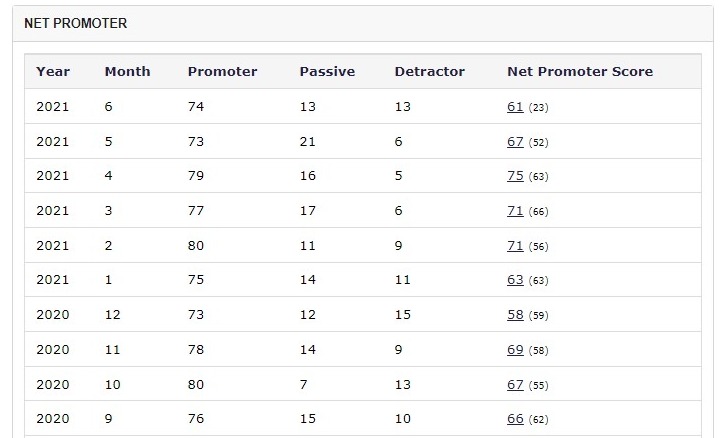 3/30/21 Update – Semify continues to earn outstanding customer reviews from Agencies all over the United States. Here is the latest screen shot from the Firm's GMB reviews. Also see a recent Semify press release.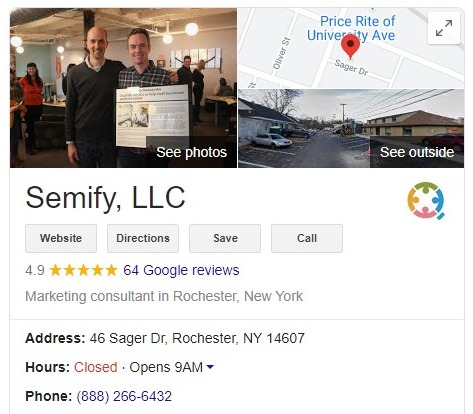 The firm now required a $1,000 / month minimum due to explosive growth in 2020. As the reviews will indicate, Semify only wants to work with serious Agencies who have a strong track-record of both sales, and the ability to retain customers with strong customer management skills. Here are some real customer Semify reviews: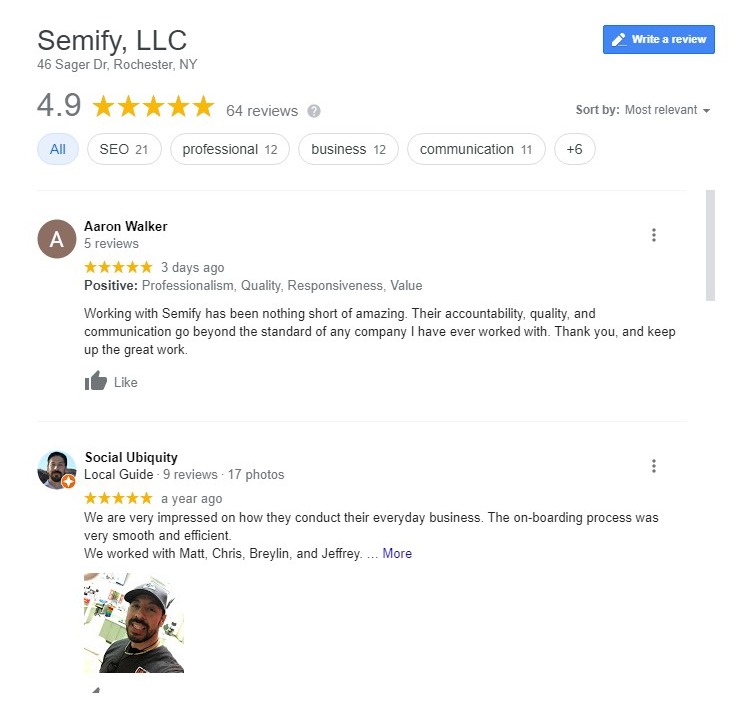 2/22/21 Update – When seeking honest customer reviews, people want data from existing customers more than they want to hear from the company itself. That makes sense. Nobody knows your service better than your customers. In fact, most leading business books say "if you want to know your strengths and weaknesses, ask your customers. So, here are the words of Semify customers. Again, Semify reviews from real agency customers: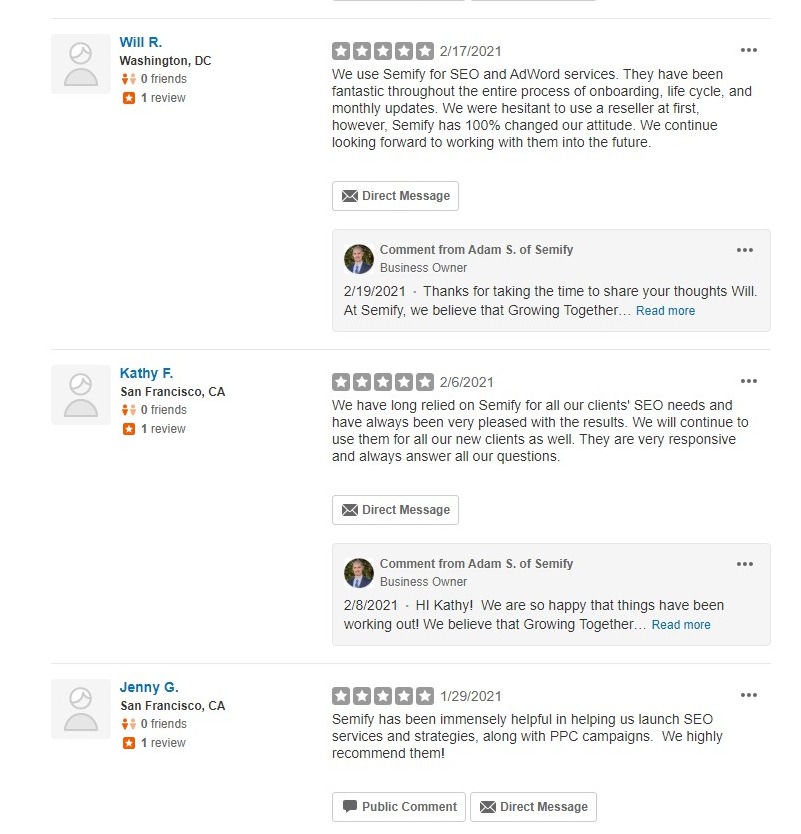 2/12/21 Update – Here are the latest reviews on Yelp for Semify. We thought this would be helpful data for those out there looking for updates.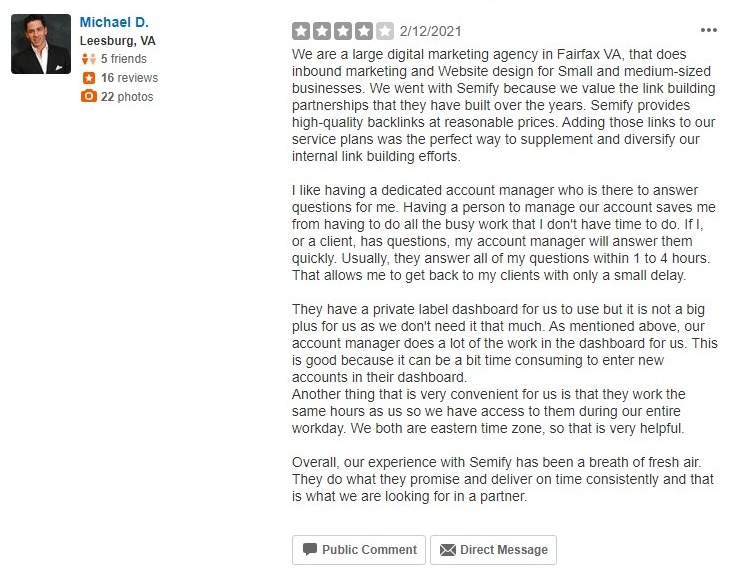 FEB 2021 UPDATE
In 2020 HubShout rebranded the company to Semify – in part to clear up any confusion with HubSpot (a completely unaffiliated company). Of course, COVID 19 happened at the same time as the rebranding, making the year extra complicated. Here are Semify reviews from GMB:
Semify had a very successful re-launch, as evidenced by the many positive Semify reviews online. You can read this from many of the reputable sources – as this is not a customer review.

The company continues to enjoy a Net Promoter Score (NPS) that is nearly world-class, due to a strong commitment to customer service.
Semify believes that Growing Together creates the freedom to be more. The customer reviews of Semify verify this philosophy is held by all employees at the firm: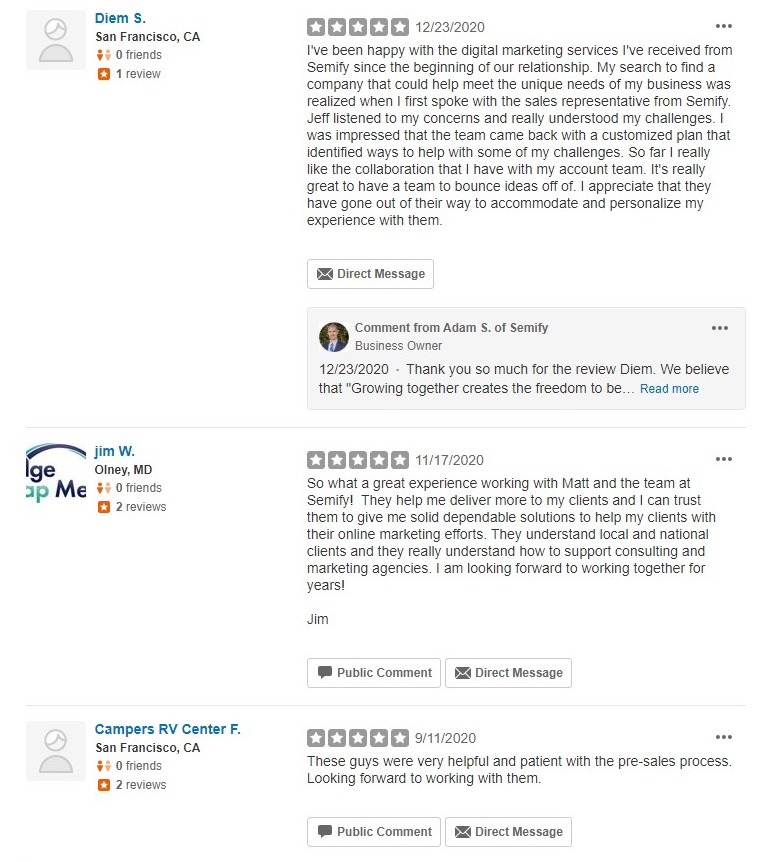 This tag-line came out of the rebranding work – which has been propelled by a strong company culture. Working with this team is fun, and it shows.

MARCH 2019 UPDATE
We have been updating our SEO reseller reviews frequently. The news from Semify continues to focus on customer service, fast response times, and high-quality relationships. They use Net Promoter Score as their main indicator of the quality of their customer relationships. They are extremely open about their data and post the NPS scores on their website – as well as in every sales presentations. NPS is scored on a -100 to +100 scale. 0 is average, but considered fairly poor. 30 is strong customer service. 50 is excellent and 70 is considered "world class." Semify has achieved a rating of 60 or better for the last 4 months – which is very strong.
The process they use for keeping their customer relationships healthy is also very impressive. They are extremely responsive, getting to customer inquiries within 1 hour 85% of the time, all inquiries within 4 business hours.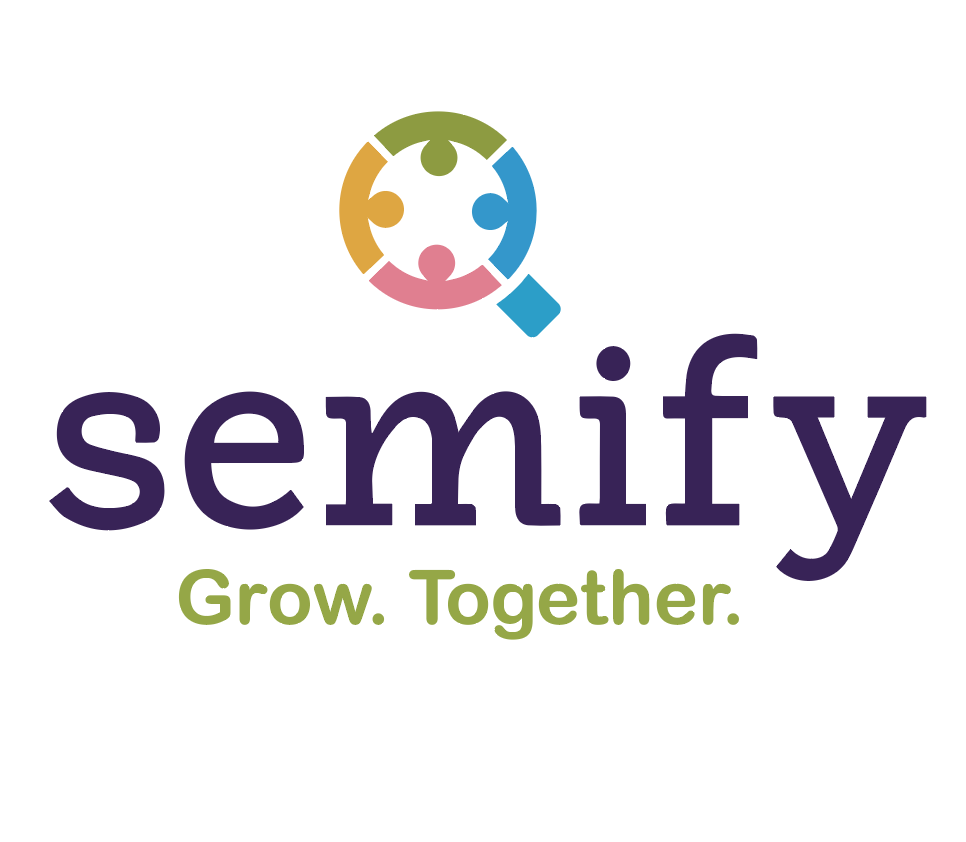 Additionally, we've seen some of the presentations they are using in sales and in account management. It is refreshingly real, filled with integrity and accountability and open to criticism. The firm is open to negative feedback and seems eager to improve. We have not found this in the SEO reseller reviews we have looked into.
Finally, a notable change in the Semify culture has happened. Indeed, their leadership is very up-front about the fact that several years ago their culture was not getting the attention it needed. After explosive growth in 2011 and 2012, 2013-2015 were difficult years for the firm. The growth was overwhelming and service had started to slip. The company culture was also not strong, and customers were noticing. However, the last 4 years have shown an impressive comeback. Not only are employees happier with the company, customers are noticing the cultural improvements. A few local universities have taken notice in what Semify is doing and several high-profile stories have noted the improvements in culture as a driver of growth. We hear a ton from other firms about link building, onsite content, technical SEO and content marketing, The culture-focus at Semify is notable.
November 2018 UPDATE
We've received more data from Semify about their 2-year effort to re-invent customer service. Below is a snap-shot of their response times on customer service tickets over the last 6 months. Their stated SLA is that all tickets will have a response within 4 business hours. Based on the data below, we can see that they have been hitting that with consistency over the 2 months. Additionally, they have been responding to 80% (plus) customer service issues within 1 business hour.
In discussions with Semify, they believe that rapid response, combined with other customer service improvement initiatives, is why their overall Net Promoter Scores have improved so dramatically over the last few years. For those not familiar, Net Promoter Scores are a nationally-recognized methodology for measuring customer perceptions of a business. Semify has been using The Lean Startup to move their Net Promoter Score through strong account management and customer satisfaction practices with strong quantitative results.
**************ORIGINAL POST***************
When looking for Semify reseller reviews, it is very important to do your research. There are many reseller options on the market today to help small agencies get started in digital marketing. Unfortunately, the quality varies drastically and agency owners need to be Savvy with how they select an outsourcing partner. In this article, I will outline the various components that should be important when looking at a reseller review, as well as the major players in the white label SEO space. I will also highlight specific Hubshout reseller reviews to give you a realistic assessment of the Hubshout private label SEO platform.
Hubshout history
Hubshout was founded in 2008 with a mission to help small businesses in a digital marketing landscape dominated by corporate Giants. With nearly 10 years of experience, The Firm has grown to a considerable size with over 40 employees into offices, Rochester New York and Washington DC. They have also made considerable investments in technology, offering a white label dashboard to agencies who sign up for their digital marketing services. Hubshout also maintains a column on search engine watch and is a frequent contributor to other major search engine optimization publications such as MOZ.
HubShout SEO reseller reviews
HubShout currently has 250 active resellers in their community. As a result, it is not hard to find reviews from these agencies. The company has a page on their website dedicated to Hubshout reseller reviews which you should read. But like any company, these will be carefully curated to present a positive image. What is more interesting to me are the quantitative customer satisfaction survey scores that the company publishes. These scores include unhappy customers as well as happy customers. This will give you a much better picture of the overall reseller satisfaction from firms who work with the product day to day. While many people enjoy reading individual testimonials, I believe the aggregated data is a much more realistic view of the overall experience with the service.
While there have been previous reports of customer service problems at Hubshout, the recent reseller review data is strong. For the last six months, the average satisfaction with their account management has been 4.3 on a 5-point scale. This is a very strong score and indicates a customer service orientation at the firm. There are other indications of strong customer focus. The onboarding process is something that previous agencies had complained about. specifically, they felt that bringing new clients on to the Hubshout platform was difficult. Again, we now have quantitative data demonstrating improvements in the onboarding process. The satisfaction with the onboarding calls has been as high as 4.7 on a 5-point scale over the last six months. These aggregate numbers are very encouraging, but you can also read the individual reseller reviews on their website to get a flavor of how it feels to work with them.
Digital Marketing Results
It is also critically important that the white label SEO firm you work with produces results. This is an area where Hubshout has always excelled. From day one, The Firm was very transparent about the results they were able to create for resellers. This philosophy continues to be true today. Over the last year, Hubshouthas embraced The Lean Startup movement. They are now using experimentation, minimum viable product, and cohorts to measure everything they do. This has resulted in many product improvements end is likely one of the reasons the resale reviews described above are so high. A few examples.
Writer Kick Off Calls
A newer future of the Hubshoutreseller program is the writer kickoff call. Specifically, when a new campaign is launched the reseller, the end client, and the Hubshout writer all join a conference call. The reseller introduces the writer as "my remote writer" so the white labeled nature of the arrangement is not violated. this conference call give the writer the opportunity to hear instructions directly from the small business owner. It also enables the reseller to hear the customers desires and help Translate any missing information that the writer needs to do an excellent job. Using the Lean Startup Innovation engine, Hubshout has demonstrated that customer satisfaction scores with onsite content move from 3.7 to 4.3 using this technique. The end result is a happier customer. Here is the specific data below.
Case Studies
Another new feature of the Hubshout reseller program are case studies. When a new agency joins the Hubshout community, the co-founders have a conference call to discuss strategies that other agencies are using to accelerate growth. These conference calls have received very positive reviews as well as the other changes made to the product. There is Great Value in collaboration between agency owners who are all trying to achieve the same result. The presentation offered by Hubshoutallows for knowledge sharing between small business owners and has shown some great result. Several agencies have formed round tables and Mastermind groups based on these discussions and feel that they are invaluable for the growth of their companies.
Technology Improvements
Finally, I will highlight the technology improvements that Hubshout has madeover the last year. Based on reseller feedback many new features have been added to their white label portal. Examples of this include API integration with Zapier, Which allows data to be pulled in and out of the Hub shop platform with ease. Another example is the printable proposal PDF. many resellers had requested a portable version of The Proposal to accelerate their sales efforts. PDF format is universally accessible to prospects and allows agencies to push out sales material quickly. Hubshout also has several sessions scheduled for the upcoming months to address feedback related to the look and feel of the dashboard, usability, and reports. Based on their recent trends we should expect to see many new releases in the near future.
Conclusion
In summary, there are many nuances to evaluating a reseller program. Reading Hubshout reseller reviews from other agencies is certainly an important data point, but it should be correlated with qualitative customer service scores as well as your own review of the product and service. Hubshout has made a commitment to improving customer service as well as an investment in Innovation using the Lean Startup methodology. This approach has shown drastic changes over the last year and will probably continue to place them at the top of the list of best SEO resellers in the world.
Read more about Semify and Adam Stetzer here.