Boulder Valley School District Continues to Embrace Cloud Computing
3 min read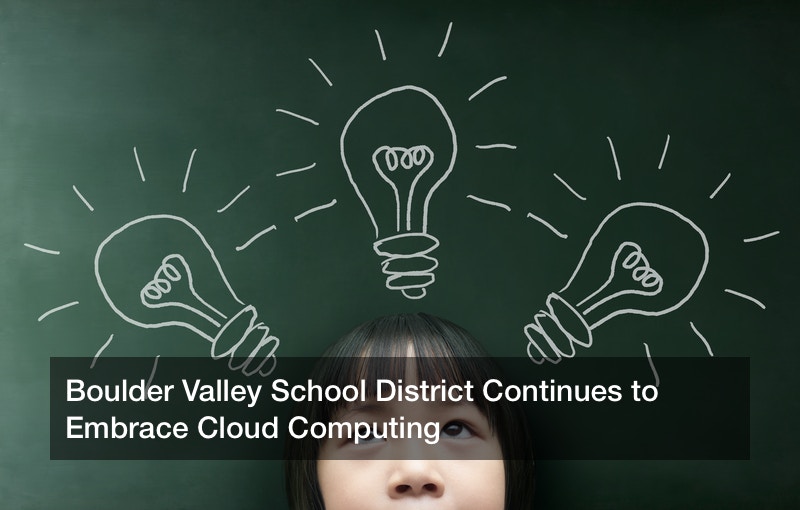 It's become more common for businesses to abandon their local servers in favor of a cloud computing network. After all, recent research has found that 80% of cloud adopters reported improvements within six month of moving to the cloud. However, many educational institutions have been noticeably slower in making such a switch. These schools see making such a big operational change as simply too much of a hassle, and public agencies in general are often late adopters of new technology.
No one knows this better than Andrew Moore, Chief Information Officer for the Boulder Valley School District. Moore led the charge to migrate the school information system over to the cloud a year and a half ago. And five years ago, the district moved its enterprise resource planning system to the cloud. In the time since, they've benefited from increased security, reduced downtime, and easier upgrades. By moving to the cloud, the district's 50 staff members on the Edtech team can now use their time to actually help their 4,500 other teachers and staff members, as well as their 30,000 students, rather than being bogged down with hardware fixes.
Their success thus far has prompted Moore to push for even more cloud migration. His latest endeavor involves shutting down the district's two data centers, which are located within their local high schools, and the 120 servers that are housed there.
Said Moore to EdScoop, "I'll be pulling the plug on our SAN [storage area network], which is where all these servers used to run, we'll shrink the footprint of our existing data center, which means less power … and air conditioning, less battery backup. I want to focus the limited resources I have into the classroom and the hands of the teachers, and the more behind-the-scenes [work] into the hands of other professionals."
In addition to his efforts with the cloud, Moore is trying to ensure both teachers and students can benefit from accessible technology. The district's "One-to-Web" program provides a Chromebook to every incoming freshman and is expected to expand to their middle schools as well.
"The beauty of that is with every student having a device, the teachers can really start to transition the way they teach in this digital world…and use more online resources," said Moore.
Moore also said that because the district is able to decrease its reliance on Windows devices, their field support team doesn't have to spend as much time repairing and changing hard drives and motherboards. Therefore, they're able to be retrained in the software used by students and teachers throughout the district.
Of course, Boulder Valley isn't the only school district embracing advanced technology. Oregon recently became the first state to adopt Google Apps for Education in their public schools. The move will save their Department of Education an estimated $1.5 million every year. Other districts in Maryland and New York City have adopted the same system, and early reports indicate that the switch has improved both academic and behavioral performance.
It may take a while for schools across the country to catch on, but those who aren't afraid of a technological upgrade will likely see it pay off in the end.