Colorado Homebuilding Academy Offers Free Tuition
4 min read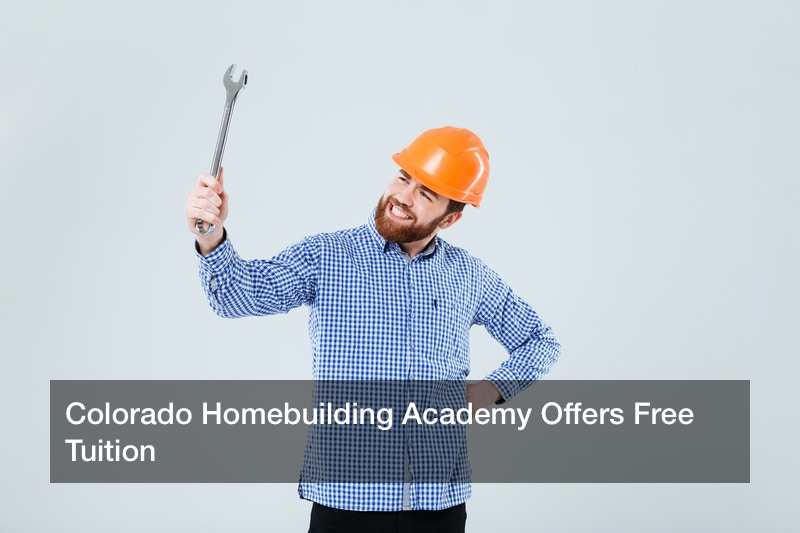 5 Reasons to Become a Carpenter in Denver
As is the case for much of the nation, COVID-19 has forced many Denver residents to reevaluate their careers. A number of non-essential industries have been temporarily or potentially permanently crippled by the pandemic. This has pushed a new focus on essential businesses, both for individuals considering new career paths and those preparing to enter the workforce for the first time. The issue for many is that it can be somewhat difficult to find professions that are essential, but do not require a university degree and offer affordable training opportunities. Fortunately, a Denver construction school has offered workers the ability to not only become skilled but reinvigorate their own job prospects and the economy in turn. The question is only one of whether or not those considering this opportunity are interested in becoming carpenters.
The Colorado Homebuilding Academy in Denver is currently offering free tuition to those interested in becoming carpenters, largely because that particular role is in such demand within the area. Carpenters are needed for various construction projects, and there is more of a demand for carpenters than there are actual qualified carpenters in Colorado. However, this is not an opportunity for those who simply want to handle their own carpentry projects, but rather those who want that contribute to the industry and be gainfully employed. The Colorado Homebuilding Academy is able to maintain its free tuition status through grants as well as foundations and local builders. Free tuition is hugely important, especially in a city with a higher cost of living like Denver. Tuition, even to a trade school, can easily put an individual into debt before they begin their careers. Though the carpentry industry can be quite lucrative, it's nonetheless difficult for people to commit to it when they are afraid of the financial obligations that come with schooling. Therefore, the tuition-free offer makes a major difference. Nonetheless, some remain hesitant due to a lack of information regarding the construction and carpentry industry. There are many benefits to becoming a carpenter, the free tuition aside.
1. Stability
One major reason why the prospect of becoming a carpenter appeals to many at this time is that it's one of the few professions that remains stable in the face of COVID-19. Carpenters are considered essential workers, due to the fact that they often are employed to either repair damage or work on new construction projects. Therefore, even if the COVID-19 pandemic progresses to the point that additional statewide quarantine periods are instituted, carpenters will be able to work. Furthermore, regardless of the state of the pandemic certain home improvements will need to be made. It's estimated that 85% of homes in the United States were built prior to 1980; this means that many of them are in serious need of improvements, and carpenters are necessary for such projects. Carpentry as a profession has existed as long as homes have existed, essentially. People can rely on this industry remaining stable.
2. Population Growth
In fact, due to population growth, the demand for carpenters is actually increasing. It makes sense that cities like Denver, already growing in popularity, are in need of more carpenters. Not only do Americans need more homes to accommodate the booming population; they need larger homes to accommodate larger families and families with expectations of greater space. In fact, the standard American home has almost doubled in size since the 1950s. The average home almost hits 2,500 square feet, and it is almost impossible to create these homes without a carpenter. Furthermore, these larger projects are of course more expensive, allowing carpenters to make more money with each project.
3. Career Opportunities
Carpenters have the ability to grow within the construction industry. Particularly after attending a trade school like the Colorado Homebuilding Academy, carpenters offer a specialized skill that can't be offered by simply any laborers within the construction industry. This gives them the ability to earn more immediately, while also allowing them to grow within the construction industry. A person who begins as a carpenter, for example, can eventually learn enough about the rest of the construction industry to become a Project Manager. What does a Project Manager do? This role involves overseeing all phases of a construction project, not only those that involve carpentry. The Project Manager ensures that the project remains on budget, and is finished on time. The greater responsibility of a Project Manager, in comparison to a straightforward carpenter, comes with a raise in pay of course. While carpenters themselves can earn great pay, the ability to grow within the broader field is appealing to many.
4. A Retiring Generation
According to some estimates, there are more older carpenters retiring than there are newer carpenters entering the industry. Carpentry, again, is not a new field and many people work as carpenters consistently until they reach retirement. However, once they do reach retirement, this opens up their book of business to newer carpenters. While there are larger carpentry companies, many carpenters work on an individual basis or as the owners of their own small businesses. Therefore, every time a carpenter retires that opportunity opens up for another carpenter. The current generation of retirees is quite broad, and with Denver needing so many new carpenters that there is free tuition available to Coloradans, there is clearly available work for newcomers.
5. New Infrastructure Investment
There are brand new infrastructure investments creating opportunities for carpenters in particular. Education, healthcare, highways, and public transit are all experiencing new investments, which means that there is a renewed need for skilled carpenters. Therefore, even if a potential carpenter is worried about housing growth in their market, they need to understand that infrastructure is a major source for carpentry jobs.
Clearly, there are many benefits to becoming a carpenter, especially in a post-pandemic world. However, perhaps most importantly, the opportunity to attend a carpentry school tuition-free takes away much of the risk of becoming a carpenter. It's an opportunity that few can refuse.