Record Colorado Cannabis Sales Reported In June 2020
4 min read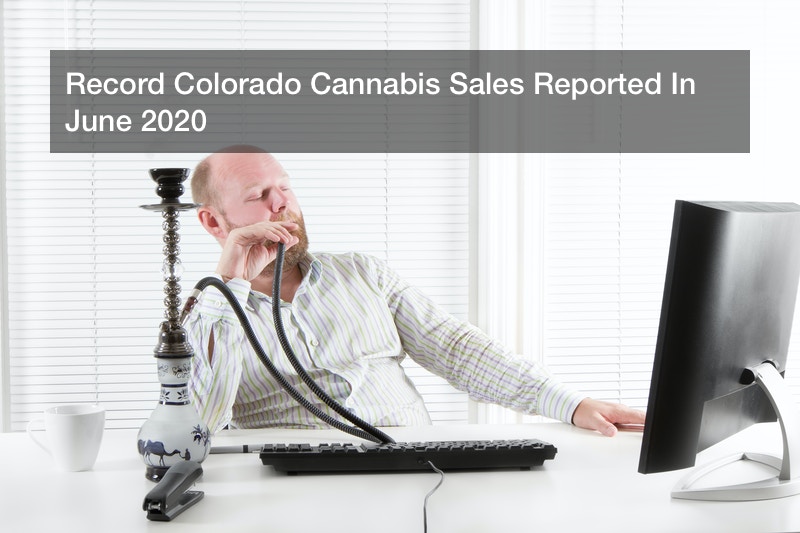 Despite the economic hardships faced nationally due to the COVID-19 pandemic, Colorado still experienced record marijuana sales in June 2020. Combing the numbers reported by both recreational and medical cannabis dispensaries, that month saw $198.9 million in sales, which means that it was the largest sales month for marijuana sales in Colorado to date. In fact, June 2020 was the first month that Colorado reported more than $150 million in recreational marijuana sales. Of the total $198.9 million, over $158 million was in recreational sales alone, as indicated by the Department of Revenue's Marijuana Enforcement Division. This was a 6% increase from the sales reported in May 2020, and comparatively, recreational marijuana sales reached just over $122 million in sales in June 2019.
While recreational sales increased during June 2020, medical sales experienced a slight drop. They fell from nearly $43 million in May 2020 sales to nearly $41 million in June 2020 sales. Nonetheless, this drop does indicate a real decline for medical marijuana revenue in Colorado, but perhaps a growing interest in or need for recreational marijuana. The Colorado cannabis industry is on track to easily surpass 2019's total cannabis industry sales, which hit $1.75 billion. Clearly, more people are growing open to the idea of recreational cannabis consumption over time, as the product becomes more normalized in Colorado. While 2017 saw 24% of Colorado adults report that they had consumed cannabis in the third quarter of 2017, 42% of adults reported the same thing in the third quarter of 2019. This ultimately has resulted in Colorado collecting greater tax revenue from the cannabis industry, which could very well be needed more than is usually the case during the COVID-19 pandemic, wherein more Americans are in need of government assistance.
The Growing Acceptance Of Cannabis Products
Marijuana has only recently become more accepted within the United States, both as a medical and recreational product. Indeed, in much of the country it remains illegal; though some states are taking steps to decriminalize certain amounts of marijuana, by and large it cannot be distributed or consumed legally. For example, in Missouri carrying under 35 grams of marijuana remains a misdemeanor offense, though the level of the criminal offense grows depending on the amount of marijuana involved.
In many states, the legalization of marijuana first becomes feasible through the legalization of medical marijuana rather than recreational marijuana. This is because medical marijuana can only be attained when certain medical requirements are met. For example, a lot of Americans pursue medical marijuana to aid in pain management, particularly when they suffer from serious ailments like cancer. It can be difficult for marijuana opponents to counter the date and anecdotal evidence that displays medical marijuana's effectiveness in treating the pain and anxiety that come with such intense illnesses. Yet medical marijuana can also be used to help less critical but nonetheless real ailments such as cataracts, which affect over 24.4 million Americans age 40 and older. It's estimated that about half of all Americans have cataracts by the age of 75, meaning that medical marijuana is not merely meant to be directed at the younger audience it is often associated with.
Though medical marijuana is often considered the door through which the marijuana industry is introduced to different states, recreational marijuana is also becoming more popular. While there may be some moral debate over cannabis products, the lack of health risks associated with it make it a promising economic prospect. Recreational cannabis products can be distributed for edible consumption, while they can also be smoked or consumed through the increasingly popular practice of vaping. While states are moving to regulate recreational marijuana consumption and ensure that it does not grow out of hand even when legal, there is a great deal of potential for states to increase their income from the products. While a number of industries have been economically dismantled or stalled by the COVID-19 pandemic, the marijuana industry has presented a potential relief for states in which it is legal.
The Cannabis Industry During The COVID-19 Pandemic
The COVID-19 pandemic presents a threat to virtually any industry, simply due to the fact that consumers are often able to spin less money than they did prior to the pandemic. While recreational marijuana in particular is a product that consumers want rather than need, medical marijuana can remain steadier, potentially, because it is needed rather than simply wanted. In anticipation of potential economic limitations and dispensaries closing down during quarantine, many Americans stocked up on their prescriptions in the early days of the pandemic, and remain vigilant about maintaining their supply. However, dispensaries were in fact declared essential businesses, and as a result, sales increased. Americans were less able to impulsively spend money on products deemed non-essential, while dispensaries remained easily available. Stocks for cannabis companies, therefore, rose in value.
At the same time, the impact was not entirely positive. Certain states and regions wherein cannabis products are legal are dependent in part on tourism for sales. That is, consumers travel from other states to buy their cannabis products, greatly affecting sales. These states saw, unsurprisingly, a negative impact on sales due to the fact that Americans were no longer able or willing to travel as much. Fortunately, Colorado, in contrast, seems to maintain a healthy number of cannabis product consumers within the state.
Much like alcohol, cannabis products could potentially be consumed more as Americans spend time at home, and therefore do not need to report to an office. There are many factors that can affect the interest that Americans hold in cannabis products, as well as many legal factors that can still impede the industry and its sales. However, the early data seems to indicate that Americans, and perhaps Coloradans in particular, remain interested in cannabis products. Hopefully, this interest will yield economic opportunity in the wake of the pandemic. With as many as 64% of small businesses struggling financially, the ability for a new crop of cannabis small businesses to thrive is greatly appealing.