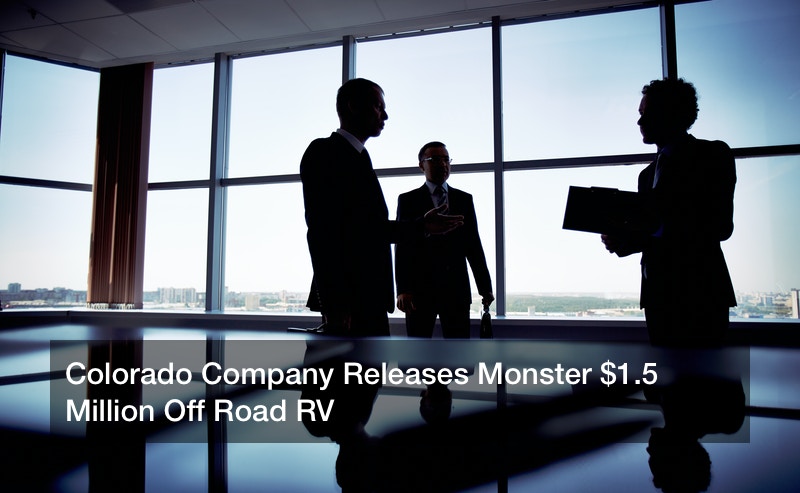 Once upon a time, the stereotypical RV buyer was a middle-aged father or grandpa, but that image is starting to change. In the last few years a handful of companies have started offering heavy-duty RVs capable of traveling off road in the most rugged outdoor environments. These monster RVs combine luxury and off roading features, and they're known as expedition vehicles.
These expedition-class RVs have been made popular by RV influencers and travel bloggers who have broadcasted their vehicular adventures on social media platforms like Instagram and Youtube. In the early days of the expedition vehicle trend, hardcore DIY enthusiasts had to build these rigs themselves from old military vehicles and parts.
The popular expedition vehicle blog Two If Over Land breaks down the components inside their "super-duty" truck:
In her past life, she was a military gun truck set up for heavy cargo, as indicated by the 70,000-pound rear leaf springs. She rides on 395 Series Michelin tires mounted on 20" rims, for an overall tire height of 48 inches. The rims can be split for field-changing tires, and the central tire inflation system (CTIS) allows us to change tire pressure from highway to trail, sand or mud, or even to continually fill one tire in an emergency.
Some of the first expedition vehicles were Frankenstein monsters like these, lovingly built with discarded military vehicles and construction heavy equipment. The U.S. construction equipment market is worth an estimated $145.5 billion, but to create an expedition vehicle of their own a driver would need considerable technical know-how, time, and money. Now, travel lovers can purchase super-duty expedition RVs of their own without buying old military trucks at auction.
Case in point: Colorado-based EarthRoamer, which is responsible for the new $1.5 million EarthRoamer XV-HD. A more bare-bones version, the EarthRoamer XV-LTS can be purchased for a mere $438,000.
While EarthRoamer has been building expedition vehicles since 2003, their vehicles have been more in-demand than ever thanks to a growing cadre of adventure travelers live blogging their adventures online.
So what comes with the new EarthRoamer?
Curbed reports that "the overland camper sleeps six people total in a king-size bedroom and a dining area that converts to more sleeping quarters. The kitchen is bigger than some studio apartments, with a three-burner induction cooktop, Bosch microwave/convection oven, fridge, a washer/dryer and a large counter with a downright spacious stainless steel sink."
In induction heating, a high-frequency alternating current passes through an electromagnet and generates heat. The basic principles of induction heating have been used in manufacturing since the 1920s, and are commonly used in induction cooking stove-tops as an alternative to gas stoves.
About 54% of home buyers will pay more for a home with hardwood floors, and the same goes for RV buyers. In addition to these luxury features, the overland camper also boasts radiant heating and wood accents. On top of that, the vehicle "is powered by 2,100 watts of solar capability and a 20,000-watt lithium-ion battery," which helps power the TVs, kitchen, retractable awning, exterior lighting, hydraulic leveling, and more.
A recent AutoTrader consumer study found that fully 84% of drivers want to buy a car in person, as opposed to online. However, typical drivers are not the target market for the EarthRoamer. Even if it didn't cost upwards of $1.5 million, the new EarthRoamer is designed with hardcore RV enthusiasts and campers in mind.
Interested buyers can work with the company to order a camper with custom features and floor plans. In short, the off road RV industry has more in common with the luxury yacht industry than the auto industry, with a healthy dose of DIY thrown in for good measure.
So while super-duty, expedition-class, off-road RVs may not be ideal for the casual camper or driver, more and more travelers are taking to the roads on these monster vehicles with each passing year.