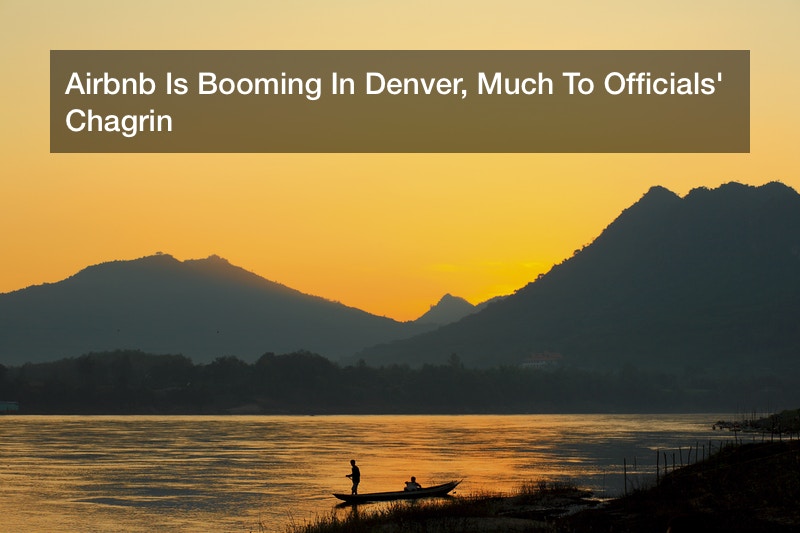 As the gig economy continues to grow, more Americans want in on the action. And with Airbnb, it's pretty easy to make a bit of extra cash, particularly if you live in a place like Denver. But while the platform is seemingly good for both residents and travelers, not everyone is happy about it.
One perk of booking a stay through Airbnb is the potential cost-savings. When hotel rooms are too expensive and too scarce, hosts can offer up their spare room or even an entire home for an affordable price. That's appealing to the more than 50% of Millennials and Gen Xers who feel cost is a barrier to leisure travel. And of course, it's a nice stream of relatively passive income for the hosts who open up their homes.
It's an endeavor that's been especially lucrative for Colorado homeowners who are active on the platform. Last year, those hosts earned a combined $183 million from 1.2 million guests who came to stay. The average host raked in around $8,000 last year, far more than hosts in many other states.
Airbnb also made it even easier for Denver hosts back in April when the platform agreed to automatically collect city lodging taxes from guests, rather than making the hosts be responsible for doing so. Their agreement simplified the entire process and reduced the likelihood of angry guests who are caught unawares by the city's tax rules. Considering that 60% of taxpayers needed professional financial help for their filing in 2017, anything the platform could to do streamline the process was likely welcomed by all involved.
That's not the only Airbnb development in this region. There's also a new loan company that actually offers incentives to homeowners for listing their spare rooms on Airbnb in exchange for a home down payment. The company started in Seattle but has since made its way into the Denver market. It may sound a bit scammy, but the idea could make it possible to increase homeownership in the area.
The city of Denver has been trying to limit short-term rentals for the last year and a half, but records show that their efforts have been largely unsuccessful. An analysis of city records and other data found that less than 50% of the city's known short-term rental landlords actually apply with the city's current regulations (which include host licensing and primary residency of the property). According to official data, 2,200 of the 4,300 short-term rentals throughout the city are deemed illegal due to their lack of licensing.
The regulations are meant to prevent property owners from running multiple Airbnbs and from renting out their homes every day of the year. But the data found that 39% of Denver's Airbnb properties are available for full-time, year-round use and at least 17% of Airbnb hosts run more than one property. It's tough to crack down on these violations, say officials, because the rental properties keep multiplying and the staff is meager, at best. And while the city has sent at least 121 notices of violation since May and 85% of property owners subsequently applied for a license or removed their listings, officials are still struggling to keep up with a sector that's outpacing them.
So for now, Airbnb hosts in Denver are able to stay one step ahead — which is good news for those who've always wanted to visit the Mile-High City. But even though hosts can potentially make a killing renting out their spare room, they might need to be cautious about how they do it if they don't want to risk getting shut down.