SEO Roundup: Industry Experts Share Their Opinions On Current Trends
4 min read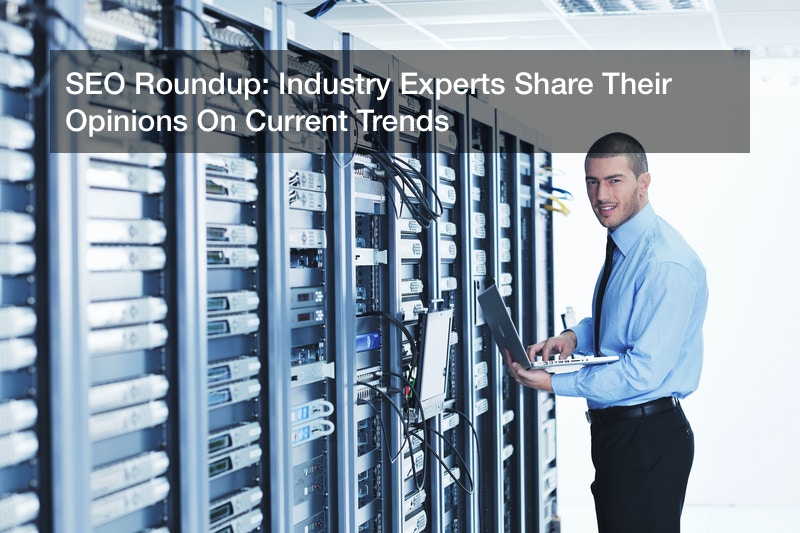 The world of search engine optimization exists in flux. With Google updating and changing its algorithms on a near-constant basis, businesses are always looking for ways to stay ahead of the game. As advancements in technology (such as voice search features and artificial intelligence) become more commonplace, SEO industry leaders are developing their own opinions regarding what really matters. Let's hear what they have to say about the current trends of 2019.
Understanding User Intent
Quality content has historically been one of the most important ranking factors in SEO. Brian Saemann of GoBeyond SEO believes sticking to these essential roots is the best thing your company can do to optimize — as long as it's relevant to your consumers.
"Obviously quality content is always a big part of an effective SEO strategy. In 2019, you'll also need to make sure your content also reflects user intent. Research what is already showing up on page 1 of the SERPs and create content that matches the user intent."
Christoffer Sørensen of Virtual Visibility Media echoes that sentiment.
"User and Search Intent, in tandem with the Buyer's Journey, is more fundamental than ever to get your digital marketing right. Quality and value are at the heart of this. Without it, you'll be unsuccessful at meeting user intent, and Rank Brain (among other search rank factors) will prove that other site's meet searchers needs better," he explained. "To be able to grow and gain more traffic and customers from your digital marketing efforts in 2019, you need to think about intent."
However, this can be difficult to do given the fact that the industry — and the technology its using — is always in flux.
"Digital marketing is an ever-changing industry, keeping up with it takes a high degree of skill and sense to understand when to pivot and when to stay in your lane," said John Keller of W3 Affinity. "The keys to success are in finding evergreen strategies that last beyond the ebbs and flows."
Roll With The Changes
That can seem difficult or even impossible at some times, but you can always focus on the end user to guide you through.
"Omnichannel, A.I., Big Data. It's all changing how we market in 2019, but we still have to keep the end user in mind," said Jordan Stambaugh of Stambaugh Designs. "These technologies allow us to do 'people-based marketing' better than ever before."
Personalization seems to be the next big thing, thanks to these new technologies and techniques. Lorelei Garnes of WNC Social Media Buzz believes in its power wholeheartedly.
"Learn your consumer behavior and search patterns to target more specific target audiences. Personalized marketing can't be ignored."
This is often easier said than done. One of the best ways to tackle such a nuanced idea is simply to maintain a balanced content marketing strategy, as Amy Cast of Bombastic explains.
"Depending on your market and the length of your sales cycle, we see considerable success with email marketing, targeted blogging, eBooks, and contextual videos."
Shaheen Adibi of Web Upon agrees.
"Throw out the monolithic SEO strategy and leverage the data you have to tailor a keyword targeting strategy to as many personas as you can identify. Three isn't going to cut it anymore."
Know Your Customers
Personalization requires specificity. While branching out with a number of marketing strategies increases your chances of securing leads, Josh Throne of Craft SEO believes that only by hyper-focusing your campaigns can you succeed — especially if you're a small or local business owner.
"Hyper-focused targeted search campaigns, SEO, and paid ads is going to change the game for small business owners in 2019 and beyond. It's a gold mine for small business owners who understand how people are searching for local businesses/services."
It All Comes Full Circle
We started with quality content, and we're going to end with it. Many industry leaders believe in the weight it carries compared to other ranking factors.
"Were seeing quality content move the needle more than ever," said George Cole of Cardinal SEO. "Backlinks are still part of our process, but the age-old adage that CONTENT IS KING reigns supreme — pun intended."
"I think rich media article content distributed through syndication channels will be a big trend this year," added Rusty Rich of Latitude Park. "It's already showing great results."
Unfortunately, you can have the best content in the world and still be lacking in terms of your company/client relationship. Nicholas Melillo of Triad Search Marketing believes that transparency is the only way to truly satisfy your clients' needs.
"Agencies need to demonstrate an honest and open relationship with the client. We need to be fiduciaries in every sense of the word, because a lot of trust is being placed in our hands as consultants."
To Summarize…
At the end of the day, SEO matters. Zachary Perlman of Web Genius Consulting explains its necessity succinctly.
"SEO is still incredibly powerful, relevant, and necessary. SEO or your page goes…"