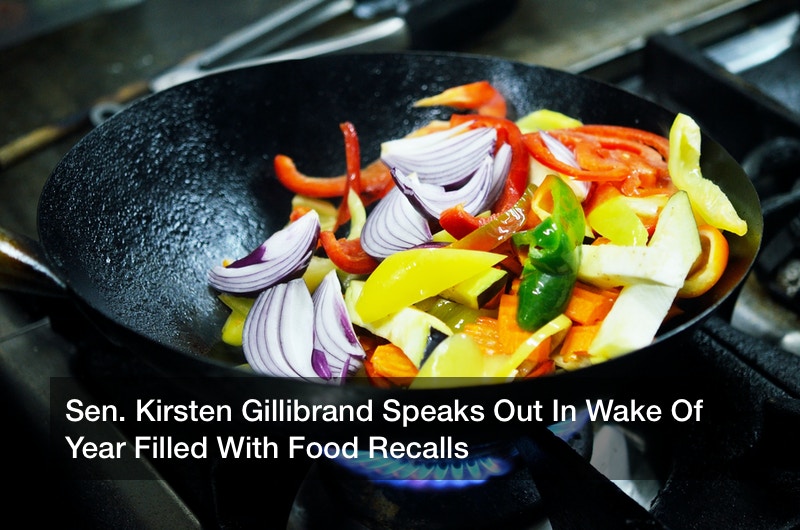 After a year of seemingly endless headlines about food recalls and outbreaks of foodborne illnesses, United States Senator Kristen Gillibrand is urging the Food and Drug Administration to take additional measures in food recall procedures to protect the public. According to the New York Senator, she wrote and helped pass a law eight years ago that outlines these measures.
While Gillibrand commended the FDA for their successful nationwide recall of romaine lettuce just before Thanksgiving of this year, she is concerned about items that stay on the shelves of homes for long periods of time. Many families store food in the pantry or freezer for weeks and are unaware when officials recall their products, leaving them with unsafe food and beverages.
According to the Centers for Disease Control and Prevention, one in six Americans becomes ill from consuming contaminated food or beverages every year. Gillibrand points to food meant for children as an especially dangerous source of prolonged contamination.
"Goldfish crackers were recalled. How many moms buy Goldfish for their kids, and how long do those Goldfish sit in their cupboards? It could be months and months. That has salmonella," Gillibrand said.
The law Gillibrand wrote is part of the Food Safety Modernization Act and would require grocery stores to tell their customers if they purchased recalled items that could make them ill. Under this law, grocery stores would be required to display recall notifications in a location where shoppers could clearly see them. Alternatively, the legislation proposes that stores use contact information they collect through customer loyalty cards to alert customers of recalls.
In her recent letter to the FDA, Gillibrand focused on guaranteeing food safety for New Yorkers and strongly urged the federal organization to implement these guidelines for grocery stores. While the recent influx of headlines concerning food recalls may have spurned Gillibrand to speak to the FDA, the CDC says that outbreaks of food-related illnesses aren't necessarily becoming more common and that thousands of food products are recalled each year. Officials are simply getting better at detecting these illnesses.
In 2018 alone, there were several recalls of popular foods and brands that called attention to the issue. There was the Goldfish cracker recall, referenced by Gillibrand, that struck over the summer but did not result in any reported illnesses. Dozens of people did fall ill in October from E. coli present in romaine lettuce, causing stores and restaurants across the country to toss all of the lettuce they had.
The restaurant industry took another hit as Chipotle saw an illness outbreak over the summer at one Ohio location that affected over 600 people. The popular restaurant chain had just gained customer trust back after their disastrous E. coli outbreak in 2016. That same year had seen food and beverage sales in the U.S. restaurant industry total $766 billion, but the food safety issues at Chipotle caused many consumers to rethink their dining options.
The food product recalls of the past year were overwhelming salmonella-related, including tahini from an Israeli company, eggs from an Alabama farm, and Duncan Hines cake mix. As one of the most pervasive bacteria, salmonella can also be present in water supplies. However, technology like Dissolved Air Flotation Systems are designed to eliminate three main categories of contaminants from wastewater streams, including oil and greases, suspended solids, and biochemical oxygen demand. This process can effectively eliminate salmonella from recycled wastewater, keeping consumers safe.