Regular checking of credit report helps to maintain good financial health for businesses
5 min read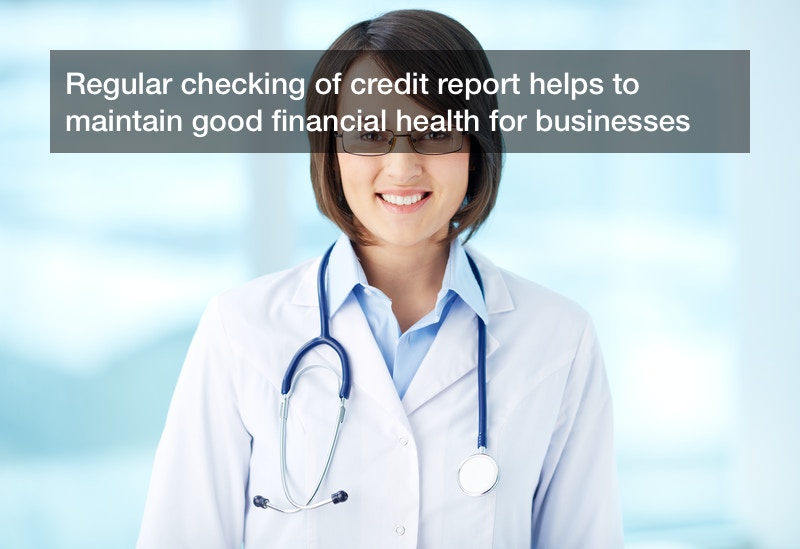 No matter whether you avail credit for personal reasons or business, lenders evaluate borrowers in the same way. If your business credit history is good, but you have a poor personal credit history or vice versa, it will adversely impact your prospects of getting credit.  The reason is that the liability of credit for business loans and business credit cards rests on the cardholder. Many credit card issuers may insist on signing a personal guarantee when applying for a business loan. It bears testimony to how important your personal credit score can be for your business. 
When your personal credit report is in order, it becomes easy to borrow for businesses and that is important for business growth. That makes it imperative for business owners to review their credit report regularly by understanding how credit works so that they can interpret the credit report correctly.
What is a credit report?
Loans are not only an important part of business but also for many people who live upon it to maintain their lifestyle. The credit report is a compilation of information related to your handling of debt accounts and credit.  All debts that you have accumulated appear in the credit report. It also includes all other information related to it like – where you live, where you work, how you pay your bills whether you had a lawsuit judgment entered against you or have filed for bankruptcy and whether you have a vehicle repressed or home foreclosed. All your deeds related to credit find a place in the credit report, which becomes your exhaustive credit historywhich can run into even 100 pages. 
Why should you check the credit report?
Not obtaining a credit report means that you are putting your and your business financial health at risk.  Unfortunately, a third of the American population has never received a copy of their free credit report, which shows how much ignorant they are about protecting the financial interests. You must check your credit report to ensure that it is correct. The risks of errors in the credit report are just too high as it can harm your financial prospects and make you lose money.
Not reading your credit report can lead to loan and credit denials, cost you money, and give ample scope to fraudsters to steal your identity. Not reading your credit report means that you are not aware of the damage that might be happening to your credit score. It can raise the interest of loan and credit and drain your money. When employers vet candidates, they might refer to the credit report, which if contains something adverse may result in losing the job opportunity. 
Difference between a credit report and credit score
The first thing that you should know is that credit report and credit score are two different things. Businesses and financial institutions with whom you have done business keep reporting the transactions to the credit bureaus. They, in turn, compile everything to prepare a credit report that includes a list of past and present credit and loan accounts. It includes your loan and credit history together with your payment history as reported to one or more credit bureaus namely Experian, Equifax and TansUnion. Whatever you have done with credit and even doing now reflect in the report because it is your credit history.
A credit score is a summary of the credit report presented in numerical form that mathematically represents the credit report. Lenders consider both to judge your reliability as a borrower but would primarily look at the credit score to have a quick understanding about your borrowing potential. By using a formula, the credit report contents translate into a three-digit number that becomes your credit score.  
Your credit score it particularly important for personal finance as well as the financial wellbeing of your business. Janet Alvarez, Executive Editor of Wisebread, encourages consumers to not just regularly check their credit score, but to set reminders to do so. She says, "One way to reduce the stress of money management is to automate everything: Set auto-pay for your bills, automate investing via your 401k or apps and such as Acorns, and set reminders to check your credit score regularly."
Access your free credit report
Credit reports are not only easily accessible but also free to obtain. Browsing the internet should help you to know about the Free Annual Credit Report – How & Where to Get Yours. You can collect your free credit report from any or all of the major credit reporting agencies, namely Experian, Equifax, and TransUnion once a year. You need to login to the website annualcreditreport.com or call a helpline number that you find on the site of the reporting agencies.
How to check credit reports
The Federal Trade Commission (FTC) has mandated that the credit report must contain your identifying information. It will include details like your name and Social Security Number; your loans, credit cards, bill payment history, and how much money you owe. The data compilation creates your credit history that keeps growing. Despite being a personal credit history, it does not include many payments like debit card use, on-time payment of phone and utility bills, writing checks, paying with cash, remittances, and checks cashed.  
Linked to interest rates
Lenders use credit reports to judge the creditworthiness of individuals based on which they assess the risk involved in giving money to them that determines the rate of interest on borrowings. Whether you get high or low-interest rates on credit cards and mortgages depends on your credit report. It becomes evident that you must try your best to maintain positive credit history to have easier access to credit at lower interest. When taking large loans like buying a house, even a marginal difference in interest can have a considerable impact on the total payout. That is why many perceive credit reports as a money-saving tool that can widen the credit horizon provided you manage your credits well.
Improve your credit history
When you aim to improve your credit history, it would automatically improve your credit score. Saving money should be the biggest motivation for maintaining a good credit history that ensures a positive outcome when availing credit. To achieve it, you must pay bills on time and consistently and utilize as much less credit as possible, preferably around 10% but never more than 30%. Also, you must apply for credit only when you need it because too many inquiries dent your credit score.
And lastly, check your credit report once a year to ensure that it is error-free by rectifying any error as soon as you detect it.