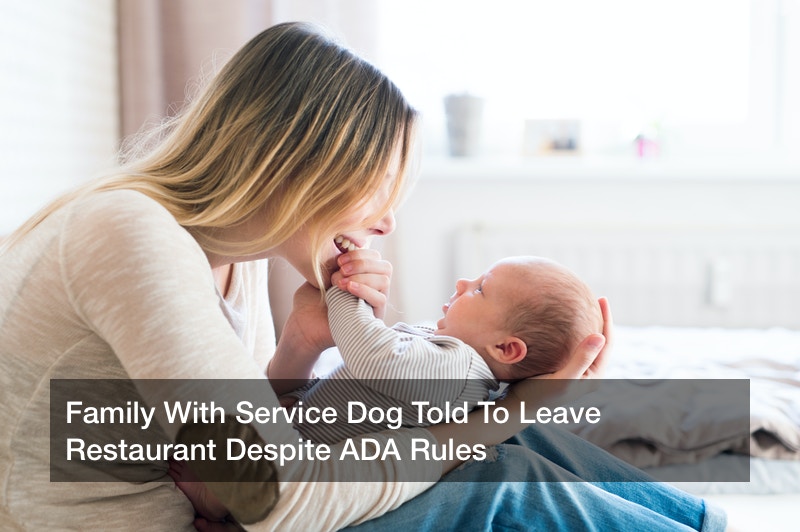 When Megan Moon and her family go out to dinner, they expect to have a perfectly average night. In a recent outing to Smashburger, the Las Vegas family encountered a much different experience. According to KTNV, the manager of the chain burger restaurant tossed the family out before they had the chance to eat because their young son's service dog was with them.
Moon says that the family was nearly finished with their order when the manager approached their table. The manager went on to say that the restaurant's policy does not allow pets to be inside, so their dog couldn't remain in the building with them.
Moon attempted to explain that the dog was not a pet, but rather a medical service dog. Her nine-year-old son is among the 30.3 million people in the U.S. living with diabetes and his dog, Medic, is trained to react when his blood sugar levels are unbalanced. The concerned mother even cited the regulations set in place by the Americans with Disabilities Act (ADA) that protect the presence of service dogs inside places of business. The Smashburger manager, however, allegedly ignored Moon's explanation and deleted the family's order from the register.
Moments later the manager kicked Moon, Medic, and the rest of the family out of the restaurant.
"We were embarrassed, other people in the restaurant [were] looking at us, like we were causing a scene, they were looking at us like we had done something wrong," Moon recalled.
Issues surrounding the presence of service animals in businesses have been arising for some time. According to Danielle Harter, a Las Vega service animal trainer, people sometimes claim that their pets are service animals in order to get them into businesses or restaurants. This can then cause people who actually need their service animals to be unfairly singled out. Legislators in Kentucky are even proposing a bill to make it illegal for residents to pass off their regular pets as service animals.
This bill is in the works partially because current national policies around identifying service animals are rather flexible. While traditional service dogs begin their training at approximately 16 weeks old, the current law does not specify that a dog needs to go through professional training in order for its owner to claim that it is a service dog. The pup is also not required to be wearing a vest, patch, or other identification in order to qualify as a service animal.
U.S. laws simply define a service dog as a dog that performs tasks or is trained to do work for a person with a documented disability. That person, however, doesn't need documentation for the dog's training or licensing. They don't even need proof that the dog visits the vet once a year for an annual check-up, as is recommended for any pup. The law's most significant restriction is that the dog's handler must be in control at all times.
While the law stipulates that a business can refuse a service animal if it is causing a serious disruption or is out of control, it is only legally allowed to ask if the animal in question is a service animal and how it helps the owner. When the Moon family attempted to join the 34% of Americans who visit casual dining restaurants once a week, the Smashburger manager allegedly didn't ask either question. According to the family, the manager only said they would not allow a dog to remain inside before tossing the family out of the restaurant.
Representatives from the burger chain have confirmed that they have launched an internal investigation into the Moon family's allegations. Official statements from the reps state that Smashburger is an establishment that welcomes people of all abilities and that it follows the relevant ADA guidelines pertaining to service animals and quick service restaurants.
As the restaurant works out its response to the incident, Moon intends to fight back. While the dog might need to eat its food kept in an area with a temperature between 50 and -100 degrees Fahrenheit, Moon maintains that her son's dog can step out of that zone and accompany them wherever they choose to eat. She's vowed to make a big deal about the situation, fighting for her son's — and Medic's — right to be in a restaurant together.