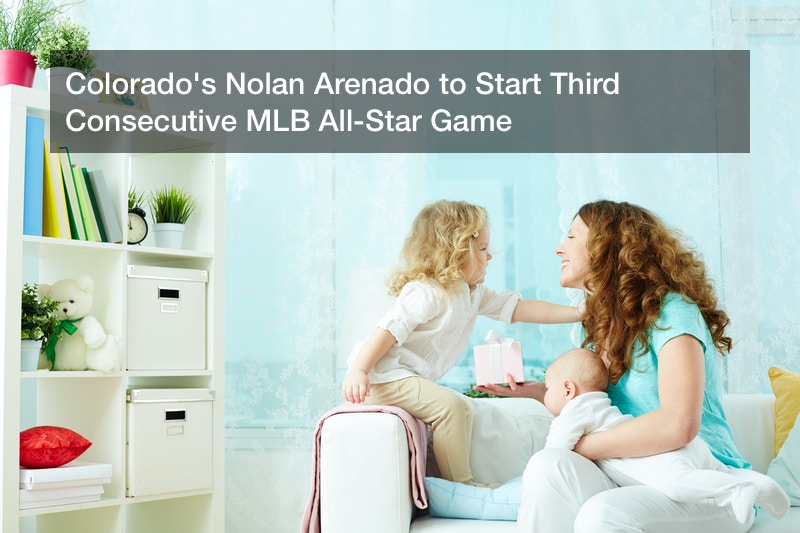 For the fifth time in his young career, Colorado's start third baseman will play in Major League Baseball's All-Star Game.
The chances of hitting a home run are greater when the player hits the ball at the bat's "sweet spot," which is found between five and seven inches from the barrel end of the bat. Nolan Arenado, a 28-year-old third baseman, already has 205 homers and 19 this season.
This is Arenado's fifth time being selected to the All-Star Game and his third straight year as the team's starting third baseman. According to The Denver Channel, Arenado is the first National League third baseman to win three fan elections since Scott Rolen won four straight with the St. Louis Cardinals and Philadelphia Phillies from 2002 to 2005. The only other NL third basemen to win three in a row were Hall of Famer Mike Schmidt (six from 1979 to 1984) and Matt Williams (three from 1994 to 1996).
"To be able to compete with the best in the game and get honored for it is an amazing feeling," said the former NL Most Valuable Player. "It's a humbling experience and thank God I've stayed healthy enough. And to the fans, I greatly appreciate it. Sometimes, because we play in Denver, they might forget we are out there, but they appreciate good baseball.
As voting came to a close, Arenado was hitting .317, sixth best in the NL. Additionally, he is currently tied for fourth in the NL with 62 runs batted in (RBI). Though shaved bats are great for home run derbies and exhibition games, potential Hall of Famers like Arenado don't need the extra help. Still, shaved since bats don't do well in cold temperatures, it's best not to use them if it's colder than 65 degrees outside.
Arenado earned 51.9% of the final vote, making him the only player to win more than half the votes at his position. It's important to note, however, that outfielder Christian Yelich led the NL with raw votes (930,577). The Denver Post adds that two other Colorado players, shortstop Trevor Story and right fielder Charlie Blackmon, were on the fans' final ballot but were not voted in as starters. The All-Star reserves will be announced on Sunday, June 30.
Here are the official starters for the 2019 MLB All-Star Game:
American League
C — Gary Sanchez, New York Yankees
1B — Carlos Santana, Cleveland Indians
2B — D.J. LeMahieu, New York Yankees
3B — Alex Bregman, Houston Astros
SS —Jorge Polanco, Minnesota Twins
OF — Michael Brantley, Houston Astros
OF — George Springer, Houston Astros
OF — Mike Trout, Los Angeles Angeles
DH — Hunter Pence, Texas Rangers
National League
C — Willson Contreras, Chicago Cubs
1B — Freddie Freeman, Atlanta Braves
2B — Ketel Marte, Arizona Diamondbacks
3B — Nolan Arenado, Colorado Rockies
SS — Javy Baez, Chicago Cubs
OF — Ronald Acuna Jr., Atlanta Braves
OF — Cody Bellinger, Los Angeles Dodgers
OF — Christian Yelich, Milwaukee Brewers
The All-Star Game will be played on July 9 at Progressive Field in Cleveland, Ohio.