Colorado Recognizes Older Driver Safety Awareness Week With Education
5 min read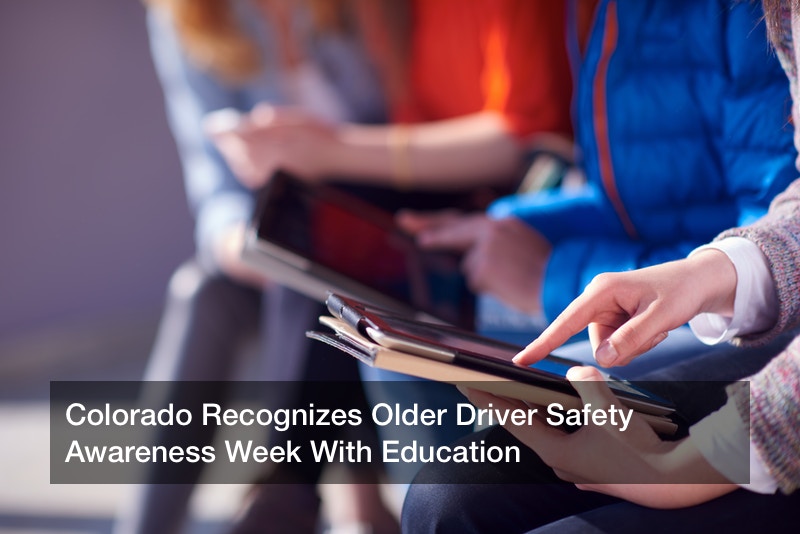 This past week has been named Older Driver Safety Awareness Week in Colorado; though unfamiliar to some, it's an important measure to observe and one that was created with significant efforts from the Colorado Department of Transportation. The Department of Transportation worked together with local organizations to ensure that Older Driver Safety Awareness Week not only was implemented but made an impact across the state. The simple reason why is that Colorado has a current and ongoing issue with older drivers acting as safety hazards on the road. The awareness week is intended to ensure that not only they but all other drivers are protected while driving and that highway injuries and fatalities in Colorado are significantly reduced.
Automobile safety is not merely a problem in Colorado but across the nation. It's estimated that nearly 50,000 Americans die on highways every year, and a large number of those fatalities occur in Colorado. Though these fatalities cannot solely be linked to older drivers, data reveals that older drivers remain major factors among many accidents. In Colorado, 122 of the drivers involved in fatal accidents last year were 65 years old or older. This was in addition to 77 older drivers that died in car crashes themselves during the same year.
While there are certain measures that can be taken to ensure that older drivers are safe on the road, part of the issue at hand may also be cultural. There are many reasons why drivers over 65 may be hesitant to stop driving, due in part to the associations surrounding the ability to drive. Yet there are many largely unacknowledged problems that make it difficult for older drivers to continue as they are in Colorado.
The Risks of Older Drivers on The Road
There are a lot of problems that become more extreme as drivers age. Many of these issues existed in their youth and are exacerbated as they grow older, while others are regularly associated with the perils of aging. Many of these problems are physical and can be difficult to catch when they initially arise due to the length of time required between license renewals.
Perhaps the biggest issue for older drivers is diminishing sight. While not everyone experiences failing vision as they grow older, it is a common problem. Cataracts are common among people over 65, and eyes can become naturally strained and therefore weaker over the years. Though glasses, contacts, and corrective procedures can improve an individual's eyesight, it can be difficult to completely restore a person's eyesight or prevent it from declining.
A further health condition to consider is the limited range of motion that can trouble people as they grow older. This can either be connected to stiffness in the limbs or muscle weakness. It often takes older individuals much longer to recover from injuries that may impede their abilities to drive correctly as well. Though mild sprains usually take anywhere from a week to 10 days to heal, for example, more severe sprains can take weeks to heal. When seniors receive sprains, it can invariably take weeks for them to heal regardless of the injury's severity simply because seniors often suffer from brittle bones.
No matter what the exact source of the issue, it can cause drivers to be slower to react than they normally would be. When an individual is driving, they need to be able to drive defensively, which means taking note of what other drivers are doing and slowing the car or speeding up depending on the current road conditions. While all drivers should drive defensively, it can be difficult for other drivers to react when older drivers do not act as would normally be expected.
Adjustments That Can Be Made for Older Drivers
Fortunately, there are changes that can be made to ensure that older drivers are as safe as possible on the road. Cars can be properly adjusted to the specific limitations of drivers. Indeed, it should be noted that simply because older individuals have experienced physical disabilities, does not inherently mean that they are no longer able to drive. Cars can be adjusted to accommodate disabilities.
Furthermore, the Colorado Department of Transportation sponsors CarFit events, which offer seniors and their loved ones an opportunity to make sure that their cars accommodate their bodies' limitations as well as possible. In the last year alone, the Colorado Department of Transportation sponsored a total of 57 CarFit events, usually staffed by volunteers.
Volunteers are CarFit will usually check a number of different elements within a car. They will make sure that the seatbelts within the vehicles are both comfortable and secure, and that both the steering wheel and the airbag are positioned correctly. The driver's line of vision will be confirmed, and mirrors will be adjusted as needed. It's also considered crucial for drivers to have easy access to gas pedals and brakes, while the driver's blind spots will be diminished as well. These steps can make it easier for older drivers to drive as they wish safely.
As a further measure, the CarFit program also hosts virtual workshops that offer a deeper look into several important aspects of ensuring a proper fit in a vehicle. It's possible that some older drivers would be able to drive much more easily if they replaced their current cars with vehicles that better suited them. The virtual workshops are focused on educating senior citizens in particular.
Understanding When Driving Is No Longer Possible
There is a heavy association between driving and independence. Understandably, many drivers do not like the idea of surrendering their licenses and privileges. However, for many seniors forgoing driving and relying upon public transportation, assistance from loved ones, and more recently rideshare apps is a part of growing older. It is important for younger people to be honest with their older relatives regarding concerns about their driving habits.
The year 2017 reported an estimated 6,210 hospitals across the U.S. In order to prevent Colorado hospitals from being further filled with people suffering the results of auto accidents, adjustments must be made within the vehicles of older people driving. Perhaps more difficulty, some of those older people may need to be persuaded that life can go on with relative independence even if they are no longer able to drive.