6 Practice Management Software Programs for Colorado Lawyers
5 min read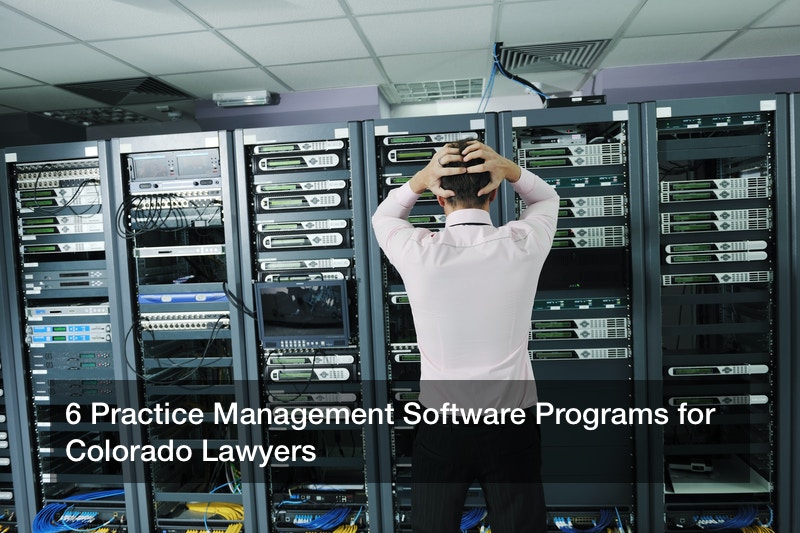 Colorado is a state with a growing number of young professionals. While this benefits the state economically, it creates a competitive environment for those professionals, lawyers included. Law practices in Colorado are facing steep competition in many cases, and it's important that they operate in a manner as beneficial and comprehensible for potential clients as possible. Operating a legal practice is about more than simply executing necessary legal services. There is a managerial aspect that needs to be considered as well. This cannot be properly executed without the correct software.
The market for legal practice management software is crowded. Colorado law firms need to consider not only the most efficient software, but technology that accommodates their legal practice's specific needs. Not all legal practices focus on the same specialties, after all. In fact, the typical enterprise will use over 500 different software applications. Nonetheless, it's important for all vital applications and software to be considered as carefully as possible. With that in mind, below are some of the top practice management software programs that Colorado law firms should consider.
1. MyCase
MyCase is one option that is becoming increasingly popular among certain law firms. It's web-based and allows legal practices to keep all of their files in one place. This means that it's one of the top software programs in terms of case file management. It additionally makes client communication easier, which is ideal for a larger firm that may have an influx of clients at any point in time. It also offers billing solutions as well as marketing tools.
Though it offers a free trial, MyCase is ultimately $39 per month and features mobile apps for both Apple and Android devices. Subscribers can train on the software through live webinars and have access to an online library including training and support articles. They also offer a customer support team for those that might get confused during the learning process.
2. Zola Suite
Focusing on both time and case management, Zola Suite is known for being easy to use and presenting a simple interface. There are built-in email and accounting capabilities within the software, and it features bulk billing as well. Zola Suite can manage documents and tasks for subscribers, cutting down on the amount of time that lawyers might spend attempting to get organized rather than focusing on their cases.
A standout feature of Zola Suite is that it integrates DropBox, Quickbooks, and LawPay as needed. Like MyCase, it is Cloud-based and has an app available on Android and Apple. There are several different tiers of the program available, with the lowest tier starting at $59 per month. Period webinars and a helpful Youtube channel help law practices adapt to using Zola Suite.
3. CosmoLex
CosmoLex is an excellent program for lawyers that prefer a bit more of a hands-on approach in terms of learning the software's capabilities. This is understandable; it's important that lawyers understand exactly what they're dealing with in terms of management software. This is why CosmoLex offers clients a free one-on-one onboarding process, as well as daily and monthly training webinars on functions of the program.
Those that choose CosmoLex benefit if they select an annual subscription, which is $59 per month, over a monthly subscription, which is $69 per month. The program is all-in-one and offers document management, email management, scheduling, and in-depth accounting. It also features a client portal. This is especially beneficial to attorneys that specialize in areas of the law that require them to be in frequent communication with individual clients. Personal injury attorneys in particular often need their clients to submit information. Considering the fact that 25% of elderly people will die after breaking their hips in falls, often leading to personal injury lawsuits, these attorneys are dealing with sensitive subjects. Client portals make it easier for their clients to submit data and communicate as painlessly as possible.
4. Actionstep
This particular software is designed to help law firms reduce their challenges in terms of administrative tasks. It focuses on client and case management, as well as billing. At just $49 per month, it comes with in-person online training as well as the potential to work with a certified consultant.
Although those are benefits that can't be ignored, it should be noted that some still take issue with Actionstep's initial setup process. It can be a bit awkward and hard to handle at first. Lawyers that enjoy Actionstep appreciate its detailed features, but it can require some dedication to fully utilize the program to the best of its abilities.
5. GrowPath
Some practice management software programs have specific agendas. The agenda for GrowPath is, as the name suggests, to aid in a practice's growth. Therefore, it's the ideal program for a practice that is just starting out or in a transition period. It offers complete firm management solutions, covering everything from client intake procedures to case management and business reporting analytics.
GrowPath's program is quite unique, with multiple patented mechanisms. There is an automated lead scoring tool including, and can also help identify intakes that offer the most value. Clients can have a customized onboarding experience, and they will typically pay a base starter fee of $79 per user per month. There are annual price savings available as requested. There are customer success managers assigned to clients, and they can help them through transitions as well as any possible technical difficulties. These customer success managers will typically have experience related to law firms, often having worked in the past as office managers and paralegals.
6. Digital War Room
Despite its intimidating name, Digital War Room is an effective and approachable software option. It is cloud-based and a desktop eDiscovery platform that helps law firms become fully proficient in producing, processing, and reviewing documents. Its drag and drop interface improves workflow efficiency by extracting and indexing metadata from files automatically. This makes filtering and searching much easier.
Its right-click and mark functionality allows lawyers to mark documents as privileged, and it offers an automatic Privilege Log as well. There are redaction options available, an email thread visualizer, email analysis, language identification, and much more. It can be hosted through the Private Cloud, Desktop, or Single Matter.
Lawyers are meant to help people. For example, though it's recommended that you update your estate plan once every five years or after a major life event, you can't do so effectively without an estate planning lawyer. But that lawyer can't do what they must without the proper tools. These software programs offer those tools in an easy-to-access location that can help lawyers focus less on the day to day management of their practices and more on their individual cases.