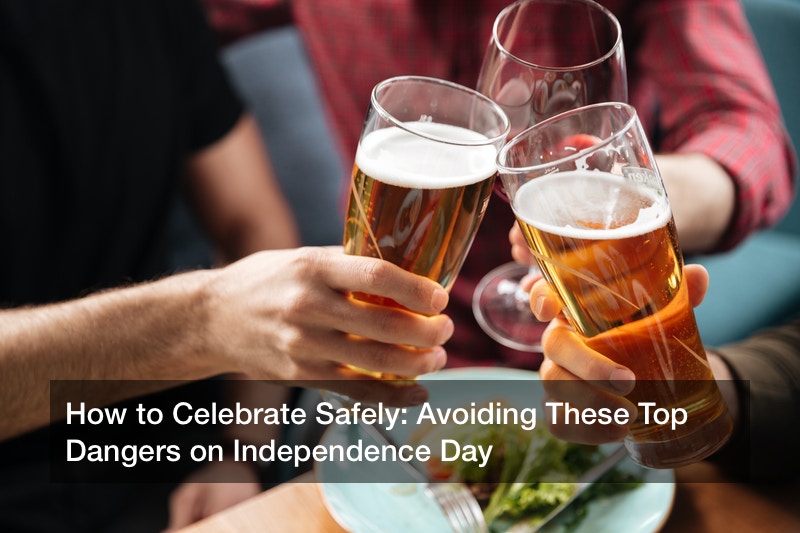 With Independence Day only a couple weeks away, countless revelers are getting ready to celebrate in style; namely, swimming in the family pool, ingesting obscene amounts of hot dogs, and watching fireworks when the sun dips below the horizon.
But with great power comes great responsibility. When you're planning a family affair on the 4th of July, watch out for these common dangers to keep your family safe.
Fireworks
Fire departments across the nation are leaping into action to warn citizens about the dangers associated with fireworks. According to the Consumer Product Safety Commission, an estimated 8,000 people are sent to the hospital due to fireworks injuries every year.
The threat of fire is particularly common in the southwest where dry conditions encourage fires to spread with ease. After all, something as simple as a clothes dryer fire often leads to more than $35 million in property losses each year. But just this week, three teenagers were taken into custody after setting off fireworks started a brush fire in Phoenix, AZ.
Lighting fireworks is illegal in Arizona throughout most of the year, but many people are tempted to set off these celebratory items early in anticipation for the 4th of July. Luckily, firefighters were able to tame the 2nd alarm blaze with only minor injuries. It's not known if the teens will face criminal charges just yet.
Though a considerable number of these accidents occurred because of a firework malfunction, others were caused by misuse or other dangerous activities. Studies have shown that 36% of firework-related hospital visits occurred in children aged 15 and younger. The Safety Commission notes that young children should never be allowed to play with fireworks and that you should never make a homemade firework.
"Misuse included: igniting fireworks too close to someone; lighting fireworks in one's hand; setting off fireworks improperly; having lit fireworks too close to other fireworks/explosives; and touching lit fireworks," reads a previous report from the Consumer Product Safety Commission. "Typical malfunctions included: errant flight paths; early or late ignition; tip-over incidents; and blowout. In addition, debris from fireworks was involved in some of the injuries."
Swimming
But even seemingly innocuous activities could have potentially fatal consequences. Swimming is the fourth most popular activity in the United States but the small members of your family, including children and your furry friends, need a helping hand when they jump into the pool.
The Consumer Product Safety Commission also notes that drowning is the number one cause of accidental, injury-related death in children under the age of four.
It's recommended that you install a four-sided gate around your swimming pool to stop children and pets from entering the area when they're not supposed to. On top of that, watching children in the pool at all times is a necessity; if you have to go to the bathroom or leave the pool location for any reason, you have to take your child with you. This is necessary even if your child is wearing the proper safety gear like floaties or a life vest. After all, an aggregate or plaster pool surface only lasts up to 25 years. Should this material start to chip or erode, you can even face cuts and scrapes.
While swimming lessons have been shown to lower the risk for drowning, you should still heed these necessary precautions when you're getting ready to celebrate Independence Day. Know the location of your first-aid kit and remember that CPR is a necessity. Every minute a bystander doesn't perform CPR decreases the survival of the victim by up to 7%.
When it comes to your furry friends, they should be supervised just as heavily. This is because not all dogs are good swimmers, especially those with short snouts.
You should also clean your dog after a romp in the pool to remove any chlorine or chemicals that could damage their skin.
If you're swimming at the local watering hole, namely a beach, only allow your children in the water if they know how to swim. Additionally, you should only swim in supervised areas with lifeguards on duty. It might burn almost as many calories as dancing, but safety comes first.
Independence Day is a time of celebration and fun. But this doesn't mean that the necessary precautions should be tossed to the wind. When you're trying to have a fun, safe 4th of July this summer, rely on these tips and heed these dangers to make the most of it.