Amazon's HQ2 Decision Could Have Huge Impact On Chosen City's Housing Market
3 min read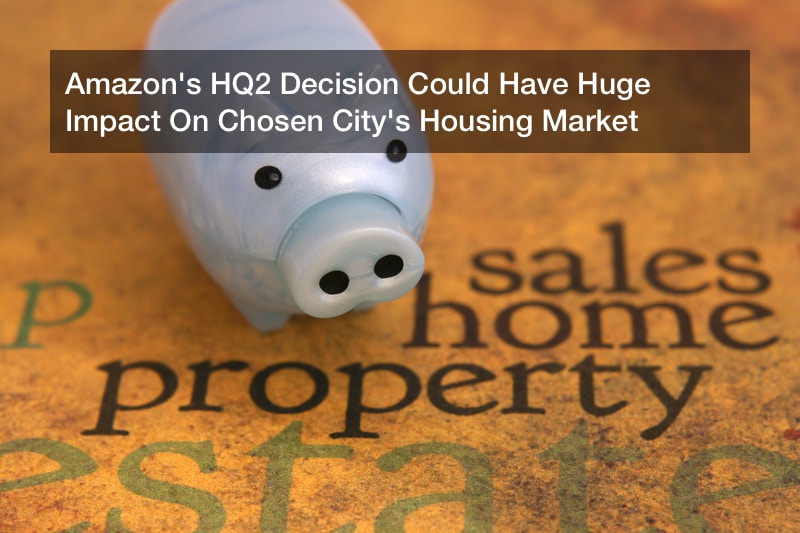 Potential homebuyers are questioning the future of the real estate market in the aftermath of Amazon's HQ2 competition. The online retail giant, Amazon Inc, recently stopped accepting proposals for the company's second headquarters and intends to make its decision sometime in 2018.

In the meantime, homeowners in the prospective cities are hoping that their home's value will suddenly spike if Amazon chooses to move into their hometown. Currently, up to 238 cities have applied to be Amazon's second headquarters.

The chosen land will receive up to 50,000 job openings for new employees and up to $5 million investments for the construction of the building. Despite many American cities making moves to gain Amazon's favor to be the location of the next headquarters, the effects on the housing market of the chosen city may not be as positive as city officials hope.

That being said, according to MarketWatch, Amazon's new presence is likely to cause the housing prices in the area to increase considerably. Seattle, Amazon's current headquarters, has seen an 83% increase in housing prices and a 47% increase in rent since the company situated itself in the city's South Union area only seven years ago.

"Some of the housing markets that are already very well developed into their suburbs would have difficulty responding to a major employer coming in," said chief economist at Realtor.com, Danielle Hale.

MarketWatch points out that areas with room to enlarge their suburbs such as Tampa, FL, and Baltimore, MD may be able to accommodate new housing for Amazon employees. But with employees from other companies attracted to the new headquarters, other cities without as much room to grow may not be able to handle the influx.

Typically, homeowners looking to increase their home's value have to invest in home improvements such as new appliances or modern flooring. While 54% of Americans are willing to pay more money for homes with features such as hardwood flooring, many homeowners are far more concerned with finding a home near their place of work.

While higher home prices would be welcome news for anyone looking to sell a home, it could cause serious problems for other residents. When Amazon chooses a second headquarters, the increase in the city's popularity is bound to increase rent prices regardless of how tenants take care of their property.

"There are few options for renters to maintain their housing costs if they live in a property where the owner has the legal right to increase rent," said NeighborWorks America spokesman Douglas Robinson.

Despite the increase in rent, Robinson suggests that now may be the best time for potential homebuyers to consider a mortgage. Compared to the 38 million Americans who purchase watches or fine jewelry every year, up to 40 million Americans can't afford to live in the housing they currently own.

"Prices are increasing in many markets, but mortgage rates remain low and lenders do offer a range of low down payment products," said Robinson. Robinson also said those who are unable to afford a down payment can also look for assistance grants.

According to The Wall Street Journal, Amazon intends to invest in its second headquarters over a period of 15 to 17 years. The headquarters will be built in phases, but Amazon plans to have up to one million square feet of office space ready by 2019.