Thanks to Lawmaker Vote, Financially Struggling Colorado Citizens Have Access to Dental Care
2 min read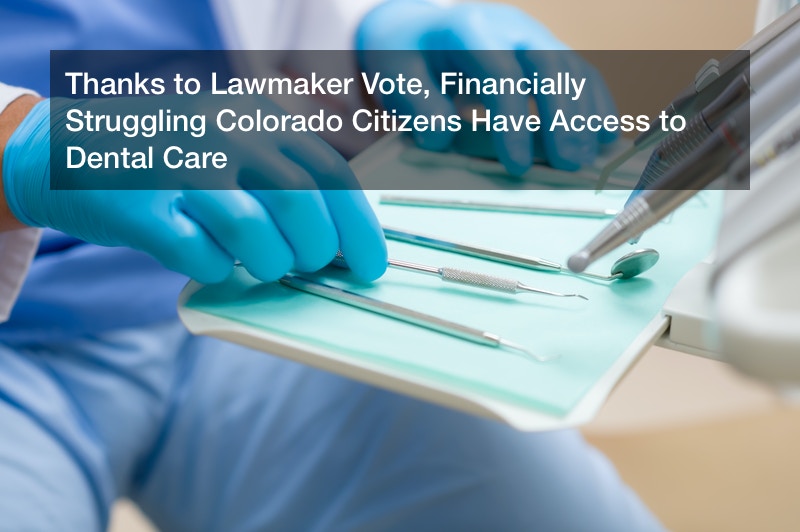 According to a survey from the American Academy of Cosmetic Dentistry, 99.7% of all adults believe that a healthy smile is socially important. Despite that, many adults simply cannot afford appropriate dental care, but Colorado has just approved a policy that will change that.
Colorado is one of only 16 states to approve an extensive adult dental benefit for Medicaid recipients, and statistics show it has opened important doors for many of the state's poorest to get dental care, if they can find a provider.
In 2014, Colorado lawmakers voted to extend limited dental coverage to adults.
They set a cap at $1,000 per year, with the exception of emergency services and dentures, opening new opportunities for all walks of life.
"We've actually had many patients who their very first visit to the dentist has been with us and they're in their 40s or 50s," said Dr. Cody Garrison, the dental director at Inner City Health Center. "A surprising number of people in our population are unable to eat properly because they don't have the teeth necessary to do so."
Garrison reports that approximately 30% of his clinic is now made up of Medicare patients.
Although adults are now beginning to get the dental care that they need, the importance of good dental hygiene for children is still an issue.
Some parents think that because their children's primary teeth, or baby teeth, naturally fall out, they don't need to be cleaned and checked. However, the American Academy of Pediatric Dentistry recommends that a first dental exam between eruption of a child's first tooth and age one.
Dentists and public health experts alike have long stressed the necessity for improved dental care for children. About half of children in the United States have not seen a dentist in the past year, according to the Agency for Healthcare Research and Quality.
"The majority of young children aren't receiving crucial preventive and oral health services that they need," said Nadereh Pourat, director of research at the UCLA Center for Health Policy Research. "Avoiding cavities in primary teeth promotes healthy teeth for the rest of their lives."
Oral care during childhood directly affects oral health in adulthood. Perhaps this explains why, in Colorado, many citizens eligible for dental health programs still are not enrolling.
Since Colorado expanded its Medicaid coverage, the number of Colorado citizens with Dental Insurance has shot up in two years from about 61% to over 70%.
"While we've seen a fairly dramatic increase in dental coverage, we haven't seen the same kind of increase in people actually seeking dental care," said Adam Fox, with the Colorado Consumer Health Initiative.
He also said many people don't realize they now have the coverage. "But there is also the issue of not enough providers in the Medicaid system, particularly within oral health care."