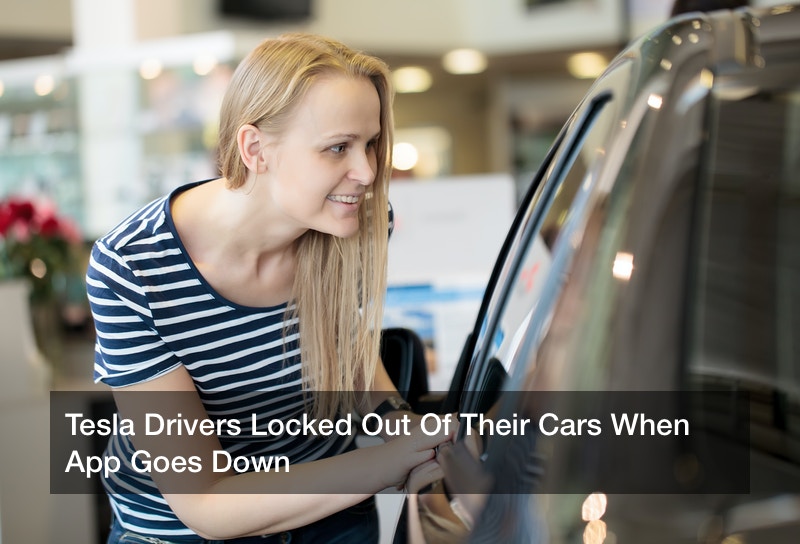 Modern technology has been able to connect consumers' electronic devices to practically everything else in their life. From controlling the lighting in their homes to keeping an eye on their property through security cameras, smartphone owners have nearly unlimited access. Overall, this widespread access is a great perk. That is until a smartphone doesn't quite have the access it's meant to.
On Monday Sept 2, numerous Tesla owners were locked out of their vehicles. It wasn't because they all happened to simultaneously lose their keys, but because the Tesla app that allows them to unlock their cars was down for maintenance.
Tesla owners do have other means of unlocking their vehicles via a key card or an option key fob. The app is even supposed to work without an internet connection. However, those who were logged out of the app during the time it was down and didn't bother to bring their physical keys or fobs with them had no way to unlock their cars. They simply had to wait out the maintenance time.
One woman decided to not sacrifice hours of her day waiting for the app to come back up and instead took an Uber home. Although Tesla touts the ability to use the app to unlock their cars as a major selling point, this incident certainly broadens the appeal of instead using ride-sharing apps or sedan car services that can fit up to three passengers and all of their luggage. The expenses of such a car service may add up over time, but at least users can count on being able to enter the cars and get to their destinations on time.
To voice their complaints about the incident, many Tesla owners took to Twitter. Tagging Tesla and company co-founder and CEO Elon Musk in their tweets, users asked for updates on the app's status, pleaded for help unlocking their cars, and lamented the long wait times to speak to a customer service representative.
"Hey @Tesla. I love my new Model 3… but now the app won't refresh, won't let me sign in, and says I have no vehicle. I've been on hold for tech support for an hour. Is my new car a red brick already?" posted Twitter user Ethlie Ann Vare.
Despite these cries for help heard across the internet, the app outage lasted for hours. According to downdetector.com, a website that updates the status of different services, the app went down around 4:30 p.m. and stayed down for about four hours.
Tesla has faced other issues with their vehicles' security in the past week. Researchers recently discovered that they can successfully clone the key fob to the Tesla Model S, which was a problem they thought they had fixed nearly a year ago. Last year, the researchers were able to use standard radio equipment to override the encryption on the Model S's keyless entry system and wirelessly clone the car's key fob in mere seconds. This cloning allows them to unlock a car and drive it away without ever coming in contact with the owner's key.
Tesla developed a new key fob to patch the security flaw soon after the researchers made their discovery. While people may expect to deal with security breaches in their place of work, including the 75% to 80% of malicious attacks that come from within an organization, they don't exactly anticipate a remote security breach in terms of their vehicle. However, the same researchers proved that Tesla drivers may not be as secure as they thought they would be.
The new attack method is more limited in its radio range than the one they used last year and it takes a few seconds longer. The researchers also have not performed the full attack they did last year, but they have proven that it is possible. To protect its customers and prevent potential thieves from hijacking the Tesla models that weigh more than the average racing car's 3,400 pounds, Tesla plans to roll out a software fix very soon. The company will push the fix out over-the-air to Tesla dashboards so that drivers don't have to make any updates themselves.
Between app outages and key fob security breaches, Tesla has been facing issues recently with their innovative methods of unlocking cars. With electric vehicles predicted to make up 54% of new car sales worldwide by 2040, it's too soon to say whether or not these faults will affect Tesla sales and consumer perception of the high-tech electric car company. No matter how the sales pan out, you can be sure that Tesla drivers won't leave the house without a key in hand again.