Ten Things to Know Before Moving to Denver This Year
5 min read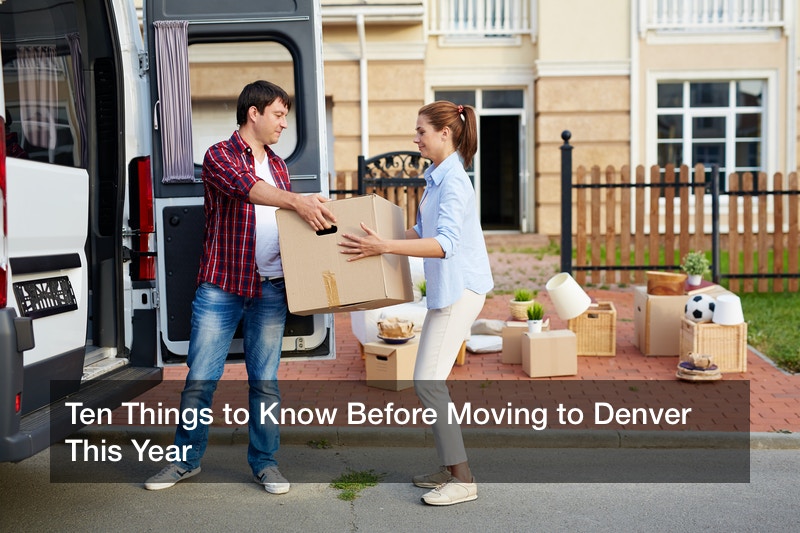 Denver – America's capital during Old West Era. The city is famous for its cheeseburgers which were invented there in 1935, capital of Colorado's state, and twenty-second most populous city theUnited States of America. Countless things in Denver will make you feel like you're paradise rather than in a city. Denver is a city of food – people here love to eat as much as they can. They like to experiment with their cookings and enjoy eating out with friends and family.
Ten things you must know before moving to Denver
Moving to a new place is overwhelming and scary. You do not know anything starting from the cost of moving to the most insignificant thing. For all those who're contemplating moving to Denver; we've hand-picked these ten things which you must know before proceeding. The city vaunts a resilient economy and a glittery, innovative fascia that will take your breath away, both literally and metaphorically. But like any other city of the world; not everyone has a perfect experience –  some claim it to be congested and expensive. While others are not happy with dry weather.
1.     Moving your belongings
Among other challenges you will face during the move, transferring your possessions to Denver will be most challenging. Moving companies will charge hefty sums from you, and alone you cannot shift. The cost varies from pick-up and drop-off point, but a rough estimate is it will cost around $1700 to $2000. There is a way to reduce the cost of moving trucks – you can use online coupon codes to save on moving from your city to Denver. And we definitely recommend taking advantage of local storage facility to make your move go a lot smoother. 
2.     Three-hundred days of sun
Among various things, making sure you know about the climate and day-to-day weather of Denver city. There are almost three hundred days of sun in the city; it has dry and moderate weather due to the range of mountains. During the winter season, the weather is dryer compared to other states (Pheonix, to be precise).
3.     Use of daily commute
Daily commutes are the best option when you move to Denver. The U.S. Census Bureau reports that the average American spends 26 minutes getting to work. Due to mounting traffic, the government urges people to use public transport. Another reason to use the daily commute to the office or school is that it is easy, speedy, and you might even be fortunate enough to get discounts. In the city of Denver; the daily commute is your best friend.
4.     Denver is expensive
If you're moving to Denver, accommodations are priced higher compared to other states. In addition, various other necessities such as medicine, music, fun, etc. are expensive as well. You must realize that Denver will impact your annual expenditure significantly.
5.     Take time to fine-tune
Allow yourself some time to adjust to Denver's atmosphere. The city, in itself, is overwhelming. Denver is a city with elevation; your body will have numerous effects due to it. Do not walk briskly around the town – swift change in the city's elevation will result in sickness.
6.     Hunting for the perfect house
As mentioned above, accommodation rates are higher compared to other cities of Colorado. Plan your move carefully – if you're hunting an apartment, it'll cost you around $1,500 per month. If your family is big and want a house, it can cost you more.
According to Scott Rodwin of Rodwin Architecture, "We're seeing more clients looking for Teslas – meaning homes that are deep green, high-end, modern and gorgeous." Rodwin Architecture is a Boulder-based team, though it's safe to say that the sentiment holds true across the great state of Colorado.
The median home price in Denver is $421,900. Make sure you rent or purchase any accommodations with security systems installed – though the city is safe yet there are numerous cases of burglaries, theft, etc.
7.     Do not spend unnecessarily
When you relocate to Denver, everything will attract you to buy. Be it a simple t-shirt with Denver splash across the front, or that cheeseburger picture you saw at a mall – everything will. Keep your buying urges in check. You will feel bad about them later. Only buy essentials such as groceries from supermarkets, clothes from discount stores, and other things before you know your way around the city.
8.     Natural beauty in the city
Denver is a city of natural beauty! There're few natural lakes in the city; rest are artificial lakes made by humans to store water. On the contrary, there are many parks in the city where you can take your children and enjoy Denver's blue sky and weather. The city is beautiful at any time of the day. It is quite a spectacular view in mornings when Denver's sky resembles the shape of cotton candy.
9.     Neighbours depend on you
People in Dever city are incredibly lovely – only if you're kind to them first. They will welcome you in their lives and homes like you're their long-lost friend. They will bake cakes for you, through a welcoming party, help you in any way they can, and other such ways. Expect to have neighbour's kids in your house the very next day you shift.
10. Job opportunities
Denver's economy is promising in regards to job opportunities – you will most likely score a job in the first week of your move. We suggest finding a job first then plan your move. If you have prior experience in technology and software; you will score a job in no time. Denver is a significant financial hub of Colorado's state. The job market is flourishing with each passing day.
In conclusion
Denver is a place which promises you a bright future, only if you are willing to work hard for it. Though the city is expensive, crowded, it has beauty and welcoming people who make you feel like you are home. With mountain ranges surrounding the west of Denver, the weather is dry, but oh so beautiful. If you can afford to live a good lifestyle; then Denver is the place you should move.