Peptide-Based Dental Product Could Put A Happy End To Fillings
3 min read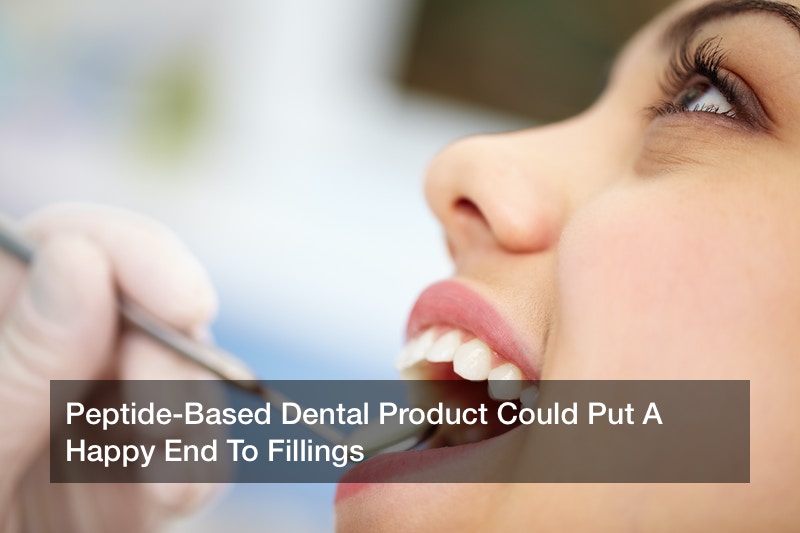 Low-income families and those who fear the dentist may soon see a dental future without costly fillings. According to Newsweek, researchers at the University of Washington have found and designed a natural way to repair dental cavities using peptides.
The researchers, who published the study in ACS Biomaterials Science and Engineering, created a remineralizing substance made of peptides derived from the protein amelogenin. Amelogenin is a naturally occurring protein that's essential for the creation of enamel on our teeth.
Researchers first tested the peptide substance on artificial dental lesions made in the laboratory. The result was that 10 to 50 micrometers of new enamel were created per application, effectively repairing the lesions.
"Remineralization guided by peptides is a healthy alternative to current dental health care," said Mehmet Sarikaya, lead author of the study and an adjunct professor at the University of Washington.
In theory, the new peptide substance could help to cure cavities, reduce costly dental treatments, and help to rebuild teeth. Sarikaya says the substance's application is simple and it could be made available through clinical products or even over-the-counter.
The development of the peptide substance could mean immense change in the oral health industry, not only for those who are afraid of the dentist but also for those who simply can't afford dental work.
"People can't afford insurance and the insurance companies don't cover what people need," said Nicholas Chiovitti, president of the Metro Denver Dental Society, to 9News.
The Metro Denver Dental Society and Kids In Need Of Dentistry (KIND) recently partnered to give students and their parents free dental work.
"I've seen children walk into clinics [with dental issues] that were swollen, where they should be in the emergency room right then," said Chiovitti. "There is no reason that a child should have that. If we can help, that's what we're going to do."
Cavities are a growing problem in the United States. According to the National Institute of Dental and Craniofacial Research, up to 14% of American adults between the ages of 20 and 64 have teeth that are in poor condition.
Unfortunately, the costs associated with dental work create economic burdens for many families. The result is often neglect of dental care. But neglecting dental care can lead to health concerns.
For instance, the average person will recover from the common cold within 10 days. However, pain in the upper teeth accompanying the end of a cold could be a sign of acute sinusitis, which may require treatment with antibiotics. Yet, for those used to dental pain due to neglect, it may be difficult to identify the issue as a separate health problem.
The peptide substance, which is expected to be safe for both children and adults, could reduce the risk of cavities and related health conditions for those with lower incomes.
The UW researchers say once the technology has been fully developed it can be a safe alternative for existing dental procedures and can be used in biomimetic toothpaste, gels, and solutions.