Monster Pianist Larry Fuller Returns to Denver to Celebrate New Album Release
3 min read
Friday, September 6, 2019 at Dazzle
Fuller's album, Overjoyed, is just out on Colorado's own Capri Records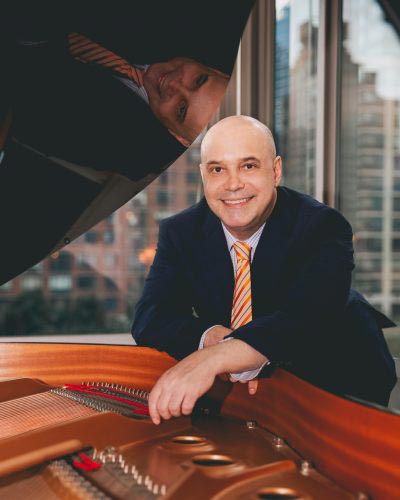 "He brings a vitality. He swings hard, and I like that!" – Ray Brown, master bassist
"He sprinkles stardust on whatever song he plays.  You hold your breath in wonder." – New York Times
"Deploying an eclectic mix of material…Fuller is clearly a man with an open mind and a desire to offer something for everybody." – London Jazz News
The Larry Fuller Trio performs on Friday, September 6, 2019 at Dazzle, 1512 Curtis Street, Denver. Fuller will present material from his new recording, Overjoyed, in a one-set, one-night only appearance. Tickets for the 7 p.m. show are $12, $20 and $27. Call (303) 839-5100 or link to https://dazzledenver.com/events/larry-fuller-trio/?occurrence=2019-09-06 for reservations.
Larry Fuller is a pianist of many dimensions – soulful and bluesy, with unparalleled technical chops, and a flare for programming a unique live performance that guarantees variety, excitement and joy. In his formative years, Fuller learned to swing the old school way: on the bandstand. He spent years honing his performance skills with four giants of jazz: legendary bassist Ray Brown, famed vocalist Ernestine Anderson, drum giant Jeff Hamilton, and acclaimed guitarist and vocalist John Pizzarelli. 
On Overjoyed, the latest of three albums as band leader, Fuller harnesses this invaluable experience to deliver a masterful trio and solo piano performance. He approaches a sweeping assortment of tracks with a deep, relentless swing. Overjoyed features works by Stevie Wonder, Oscar Peterson, Wes Montgomery, Ray Brown, George Gershwin, and Larry Fuller himself. Exhibiting an outsized command of his instrument balanced by tasteful displays of inward beauty, Fuller has the worlds of swing, bebop and the blues at his command. Whether meshing flawlessly with his rhythm mates or exhibiting his finely-honed sensitivity and imagination, Fuller speaks with his own voice.
Famed for the exuberance he brings to the bandstand and the seamless connection he makes with his audience, Fuller's approach to each performance: "There has to be a variety of moods and tempos; enough arranging of tunes to inspire the players, but not too much to inhibit them.  Above all, everything always has to swing." 
Fuller has appeared at Carnegie Hall with the New York Pops, Symphony Hall with the Boston Pops, Hollywood Bowl, Kennedy Center, Bern International Jazz Festival, Vancouver International Jazz Festival, Shanghai Center Theater, Blue Note (Milan, Tokyo, NYC), Auditorio Ibirapuera with Symphony Orchestra Brazil, and many more.
Larry Fuller
A native of Toledo, Ohio, Fuller was playing professionally as a pre-teenager. The late eighties and early nineties found him working with vocal legend Ernestine Anderson as both pianist and musical director. After a noted stint with the celebrated West Coast-based drummer Jeff Hamilton, Fuller found fame with Ray Brown, performing with the bass boss until Brown's passing. Fuller then became an integral member of John Pizzarelli's ensembles for nearly a decade. (Among the other jazz notables that he has worked with are Stanley Turrentine, Harry "Sweets Edison," Phil Woods, and Clark Terry.) Fuller has led the Larry Fuller Trio since 2013; he has released three albums as a leader since 2005. 
https://dazzledenver.com/events/larry-fuller-trio/?occurrence=2019-09-06