Focusing on Your Mental and Physical Health During the COVID-19 Pandemic
8 min read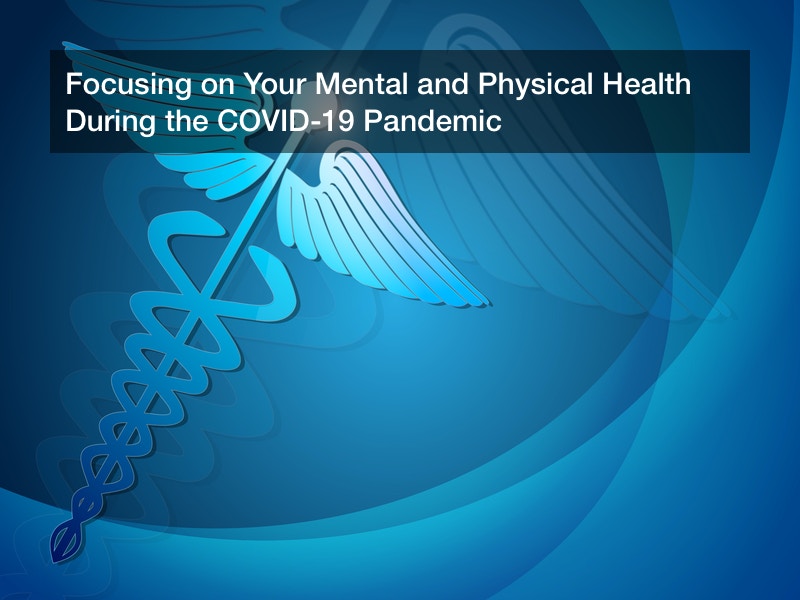 The COVID-19 pandemic has forced many Americans to make life changes and confront the way that they were living prior to the pandemic. For a lot of people, this has meant recognizing that the "new normal" may be something of a permanent normal.
Much remains unknown about the virus, which has been particularly deadly to those over 50 years old and those with preexisting health issues, but can be potentially deadly to anyone. While its common symptoms are relatively well known, the fact remains that an unknown amount of individuals are asymptomatic carriers of the disease.
This means that they carry and can pass on COVID-19 but do not show the associated symptoms. Asymptomatic carriers pose a particular challenge to containment efforts, as they often remain unaware of their status and therefore can easily pass on the virus without realizing it. There is no understanding of why some people experience symptoms while others do not.
Another issue is that there remains a lack of full understanding of how the virus spreads. Though it is understood generally that the virus spreads through saliva and touch, rather than the air itself, even this is not known for certain. So much research has been dedicated to understanding the basic biology of the virus that many of its complexities have not been fully understood.
The COVID-19 virus is projected to remain a major issue until an effective vaccine has been discovered, approved, and properly dispersed among the population. While this will hopefully occur sooner rather than later, with some projections expecting a vaccine towards late 2020 or sometime in 2021, society must continue on until then.
Different states are dealing with the virus in different ways, with some reopening sooner than others. This means that we must all adjust to the new world in a post-COVID-19 society, and remain physically healthy while at the same time maintaining our mental and emotional well-being collectively.
How Do I Avoid Catching And Spreading COVID-19?
Whether or not you're returning to work and your regular fitness routine, you're probably worried about catching and spreading COVD-19; and admittedly, with good reason. Until a vaccine is approved, people will remain vulnerable to the virus. For that matter, while it's hypothesized that those who have survived the virus will not catch it again, there is as of yet not enough research to prove this conclusively. Therefore, it's of the utmost importance that you take this virus seriously and take real measures to ensure that you don't catch
The CDC currently advises that people wear masks while in public to prevent spreading the virus. While you may not be able to get your hands on a medical-grade mask, you can still wear a cloth mask and prevent the spread of the virus in some way. Even if masks are sold out in your local stores, they remain available online.
In fact, a number of individual sellers on sites like Etsy have enhanced their small businesses by offering cloth masks made of attractive and comfortable fabrics. What's important is that you wear masks that cover your nose and mouth fully. This will prevent the spread of the virus through saliva or water droplets. While they are necessary, they do not fully protect people from passing on the virus.
This is why you should maintain a distance of six feet between yourself and all other people you come into contact with, whether or not they're strangers. You should also remain aware of your health, and ensure that you have yourself checked by a medical professional if you experience common COVID-19 symptoms like a cough or a fever.
Even if you can't easily see your regular doctor, you should consider visiting an urgent care clinic. Not only are they accessible; they're also convenient, with the typical urgent care wait time being 30 minutes or less for 90% of patients. This will allow you to remain up to date on your health.
Furthermore, it's extremely important to keep your home and belongings germ-free. We talked to a representative from STERIFAB who said, "Among the most daunting tasks is trying to keep upholstered furniture, beds, chairs, and assorted items as free from exposure to viruses, bacteria, etc. STERIFAB is the only EPA registered disinfectant and insecticide in one product."
How Do I Maintain My Physical Health While Social Distancing?
It can be incredibly difficult to maintain your health and fitness, and that of your family, while social distancing. It's difficult to go to the gym while social distancing, and you may be worried about visiting a doctor's office during the pandemic. While you may be afraid about catching the virus at a doctor's office, it's important for you to remember that doctors and medical professionals, in general, are taking steps to keep people safe.
Most require masks as well as social distancing. You should call ahead to check in with your doctor's or dentist's office about their practices. But remember too that you will not be well-served in skipping your regular visits. Even before the pandemic, about 40% of kids had cavities by the time they reached kindergarten. The last thing we want is for that number to rise due to the virus.
Remember: you don't have to go to the gym to stay fit! You can still work out while social distancing, just by jogging or working out in your yard or in the park. You can talk to your doctor about maintaining your specific nutritional goals; however, many grocery stores offer delivery or pickup, which allows you to keep up with your regular diet while social distancing.
"For parents, it can be really hard to fit in the time to exercise in between working from home, homeschooling, and keeping the house together," says Talya Stone, Creator and UK parenting pro-blogger at Motherhood: The Real Deal. "Instead of trying to carve out a separate time to exercise, kill two birds with one stone by going for a jog/run alongside your children when they are out on their scooter, going for a family bike ride, setting and joining in with some 60 second family fitness challenges, or having a dance-off after dinner."
We sometimes forget that exercise comes in many forms; sometimes you just need to get a little creative. Lydia C. Alexander, MD, FOMA, Secretary/Treasurer of the Obesity Medicine Association offers a great tip on staying physically active during lockdown:
"When shelter-in-place regulations prevent leaving the house, you can look for novel ways to keep moving. Pacing while on the phone, putting the laundry away one item at a time, listening to music and dancing, and taking a lap around the house or backyard are all ways to remain physically active while sheltering in place. Passive stress relievers, such as surfing the internet, watching television, and playing video games might seem like an ideal way to pass the time. But these do not contribute much to energy expenditure and might worsen anxiety. Too much time spent with passive screen activities can have a negative impact on health."
How Do I Maintain My Mental Health While Social Distancing?
While social distancing makes us feel distant from many, it might force us to be close to others who we might need some space from. Right now, about 40% to 50% of American couples end up choosing to divorce, and the pandemic has already been causing marital strife, as well as many other mental health issues, in part because people are stressed and unable to seek physical distance.
Fortunately, many mental health professionals have adjusted to the pandemic by offering telehealth services. It's important to take advantage of these services, while also finding ways to spend the time that you would spend going out with healthy hobbies, like exercising and reading. For that matter, you should stay in touch with people you're distanced from through Skype sessions, and of course texts and phone calls.
Jennifer Miller, author of Confident Parents, Confident Kids: Raising Emotional Intelligence in Ourselves and Our Kids–from Toddlers to Teenagers and the website confidentparentsconfidentkids.org, tells us:
"Parents and kids are all currently feeling a lack of safety and anxiety with the unknowns and climbing cases of COVID-19. A recent informal survey from my site showed that 80% of 2,000 educators, parents, and other school staff felt 'overwhelmed' with children home 24/7 while trying to manage work responsibilities. So the question becomes: how are adults managing their stress daily in healthy ways so that they can bring the patience required to support their children through these challenging times? And how are families learning about and discussing big feelings – like worry, fear, helplessness, and frustration? Parents can help children deal with their fears by naming their feelings, talking with one another about them and learning healthy coping strategies like seeking more factual information, taking steps together to create a safer environment, and journaling about or writing letters of gratitude."
Amber Johnson of milehighmamas.com shared with us how she navigates her good and bad days throughout this pandemic:
"Something that has helped me tremendously is following life coach Kelly Wolfe's FLOW (Finding Love Over Worry) motto. She prescribes to the '3 Ms:' Munch, Move, Meditate. Every day, I try to Munch intentionally on whole foods that fuel my body. For Move, some days it's a cardio-busting workout and others, it's just getting outside to do some gardening or walking around the block. And for Meditate, I've realized I need to be intentional about finding quiet moments to decompress, pray or just reconnect with myself. When I can fit all three into my day on some level, I feel much happier and more grounded!"
Finally, it's important to focus on the things you can't control and let go of the many things you can't. DailyCaring.com offers this excellent advice:
"The news is scary. Individuals, companies, or other organizations might be doing things that you don't agree with. But there's nothing you can do about them. So don't worry about the things that are outside of your control – it will only make you anxious and angry. Instead, let go and focus only on what you can control. For example, you could limit news consumption, wash your hands, stay at home, stay 6 feet away from people if you must go out, wear a face covering, and regularly clean surfaces in your home."
If you want to learn more about how to maintain your family's mental health during the pandemic, check out this great article from Hand in Hand Parenting: This Is What We All Need to Keep Connected with our Kids During the Quarantine.
It's undeniable that the pandemic has forced permanent changes in our society. However, a healthy outlook and conscientious living will ensure that you emerge from the pandemic not only healthy but hopefully stronger than ever.