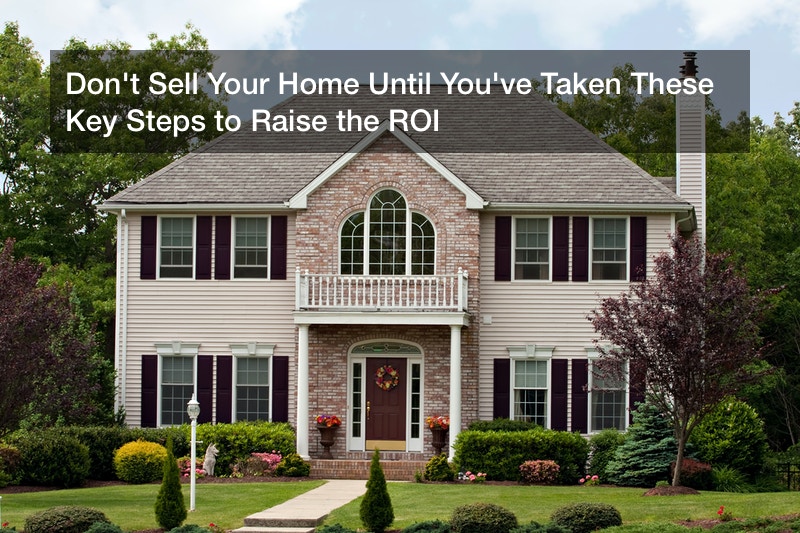 Selling your home in Denver can be a daunting process. All the hassle and hard work involved make it easy to forget about the little things that will help your home sell for more. To make sure you maximize your savings, you should follow these steps before you put your Denver home on the market.
Curb Appeal
The first thing anyone notices about a home is its outward appearance. Be sure to take these simple steps to make the right first impression:
Yard work
One of the easiest ways to increase your home's ROI is some simple yard work. It may seem like a minor detail, but a well-maintained lawn can increase your property's value by as much as 14%! It's affordable and easy to prune any trees, cleanly mow any grass, and apply some fresh mulch around your house before putting it on the market. Even sprucing up your outdoor sitting area or garden is an option to consider.
All of this is easiest accomplished by maintaining your lawn consistently while owning it, but a last-minute touch-up certainly won't hurt your curb appeal. Luckily, the temperate Denver climate makes it easy to putter around outside year-round.
Replace and refresh dated exterior parts
If you want maximum value from your home sale, it's important to know when the minor inconveniences that you'd become used to are bagging down your returns. An old, poorly insulated entry door, for example, can drop a home's value astronomically. Replace your door and don't hesitate to patch up any issues with your siding or roofing. You don't need to invest in an entirely new roof to make your home look nice.
If you're on a tighter budget, you can still increase your home's value with basic touch-ups on the exterior. Be sure to power wash surfaces to remove dirt and grime, and consider repainting doors and trim to make the house look like new without spending too much money or time in the process. Simply making the home look nice at first glance goes a long way in upping its resale value.
Interior Decorating
A buyer's interest in the home, of course, goes beyond their first impression. While the curb appeal is key to hold a buyer's attention, what's inside will make or break the home's appeal. Stage the home well to help potential buyers visualize how they can decorate the space.
Clean up, plain and simple
First and foremost, the easiest interior work to up your ROI is cleaning the house. Even if you're pressed for time, be sure to give the entire home as much floor-to-ceiling attention as you can before showing the house. This means not just vacuuming, dusting and sweeping, but deep cleaning tasks like cleaning the light fixtures, or wiping down doorknobs and light switches that have built-up dirt and grime. Consider using an air freshener: According to Homes.com, the smell of a house is one of the biggest factors in a buyer's impression of it.
Consider practical kitchen work
Another interior space to focus on is the kitchen. If you have the budget and time for it, a properly-done kitchen rework can even save you money. However, you must thread the needle between being too little of a change and not enough. A minor kitchen remodel typically brings in about an 80% ROI, while an excessive, gourmet overhaul will drop your ROI as low as 60% and might even raise your house's price above the neighborhood's budget range, a surefire way to lose buyers.
Instead, consider kitchen upgrades that are practical, modern, and affordable. If done correctly, well-planned kitchen work earns an ROI of as much as 120%.
According to Kitchen Cabinet Kings, "In kitchen remodeling, we have seen our customers looking for transitional/modern cabinet styles opting for gray and blue tone finishes, which are hot right now!"
Stage the house with neutral furniture
Lastly, when preparing your home for showings, it's a good idea to take out taste-specific aspects of the decor. Any obscure, conversation-starting pieces should probably go because they risk alienating buyers. That said, be sure to leave any neutral furnishing you can inside the house for the sale process. Even professional realtors have picked up the practice of "staging" homes with furniture, which it raises the price and likelihood of a sale because it helps buyers visualize how they could turn the house into a familiar living space.
Prepare for the Inspection
You'd think it would be obvious, but making sure the house is up to code is an essential task to complete before trying to sell it. Failing to ensure that your home meets basic safety requirements will not only waste your time and money in the inspection process, but it could also get you in legal trouble.
Check for these fixable issues before the inspection:
Check the water tank for leaks and damage. 100% of water tanks containing water meant for human consumption must be protective coatings and linings.
Give the roof a good look-over. It's easy to miss roof damage because, to be fair, nobody spends much time up there. Make sure your gutters are clear of debris and do a thorough check for damage. Damaged or missing tiles should be fixed or replaced before inspection time.
Fix any minor plumbing issues. You might be used to your toilet running for a long time, but you can save yourself from inspection issues easily and inexpensively with a trip to the hardware store.
Also double-check all your doors, cabinets and anything with hinges. Doors should always fit squarely into their frames, locks shouldn't jam, and doorknobs shouldn't feel loose when pulled. Most door-related issues are simple fixes requiring only a screwdriver and a minimal amount of know-how, but it'll make your home seem nicer to buyers and inspectors alike.
You should also replace any broken light bulbs. A broken bulb might suggest to an inspector that you have electrical issues in your home, a concern that could bring you countless headaches if they follow up on it.
Whatever you do before inspection, it's most important that you take every precaution you can. A failed inspection can cause a deal to fall through and leave you with the repair costs.
Thoroughness Has a 100% ROI
Not every tiny detail will be a make-or-break issue for your home's ROI, but little issues build up fast and subtract from your savings. Taking the time and effort to make your Denver house look its best costs nothing, and it saves you time and energy down the road. Brand advertisement research suggests that it takes five to seven good impressions for a buyer to remember a good feeling about a product. It only takes one bad impression to ruin that feeling, whether it comes from paint chip or a leaky faucet. It's your job not to let that happen.