Colorado Homeowners: Spring Is the Best Time for Roof Maintenance or Replacement
5 min read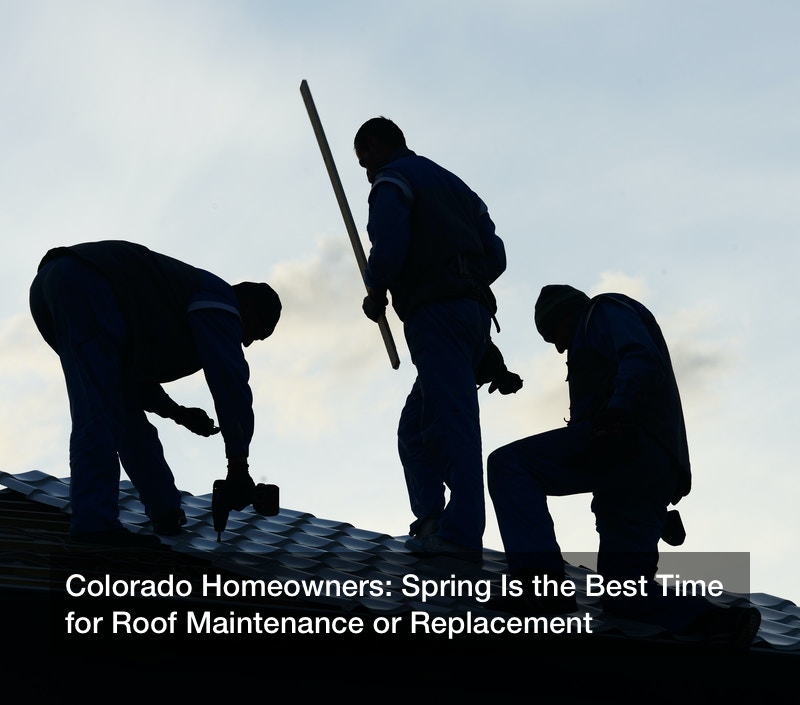 When it comes to getting your roof repaired in Colorado, an important factor is timing. If you try to hire roofers in certain seasons, it could take longer to get the job done. It's important to have your roof fixed up to be prepared for the harshest conditions that will come in the year. Across the U.S., 85% of homes were built prior to 1980 and need some form of home improvement. Chances are, your roof probably needs to be improved. Here are the top reasons why spring is the best time for Coloradans to get their roof repaired.
Slow season
Compared to summer or fall, fewer people are seeking out roof replacement and repair services in the springtime. It's possible you may be able to get a lower price for the work you want to be done as well. Additionally, with fewer clients the company is working with, they can take more time to make sure you're satisfied with the work completed. They also may be more able to do a schedule that works best for you.
During summer, crews might focus on getting a job done faster because of all the other client work they have to complete. It could also potentially lead to work that doesn't get done as well as it could be. In spring, however, they may not have to rush to start work with another client, allowing for longer discussions about the different colors or styles you want to consider for your roof. In addition, there's also less of a rush to decide on which company to hire.
Taking the time to hire a reputable and highly reviewed roofing company is very important. Doing so may potentially save you from the frustration of dealing with a company that does work you're unsatisfied with. Late in the summer and early in the fall tend to be the busiest times of the year for roofing companies. You might have to rush to hire one before a lot of them get booked up. If they get booked up, you might potentially have to wait months to get your roof worked on.
It's also best to avoid this busy period because roofing contractors tend to raise their prices during this time. Ultimately, spring gives you more of an opportunity to set up an appointment at your pace, on your schedule, and at an affordable price. You'll be able to save more for other remodeling jobs you may need to get done in your home. Did you know 35% of remodeling jobs typically involve the whole home?
Good temperatures
Another reason spring is a great time to get your roof repaired is because of the weather. If you've lived in Colorado for a long time, you know how cold the winters can be. If you're getting new shingles added to your roof, it could possibly take weeks for them to be completely installed because they need adequate thermal sealing. Cold weather makes sealing take longer. Another issue with installing shingles in cold weather is they run a higher risk of becoming broken or cracked when being installed.
It's true that there are likely few people hiring roofers during winter and their schedule is probably wide open. Nonetheless, safety is important, and if the conditions are too slippery due to snow or sleet, this could cause your roofing job to be postponed. If your roofing repair is postponed, there's a risk of possibly more damaging consequences. Colorado receives a lot of snow every year, which may put too much stress on your unrepaired roof. Another potential problem is if your attic's heat melts the snow, it could leak water inside of your home. Leaking water can cause a number of potential problems including your ceiling potentially warping, mold growth, and possible furniture damage.
While fall may present good weather for roofing as well, as mentioned before, fall tends to be the busiest time for roofers. Many people may be trying to get their roof ready for the winter season, which could mean you end up waiting longer. Your appointment could even be potentially pushed all the way to the early part of winter. Lastly, summer isn't ideal due to the hot weather. The heat may not allow for workers to put in the amount of time on your roof as they normally would. If you're having asphalt shingles installed, they may melt in the heat, which would make them more likely to get damaged. Spring presents an ideal temperature for roofing that's not too hot and not too cold.
Lower energy cost
Getting your roof replaced in the spring can possibly have the least impact on your energy cost. Damaged or old roofs are less able to keep out the heat or cold from your home. As mentioned earlier, it'll take longer in the winter for the roof to be prepared due to cold temperatures and unsafe conditions. As a result, your house has to bear the extra cold that comes into the home which puts more stress on your heating system.
Similarly, with summer, if it'll take a while for your roof to get fixed because of busy schedules or weather conditions being too hot, your house will have to bear with the extra heat that comes in. Your air conditioner will have to work harder to keep your house cool. Ultimately this potentially amounts to a higher energy bill. You also risk needing to get your HVAC system repaired if the system gets too stressed with the extra work of managing the temperature inside. It's best not to wait until summer or winter to try to get repairs, and instead get repairs in spring, so you avoid the potential of higher energy costs.
It's important to make sure your roof is up to the task of shielding you from the elements. Most roofers would recommend that you get your roof inspected once or twice a year. Doing so in the spring can increase your chances of getting the most efficient and professional service that you desire.