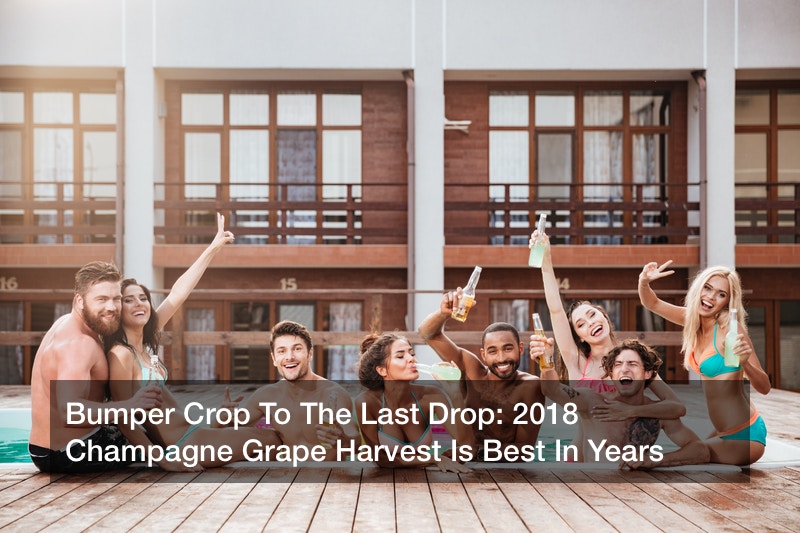 Across the world, this summer has been record-breakingly hot. It's been months of searching for places to stay cool and shaded while the day scorches the earth, leaving us wishing for, at the very least, some cool evenings and something cooler to drink. Some places around the world weren't better off for this, others were.
Coral Gables, a small community of about 46,780 outside of Miami, Florida, saw wild temperatures, rain, and a localized weather event that caused 2,500 lightning strikes in two hours. In Oman, one town hit a record-setting day low temperature of 108.7 degrees Fahrenheit. However, in Champagne, France, while the earth was being charred around the edges, the grapes were thriving. Ready for that glass of bubbly? Because the world is, and France is about to be brimming over.
Quick rundown for the ignorant imbiber. Unless your sparkling wine comes from Champagne, France, it cannot legally be called champagne. The region is the beverage, and the beverage is the region, in a way. You can make bubbly anywhere, but you can't slap the champagne name on it unless — well, you get the gist.
You'll have to excuse us ahead of time if we wax overly excited about the joyous news of an indulgent grape harvest in the French fertile crescent of Champagne. This summer has been so hot that Europe has seen droughts aplenty, but because Champagne usually experiences fairly harsh weather year-round, the heat and rain have teamed up to make the grape harvest the best they've seen in a long time.
"What I'm hearing around me, even from people older than 80 years, is that this is the best harvest they've ever had," says Moet Hennessey CEO Philippe Schaus.
Moet Hennessey, a multinational luxury goods company, knows a thing or two about the nicer things in life, but if there's one thing that's respected, it's the words of people who've been around the vineyards more than 80 years. The hot gossip around the weather goes like this. Usually, Champagne is cool, dark, and rainy. It gets frost late into the spring and the summers are generally drab. Not great for growing grapes. This summer has been so hot and sunny, that while drought was destroying other crops around Europe, the grapes were thriving. Like 35% of weddings are outdoor occasions and this summer has been the one to have one. Why not have champagne in Champagne? We'd certainly toast that and will be very soon; the wine cellars are full.
The grapes, as has been done for hundreds of years, are always picked by hand, so as not to damage the fruit in transit. People travel from all around to help pick the grapes in vineyards across Champagne. They say the Benedictine monk, Dom Perignon, discovered and invented turning the wine into champagne in the region over 300 years ago. In that entire time period, the grape harvest season — vendanges — has started in August five times. Four of those five times have been in the past 100 years and, this year, they started picking on August 20th.
"The weather determines when the three-week harvest begins, and that's been anywhere from August to October. We come down a week or even two weeks before we did 20 years ago," says seasoned harvesting enthusiast Claude Bucot, noting the longitudinal harvest change.
Instead of ruminating over a 15-year versus 30-year fixed mortgage for your white picket Labradoodle American Dream, you should probably be looking at property in Champagne. Apart from it being gorgeous, they're expecting to produce 10 million more bottles of champagne — about 50% more — than last year with this bodacious grape crop. However, the climate has been changing faster than the industry has, which could be problematic down the road.
There's been an uptick in wine consumption around the world in recent years (thanks, Millennials). Companies under pressure to provide speedy service of a product in high demand sometimes need to part ways with some older traditions and focus on the people they're serving. Rooted in tradition, the champagne industry — especially in the region — is sluggish to adapt to change, whether that be production or distribution methods.
"We have never experienced this before in the Champagne region, in terms of quantity and quality. This will enable us to put into cellar amazing wines which will be on the market in three years," said Jean-Marie Barillere, president of the Champagne houses' union.
It certainly bodes well for the industry (and our glasses), but with bountiful harvest comes a bit of futuristic industriousness. If early harvests become the norm and, with them, stockpiles of grapes, then methods might need to take a step from then into now. We'll never cast shadows on the divine gift of Dom Perignon more than three centuries ago, but we're certain he'd understand.
At the moment, isn't it brunchtime? We know what we're drinking. Join us.