10 DIY Projects to Improve Your Denver Home!
5 min read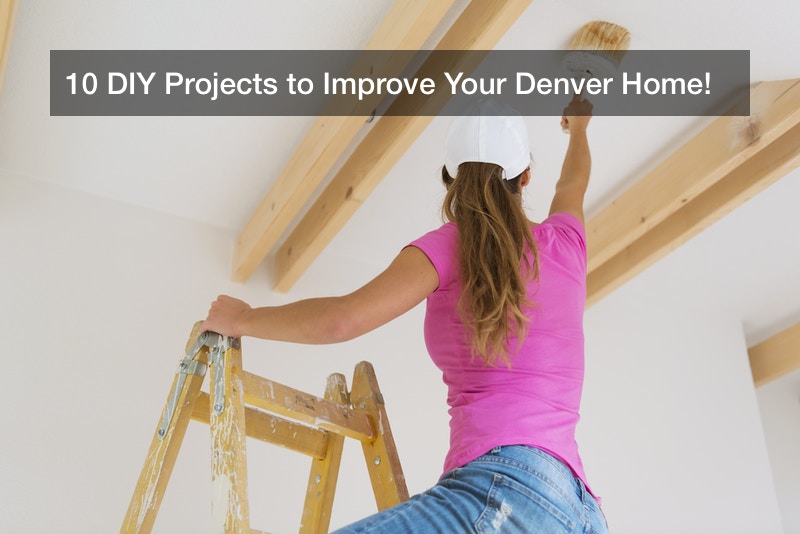 Denver is a bustling Colorado city with more than three million people alone in its metropolitan area. During the lockdown from the COVID-19 virus, it's a good time to catch up on some home improvement projects you've been meaning to get to. There are projects you can do to help give your home a more aesthetic look and boost its value. Here are 10 DIY projects to improve your Denver home.
Bathroom Plumbing Repair
Hiring a professional plumber in Denver can get expensive. In 2018, the plumbing industry generated more than $107 billion in revenue. There are several repairs you can do yourself to save you money. Most plumbing problems have to deal with leaks that can cause serious damage to your property and health. Some of the main plumbing repairs you can do yourself include fixing a leaky faucet, unclogging a sink drain, installing a new showerhead, and fixing a running toilet. But if you need to install a new sink or want to completely remodel your bathroom, it's important to seek out help from the pros.
Before you begin any plumbing repair project, it's helpful to understand how your plumbing system works. The system consists of two separate subsystems. One subsystem is responsible for bringing fresh water into your Denver home, while the other removes wastewater out. The water flowing in travels with enough pressure to flow wherever it's needed. During a plumbing emergency, you'll want to make you close the main shutoff valve to avoid flooding.
Drill Your Own Water Well
There are approximately 13 million U.S. households that rely on private wells for access to drinking water. Having your own water well for your Denver home can save you money and boost your property value. You can find detailed instructions and video tutorials online that can show you step-by-step how to build a water well.
Repair Your Gutters
Your gutters on your Denver home need to be inspected and cleaned at least twice a year. Look for loose gutters and fasten them securely with hanger brackets. Make sure downspouts are at a five-foot distance facing away from your home to prevent water seeping into your basement. Gutter aprons can be fastened with sheet metal screws to prevent water from collecting. Seams and connections should also be sealed to prevent leaks.
Enhance Your Curb Appeal
Enhancing the curb appeal of your Denver home can significantly boost its value. Add some color by planting a few flower beds or a garden. Clear away any accumulated yard debris and power wash your home's exterior, driveway, and sidewalks. Clean up outdoor furniture. If you have a deck or wooden fencing, you may want to clean them up and apply a new coat of paint or stain.
Fix Your Flooring
Fixing your Denver home flooring yourself can save you thousands of dollars. If you need to refinish hardwood floors, you may need to rent equipment for sanding at your local hardware store. Once the floors are sanded, you can apply a fresh coat of stain and a protective wood finish. Carpeted flooring can easily be freshened up by renting a carpet cleaner.
Install Attic Insulation
Installing attic insulation can be one of the best home improvements you can make for your Denver home. Insulation can protect your home from heat loss during the winter and keep your air conditioner from working too hard in the summer. It can help you significantly reduce your monthly energy bills. Attic insulation will also help prevent the buildup of ice dams and icicles in the winter. Check what insulation is required for the Denver climate and how much you currently have before installing more.
Inspect and Repair Siding
Summer in Denver is the perfect time to inspect the siding of your home for any cracks, holes, or gaps. Any holes can be filled with caulk, spray foam, or caulk to keep out unwanted pests. Look for panels that may be warped, bubbling, or moldy from weather damage or the summer heat. Replace any damaged panels you find. If there is extensive damage, you may want to consider calling in the professionals.
Repair Roof Shingles
Repairing roof shingles can be one of the simplest DIY projects for your Denver home. Simply lift the edges of the surrounding shingles to pry out the nails under the damaged one. Be sure to scrape any leftover cement before sliding the new shingle into the proper spot. The new shingle can be secured in place using hot galvanized nails. You'll also want to cover the nail heads with cement or caulk to prevent damage from oxidation and weather conditions.
Makeover Your Bathroom
Giving a bathroom an updated look is one of the most popular home renovation projects for Denver residents. You can replace your plain vanity countertop with a more elegant granite one. If you're not handy around the house, you can resort to giving the vanity a fresh coat with a few spray cans of paint. Don't forget to add some quality wall art to your bathroom, too, for added visual appeal in your interior design.
Some DIY projects you may want to consider for your bathroom include replacing draw pulls, cabinets, mirrors, and faucets. You may also want to consider replacing any worn or damaged tile. Check the caulking around your tub or shower. Repairing the grout with new caulking can help prevent water damage and inhibit the growth of mold and mildew. Finish your Denver home bathroom makeover by painting the walls.
Prep Outdoor Equipment
If you haven't done so already, you can prepare your snowblower for the next Denver winter by emptying the fuel and lubricating any moving parts. Pull the spark plug and work oil through the machine by yanking the cord a few times. Make sure to inspect the scrape blades and auger for wear and tear. After storing it, inspect and gas up the lawnmower for the summer season.
No matter what DIY project you choose to tackle for your Denver home, there's always something you can do to boost its value and curb appeal. Many of these home improvement projects are inexpensive and don't require a ton of effort. Enhance your Denver home today!