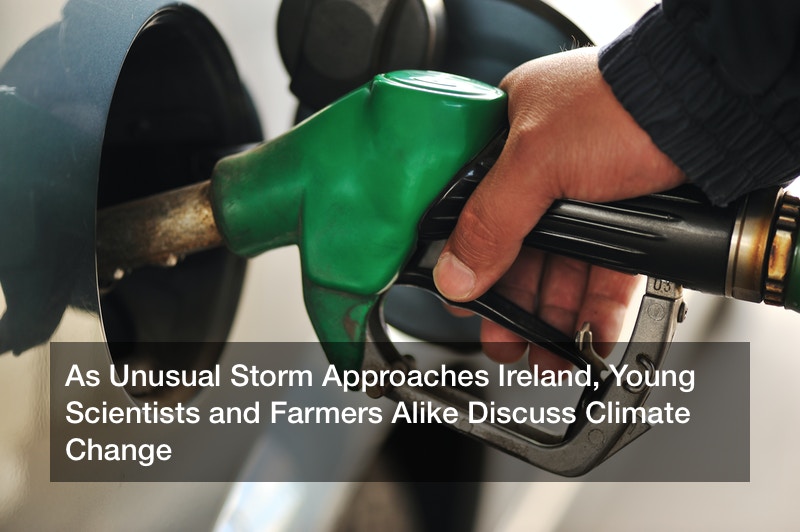 On September 15 in Dublin, Irish President Michael D. Higgins commended young scientists competing in the European Union Contest for Young Scientists (EUCYS) for their focus on one of the great social and scientific problems the world faces today: climate change. Higgins's remarks about the students' focus on climate change are especially relevant as the unusual ex-hurricane, Storm Helene, approaches the coast of Ireland, England, and Wales.
The storm formed off the coast of Africa around September 7 but then did something unusual– rather than continuing west across the Atlantic, it curved northward and began trekking towards Europe. Though downgraded from hurricane status, the storm still brought strong winds and heavy rainfall to Great Britain and Ireland around September 17.
According to the Conversation.com, this unusual storm pattern may become more common as climate change continues to warm ocean surface temperatures and alter wind movements.
For Ireland, an island of only about 32,000 square miles with over 3,000 miles of coastline, rising sea levels combined with more frequent storms could cause especially destructive storm surges in the future. Such storms may be unpleasant for inland residents, but for workers on the sea, they can be life-threatening.
It seems that Europe's youth is aware of the dangers their coasts face. Several of the competitors in the EUCYS focused their efforts on the planet-wide problem of climate change. According to the Irish Times, in his opening speech, President Higgins believed that ideas from young minds were essential for slowing climate change, and discussed the invaluable contributions younger scientists made during the 2015 Paris Climate Accords.
However, not all youths are keen to face climate change head-on. In a recent poll of Ireland's farming population, the Irish Examiner found that 27% of respondents said they do not believe in climate change, with this minority view strongest among younger farmers.
Though nearly a third of young farmers did see truth in the existence of climate change, other young farmers thought that the threat of rising temperatures and changing weather might be enough for them to change their career path in the future. Of those who did believe in climate change, 30% under the age of those under 35 and 28% of those between 35 and 44 agreed that climate change could one day influence their choice to leave agriculture for good.
Overall, nearly half (48%) of farmers thought that the government was not doing enough to tackle the problem of climate change. This finding marks an 18% increase from the number of farmers who thought the same thing last year. In short, farmers are growing more worried about their futures in regards to climate change.
It seems that the president's remarks at the 2018 European Union Contest for Young Scientists are timely — as farmers and young scientists alike look toward an unusual storm approaching, it seems that both of their futures are on the line.