Denver Homeowners: 4 Ways You Can Increase Your Home's Value Before Selling
5 min read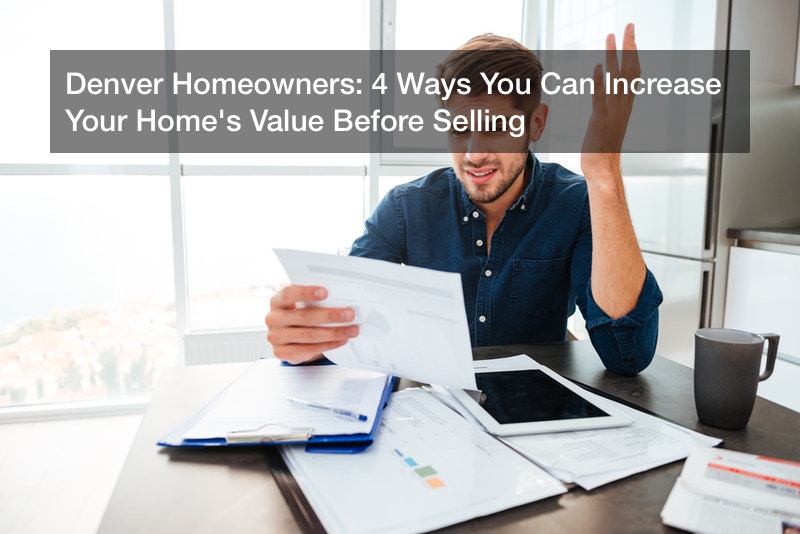 Preparing to sell your home is never easy. The fact is that if you want to make as much money as possible, you'll need to ensure that the house you're putting on the market is up to date and in the best possible condition. This may seem a bit counterintuitive at first. Why spend money on a house right before selling it? The fact is that if you invest wisely in your home's renovations, you'll be able to not only recoup your investment but potentially make a profit on it. Furthermore, newly renovated homes are easier for real estate brokers to advertise. Why wait for your home to attract the right buyers' attention when you could make it happen much more quickly?

With that being said, if you make the wrong renovations, you could potentially lower your home's value. While it can be tempting to make your updates largely aesthetic, many homebuyers are put off by flashy additions that aren't to their taste. They would rather see improvements that are as practical as they are appealing to the eye. When preparing your home for the market, the perfect time to do it is over the winter. During the winter, most people are hunkered down, preparing to buy a home while not yet actively seeking one out. If you renovate your home during this season, it will be ready to go by the spring, when the lighting and weather will make it more attractive than ever. Below, we'll look into the best renovations that you can invest in during the winter — to have a market-ready home by the spring.

1. HVAC And Furnace Maintenance
In the United States, it's typical for homes to be fully outfitted with heating and cooling systems in much of the country. We're accustomed to being able to control the temperature to our liking; and oftentimes, we're reliant on furnaces for these alterations. Before selling your home, you'll want to make sure that your HVAC system and furnace in particular has been properly maintained. If any updates or replacements are necessary, go ahead and invest in them. The new HVAC system will add value to your home — and any damage would likely be discovered during the pre-sale home inspection anyway. You'll probably have noticed any severe issues with your system ahead of time; but some are harder to catch, unless you work with a professional. Be prepared to replace your furnace if it's around two decades old — they typically last between 15 and 18 years.

2. Window Replacements
Windows are not merely the parts of your home that allow you to look out and take in the view. In fact, they play a far greater part in its overall functioning. If your windows are not up to date and secure, you could lose a lot of the heat that you pay so much for each month. It's estimated that the typical home loses about 30% of its heating through its windows. Homeowners therefore spend more money on maintaining their home's temperatures, when a properly sealed window could just as easily do the job. Investing in modern, energy efficient windows is a good idea before you put your home on the market. Additionally, new windows will indeed be more aesthetically pleasing than worn out windows due for replacements. Of course, you'll also want to make sure that the windows you're investing in create the right look — look out for trends on the market before making your final purchase.

3. Kitchen Remodel
For many people, the kitchen is the most important room in the house. It's not only where you cook — it's where you socialize with friends and family, or relax with a glass of wine in hand. People enjoy a modern, up to date, trendy kitchen. Furthermore, there are constant upgrades available in terms of kitchen appliances. The more outdated your kitchen, the more likely it will be to drag your home's value down. In contrast, even a minor kitchen remodel has a typical return on investment of 82.7%. This means that you don't have to do a massive overhaul of your kitchen in order to raise the value of your home. Simply replacing your oven, or adding in new counters, can increase the demand for your home. If you make the kitchen the centerpiece of your house, you'll have something truly unique to offer potential buyers. But keep in mind that the changes you're making aren't necessarily meant to please you — if you plan on selling your home in the spring, you should make renovations with broad appeal. This may mean that you need to take professional advice; but ultimately, it will be worth your time.

4. Landscaping
The wintertime may initially seem like an odd time to make landscaping changes. However, you can get a lot done when landscaping your property during the winter! In fact, fall and winter are actually the perfect times to transfer shrubs and trees, provided the ground isn't frozen. Planting new shrubbery is a great way to make your property more aesthetically appealing. New trees may also be able to add in extra shade, or even increase the privacy of the home. Many homebuyers find landscaping rather intimidating — which is why they gravitate towards homes that already have attractive yards.

You don't necessarily have to undertake all of these renovations. In fact, there are sometimes simple and less expensive changes you can make. Take Bailey's advice:
"The living room is the heart of the home. It's where we entertain guests, put up the Christmas tree, and watch the big game, which means it's also likely the room with the most wear and tear. The good news is that you don't have to do a full-on renovation to have it looking brand new. A quick and easy trick for making your living room feel instantly grander is placing a tilted mirror on the center of your mantle. While you're at it, give your brick fireplace a fresh coat of paint with an accent color to compliment your living room walls. As a final step, invest in sheer curtains to let in the natural light and give your living room a more spacious and airy feel— even when it's too cold to open the windows!"
For more decorating tips, check out this blog post from Handy.
Moving forward with some sort of renovation can increase your home's value and move it off of the property market. Take advantage of the time that you have during the winter to make your home as ready as possible, and watch it sell in the spring!