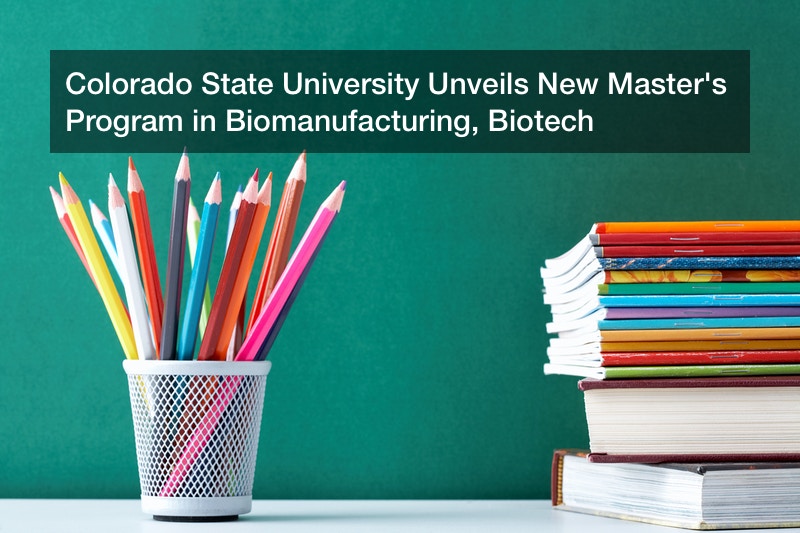 For students with an interest in biotechnology, there have been few avenues to achieve higher education at the state level. But starting in the fall semester of 2019, students attending Colorado State University will be able to enroll in a new master's degree program in biomanufacturing and biotechnology.
The program will focus on providing students with in-depth knowledge regarding biomanufacturing and biotechnology. Colorado State University notes that the two-year master's program will have three areas of specialization: cell and tissue engineering, biofuels, or protein engineering, otherwise known as synthetic biology.
"These students will have the opportunity to make an impact in an evolving, rapidly growing industry worldwide, but particularly in Colorado," notes Matt Kipper, a professor at CSU and the faculty lead for the Department of Chemical and Biological Engineering at the university.
Though you can trace the roots of biotechnology back to 1919, it wasn't until the first successful recombinant DNA experiment performed 50 years later that solidified its place as a field of study. Since then, the sect of biology has exploded, making it an increasingly popular option for students across the country.
For example, biotechnology has been the primary force behind the restoration of the American chestnut.
Almost 100 years ago, the American chestnut was one of the many victims targeted by Cryphonectria parasitica. This fungal pathogen eradicated almost the entire species in the United States. While only 300 species of fungi affect humans, millions of invasive fungi have the potential to blight just about any crop in our fields. But thanks to the efforts of researchers at the SUNY College of Environmental Science and Forestry, the tree might be making a comeback.
This innovation may even set a precedent regarding biotechnology's impact on forest tree species and conservation.
But Colorado State University is no slouch. A recent study led by CSU professor Glenn Telling has revealed that gene targeting chronic wasting diseases can reveal more about how they affect mammals. Constraints regarding "mad cow disease" and other conditions surrounding prion proteins have made these epidemics difficult to study. Thanks to Telling and his team, the researchers discovered that there are different strains of prions, similar to how there are different strains of the flu virus.
Nowadays, more than 720 bioscience companies are operating throughout the state of Colorado alone. Even if students don't want to venture into conservation efforts, other job opportunities include agricultural innovation, diagnostic sectors, pharmaceuticals, and even waste management. It's estimated that 19% of local governments address the topics of solid waste, Denver being one of them. It's up to bright, young minds to solve the problems we've struggled with for years.
Best of all? Students from a variety of educational backgrounds will be able to participate in the programs. Kipper notes that the master's program will be available to those who have a background in chemistry, biology, biochemistry, and more.
Colorado State University is now accepting applications for the master's program online. Don't hesitate to reach out to Mark Kipper if you have any questions regarding the program.