4 Great Socially Distant Date Ideas For Denver Residents
5 min read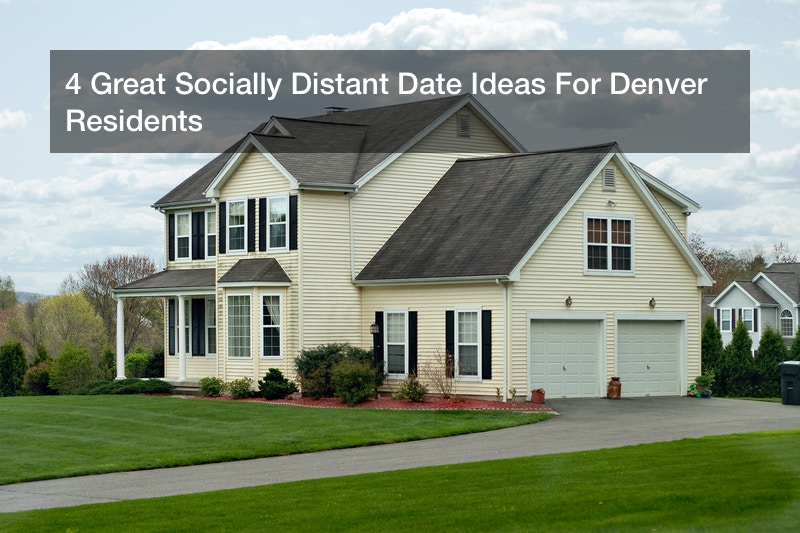 It can be difficult to start a new relationship in the midst of the COVID-19 pandemic. In recent polls, many Americans have revealed that they aren't dating as much as they once did, and when they do date, they tend not to do so in person, or they date in a socially distanced manner. Some people rely purely on technology like Facetime in order to safely date. Of course, the pandemic hasn't only had an impact on burgeoning new relationships; it's also affected people with long-term relationships. The pandemic's various stresses, including the threat of illness and of course economic consequences, have forced lots of Denver couples to reevaluate their relationships. In the best of times, it's estimated that one couple divorces every 36 seconds. Who knows what the divorce rates will be like once the COVID-19 pandemic is over?
Whether your relationship is new or long-term, you need to give it the time that it needs, but safely. With that being said, let's look into the different types of dates that you can explore in Denver, which will allow the two of you time together in a safe manner.
1. Helicopter Ride
A helicopter ride certainly isn't a date option for the faint of heart, but it's a great idea if the two of you want to explore Denver with a bird's eye view. Certainly, the city and its surrounding landscape offer a ton of great views. Helicopter dates have become increasingly popular in recent years, as they allow a certain level of intimacy while also giving you the opportunity to explore new things. Furthermore, they're becoming quite accessible as well, as the United States offers five times as many heliports as any other country. That actually equals about as many heliports in every other nation in the world combined. Now, when you think about going on a helicopter date, you also have to consider the true safety of the date itself. Before committing to using a specific helicopter company, you need to ask about their COVID-19 practices and ensure that they clean their helicopters and equipment frequently. As their employees are regularly in contact with people, they should also be tested on a regular basis. Ask about whether or not they'll wear masks and how far you'll be sitting from the helicopter pilot. Though you'll certainly be socially distanced from a lot of people in the grand scheme on this type of date, you may end up sitting close to the pilot. This doesn't have to stop you from going; just proceed safely!
2. Have A Picnic At The Botanic Gardens
Everyone loves flowers; in fact, 83% of people report that they appreciate receiving flowers unexpectedly. There is nowhere better to look at the flowers and enjoy the natural world than in the Denver Botanic Gardens. Not only do the Botanic Gardens hold a number of different flowers and other types of plants; they also hold different "oasis" spots, where you can hang out by the water and look into your reflection. It's easy to walk around the gardens with your date, maintaining a distance of six feet from other people. In fact, if you and your date have just met and you want to keep six feet between the two of you as well, it's easy to do so in the Botanic Gardens. Another factor to consider? You can actually enjoy a picnic with your date if you do feel comfortable sitting close to them. The Botanic Gardens are actually BYOB, and if you're a member of the gardens you can buy a fob that will let you access a secret entrance from Cheesman Park.
3. Go Ziplining
There are a lot of reasons why you should consider going ziplining on your date in Denver. You can keep the two of you socially distanced from other people. While some companies have large groups go ziplining together, others will allow people to arrange private zipline dates, especially in the face of the current pandemic. Denver Zipline Tours sits just 30 minutes away from the city proper and owns some of the longest and fastest ziplines in the company. Overall, their zipline course has six different lines, making up 1.5 miles of ziplining opportunities. Hovering 250 feet off the ground, you and your date can reach speeds of up to 60 miles per hour. You can follow this up with food and drinks, calming your heartbeat after an adrenaline-fueled date.
4. Try A Winery
There are so many different winery options in Denver, with some being easier to social distance within than others. At a typical winery, which is definitely available outside of Denver, you can sit outside and drink wine, which will allow you to distance easily from others. Many wineries do offer indoor seating, but if you do decide to drink wine indoors the two of you should remain six feet away from other people. Of course, wineries with outdoor seating will start to get a lot colder during the winter; but many offer fire pits to better accommodate visitors. Denver's RiNo neighborhood also offers urban wineries, which will of course offer more indoor seating, and again you should maintain that distance of six feet from others, as previously mentioned. Some wineries allow visitors to make their own blends and customize their labels as well, which will only enhance the experience further.
4. Visit Food Trucks
So you want a date that's similar to a traditional restaurant date, but without the same indoor seating issues. Food trucks offer a happy medium, which will allow you to sit wherever you want and eat great food. While there is an annual Civic Center Park food truck gathering to consider, you may also want to skip that as there is a tendency towards crowding in that kind of scenario. Either way, you can hit up Denver's food trucks whenever you want!
There are so many date options in Denver. The most important thing right now is finding a great date idea that will keep the two of you both happy and safe.