3 Tips On Renovating Your Denver Home Before Putting It On The Market
5 min read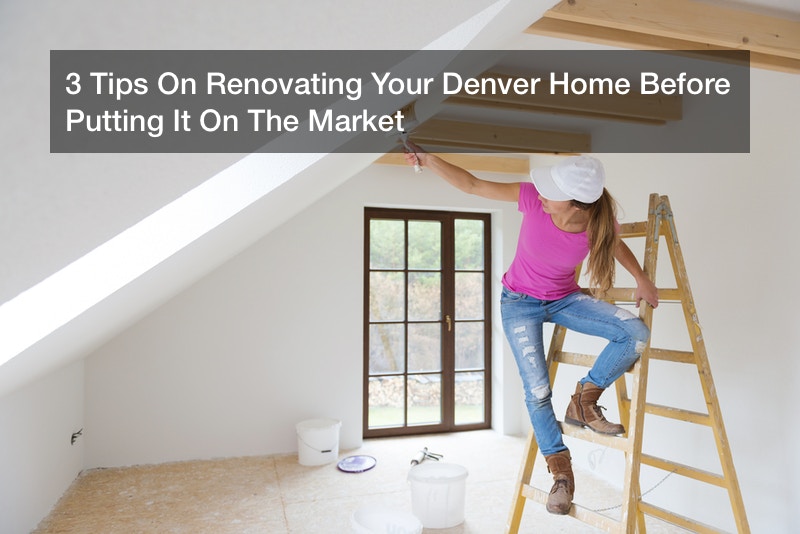 The prospect of selling your home is both exciting and intimidating — and sometimes, it can be a little sad. It does depend, of course, in part on why you're selling your home. There are always the cases in which people sell their homes because they have to and not because they want to. But in the best-case scenario, you're selling your home because you're seeking out a new opportunity or are moving into a different house to expand your family or attain the kind of house you've always wanted. Nonetheless, just because you're ready to sell your home doesn't mean that your home is ready to be sold.
The fact is that there is a lot of competition on the housing market, and there's a good chance that your home won't sell as quickly as you would want if it's not quite ready to be sold. Of course, you could always knock the price down a bit in order to speed up the process. But then you may end up taking a loss on the house, which can be financially difficult or even devastating for some. So, what can you do to make your home ready for the market? The answer usually lies in renovating your house. Home renovations can be intimidating, and it's often difficult to find their starting point. But they can add a lot of value to your home, and sometimes they're inevitable. After all, it's completely possible that your house was built prior to 1980, like 85% of those in the nation. In that case, it's almost definitely in need of improvement! With that being said, we're looking into some of our top tips on home renovation — and why you might want to keep them in mind before selling your house.
1. Consider Your Outdoor Spaces
Home renovations aren't just about what you're revamping within the home. You should really think about it in terms of renovating your entire property — or at least as much of it that needs to be renovated before your home goes to market. Think about what people see first when they consider your home, whether in person or online. They're looking at the exterior of your home. They'll consider your front lawn, your backyard, your full landscape — as well as any additions to your property. People spend a lot of time outside when they're at home; in fact, 2017 saw 40% of homeowners utilize their outdoor spaces when entertaining. Therefore, you'll want to make sure that, if you have a patio or deck, they are well-maintained. You may also want to install an outdoor feature, like a fire pit — which offer a 78% return on investment for homeowners — or even an outdoor kitchen. Outdoor kitchens may seem to be major investments, but a survey of homeowners revealed that their top benefit was that they added more fun to entertaining!
Says Bill Ferris of Decor Interiors, "Increasingly, homeowners are blending the transition from indoor to outdoor entertaining areas by upgrading the quality and design of external architectural accents, patio furniture, umbrellas and fire pits."
2. Focus On The Kitchen
Whether you're kitchen is indoors or outdoors, you'll want to give it a good amount of attention. Hopefully, your kitchen doesn't need any improvements! But if it does, you should really prioritize them. People spend a lot of time in kitchens, cooking, eating, and socializing. Therefore, you'll want to have a kitchen that is both aesthetically pleasing and easy to use. It may be a good idea to have a realtor look through your kitchen and offer tips before putting your home on the market, for professional advice. A kitchen is something that you actually have to use, so there has to be some level of practicality in mind. But you should also create an inviting space — so consider something like a kitchen island as a potential addition or even a bar area where potential buyers can enjoy the company of their guests. Even a pizza oven could be a potentially great addition! Yes, the kitchen may seem to be tangential compared to a living room or the bedrooms. But ultimately, it's going to be one of the things that buyers remember most when comparing your home to others.
3. Check Current Trends
It's easy for trends to go in and out of style, so you don't necessarily want to frame your renovations around a trend that is fleeting. However, you also don't want your home to seem completely out of date. This is why it's important to take other people's opinions into account when renovating your home. If you're making renovations with a future sale in mind, you shouldn't make them according to your own favorite trends, but with the current market in mind.
Says Mitch Newman of Habitar Design, "Clean lines and flat surfaces define contemporary (design) but now a days, warmth created by textures, colors, curves, and woods are nearly always part of it, too."
On the other end of the spectrum, Kristie Barnett of The Decorologist says, "We are beginning to see a pendulum swing away from white interiors and minimalism towards maximalism, with a trend dubbed Grandmillennial Style, where younger homebuyers embrace what many would consider outdated or grandmother decor – like bold color and pattern combinations, chintz, needlepoint, vintage/upcycled furnishings – mixed to create a highly personal, eclectic environment that is a bold expression of self."
Again, we do suggest meeting with real estate agents before making decisions regarding home renovations. However, you also should think about who you're working with on the renovations themselves. Yes, there are certain renovations you may want to work on yourself. But it's important to invest in your home, with the expectation of a return on your investment. Consider working with interior designers, and take their suggestions to heart if you do. Of course, you also want to find something of a balance. You're not keeping your home after the renovations, after all!
Yes, renovating your home before putting it on the market may be hard to do — or even somewhat counterintuitive. But ultimately, it's something that could make the difference between whether or not your home sales for the price that you want. Keep criticism in mind, and renovate your home as you're advised by professionals — and indeed the market itself!